Schnickelfritz and I don't just take "field trips." We prefer to call them "adventures," and last week we took one of the greatest adventures of all---taking advantage of the FIRST Robotics championships being held in St. Louis.
You've heard that getting there is half the fun? Well for Schnickelfritz that meant parking our car (for free) in the suburbs and taking the Metrolink to the Convention Center station. Longer than any monorail at Disney World, we had nearly a half hour's ride. Fritz was explaining to any of the commuters that would listen that this was a cantenary system (powered by overhead electric lines).
Behind us was a women that worked for a Washington University program to prevent drug use and childhood obesity in the local schools. "He's homeschooled isn't he?" she asked. I assumed it must be obvious since we were out on a school day, but she said she could tell by the way he kept asking questions. She said the public school kids stop doing that--what a sad commentary if true. Fritz had found a new willing ear and proceeded to tell her what he knew about trains, robotics, and orienteering (he thought other kids might like that form of exercise).
She left us at the hospital station, but other passengers boarded including a gentleman from the state of Washington that was coaching an FRC team. "Stop by our booth, we've got some handouts and I'll show you what the kids have been working on." We followed him two blocks to the Edwards Jones dome. Even if we hadn't known our way, I think we could have managed simply by following the bands of costumed teenagers--we saw green spiked hair, viking helmets, crowns and robes, even chicken heads (they were from Delaware--home of the Fighting Blue Hens).
We went into the dome first and were immediately overwhelmed by four sections of competition. The younger kids were standing around tables with Lego robots.
The older kids were divided into two categories--smaller robots putting balls in crates and larger ones shooting basketballs. Clearly we needed more information to know what was going on and who to root for. We headed to the pits.
After dawning our required safety glasses, we entered the large exhibit halls--all of which had been divided into "pits," areas for teams to work on their robots, relax, and act as ambassadors for their sport (and in some cases, country). We saw teams from Israel, South Africa, Peru, Australia, even China. All in all I believe there were 32 countries represented. The booths were decorated in a theme that went with the costumes and many offered buttons or trinkets to passers by. I guess its a lot like the Olympics have their pin trading. We were especially pleased to get a little toy llama from the Peruvian team as we sponsor a boy through Compassion International from Lima.
All levels of competition (FIRST Lego League, FIRST Tech Competition, and FIRST Robotics Competition) all had practice areas where you could see the robots up close.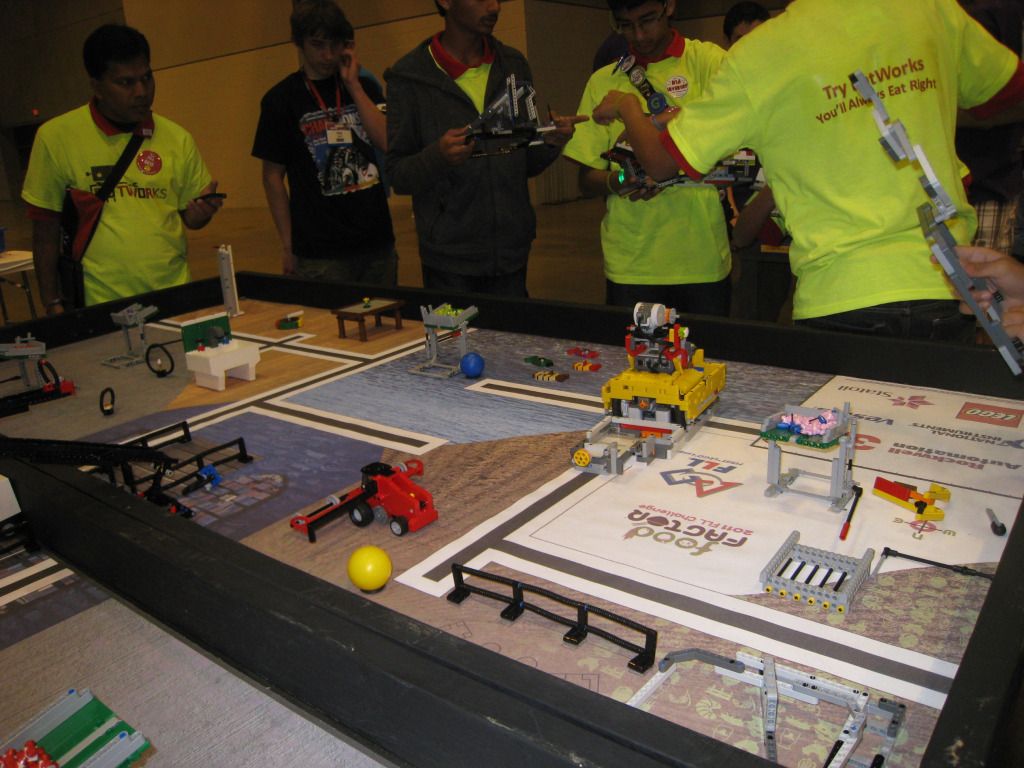 Here's a South American team trying to get their robot to autonomously (done entirely with pre-programmed commands) to drop payloads, collect others and drag vehicles around the table. Their theme was "FOOD FACTOR" so everything dealt with safely bringing food from farm to table.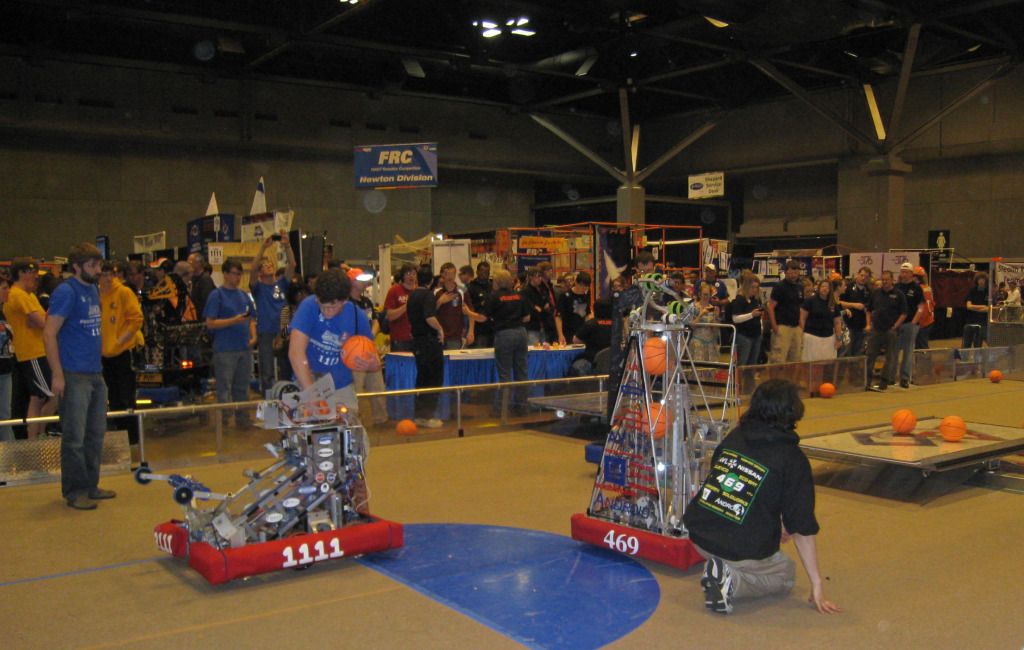 The FRC division appears to be the Sprint Cup of the event. They took up a full half of the exhibit hall and tournament floor. These robots start the competition autonomously for the first 30 seconds of play before "drivers" take control via computers and joysticks.
Although he enjoyed the interaction with kids, Fritz's favorite area were the sponsor displays--high tech companies with high tech toys.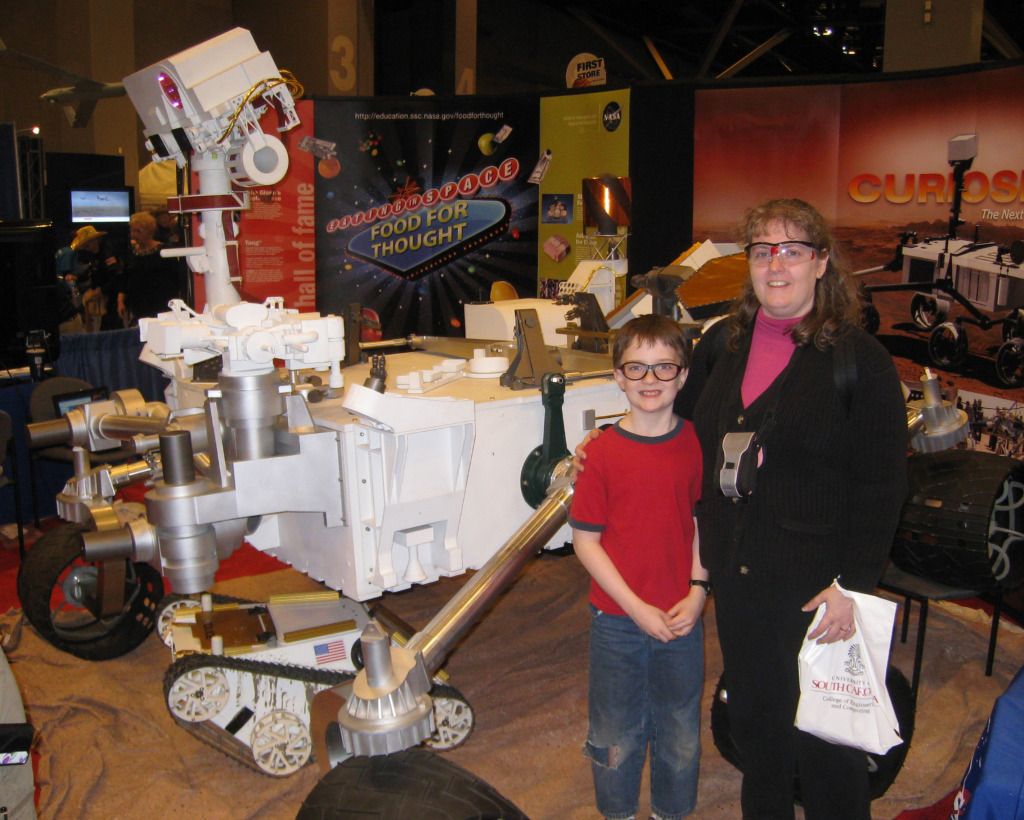 Here we are in front of the next generation of Mars Rover at the NASA booth. (Aren't those safety glasses fashionable?)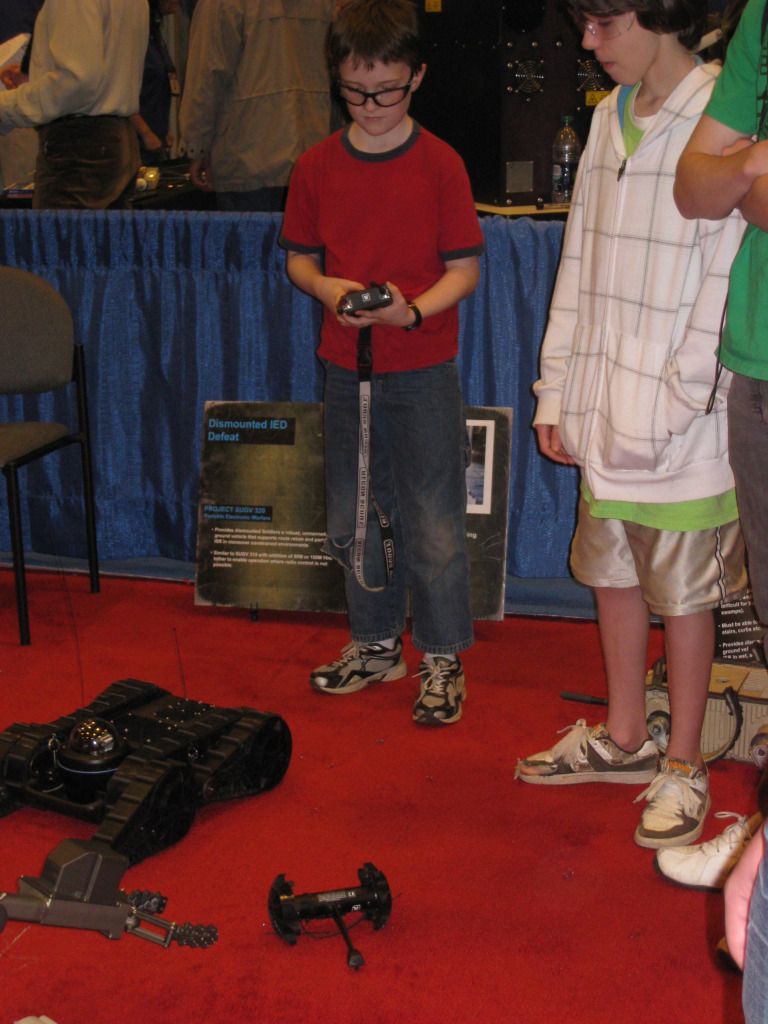 Here's Fritz controlling one of the army's surveillance robots--these guys go into the ditches and tunnels first looking for mines and booby traps.
And then it seems that they were a few souls with still extra time on their hands to make their own robots, strictly for entertainment purposes. You should have seen the smile on my son's face when Wall-E came rolling by and waved at him.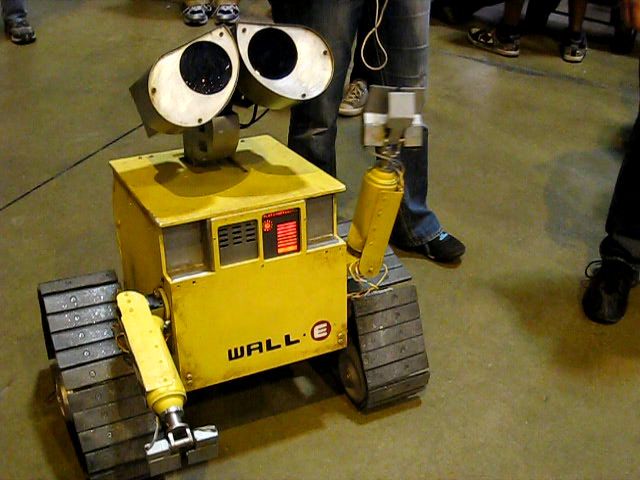 We stayed for over six hours that Friday and my son begged to go back on Saturday for the finals. FIRST founder, Dean Kamen, started the organization in 1989 to For Inspiration and Recognition in Science & Technology. He recognized that as long as America focuses the spotlight on athletes and actors we will continue to fall further and further behind the world in math and science. So if my son is this geeked about a competition that involves math, science, computer programming, and physics you bet we went back the next day (even got Grandma and Grandpa to tag along).
This day was all about competition. The best teams had formed "alliances" of three teams each. They strategized about shooting baskets, stealing balls from the other side, and balancing all three robots on a teeter-totter in the final 20 seconds of play for mega-points. Fritz usually rooted for the blue alliance (his favorite color) but if it was clearly going to be a blow-out he had no qualms about switching to the red side. I had the opportunity to talk to a FRC mom who explained that the teams have only 5-6 weeks to builds these robots. Her daughter had been in the computer lab until the wee hours of the morning using a CAD /CAM program to design their bot.
Fritz had snagged a front row seat to watch the Galileo Division's elimination rounds. At on point the emcee through him one of the foam basketballs from the playing floor. You'd have thought he'd just caught that homerun ball from Game 6 of last year's world series (which took place just a few blocks away). A cameraman caught his enthusiasm on the Jumbotron.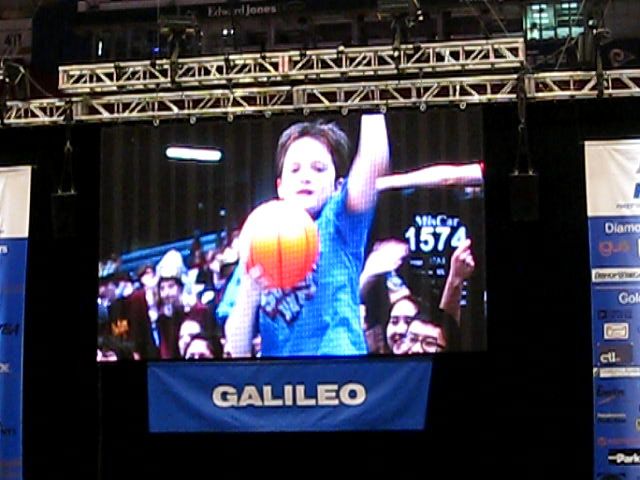 We'll be back for next year's FIRST Championships, which will still be in St. Louis, perhaps as spectators but Fritz is really hoping to be on a Lego League team. If anyone has any experience with starting and coaching a team, I'd love to hear from your.