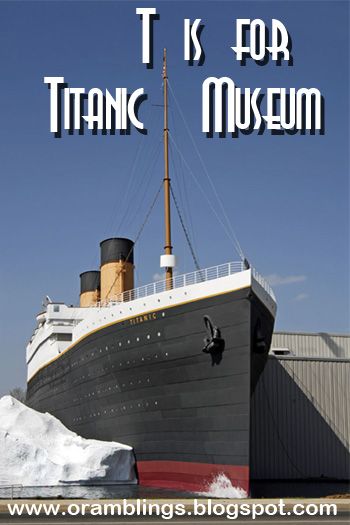 Being several hundred miles from the nearest body of seawater and with the recent triple-digit temperatures, the last thing you'd expect to see on a road trip is an iceberg with a towering ocean liner close behind. Surprising unless you're traveling through Branson, MO and then you're not only NOT surprised, but you've probably reached your destination.

We had seen the majestic ship rising about Highway 76 on our last trip but didn't have time to fit it in our schedule. This time it would be a highlight of our trip--at least for my husband and me. Neither of us was sure how our Schnickelfritz would react. He's not a museum-enjoying kid, especially with all the other activities Branson has to offer right outside the door--go karts, miniature golf, etc.

Note: No photography is allowed inside the museum to preserve the artifacts. The pictures in this post come from titanicbranson.com.



We arrived first thing Saturday morning and after taking a few photos outside, we stepped up to a crew member who handed us our boarding pass and an audio-tour device. The boarding pass had the name of an actual passenger or crew member printed on one side. We couldn't have asked for better bait to hook our son's attention. Now he had a stake in the trip--he'd learn along the way whether his passenger survived or not. Both my son and husband had the names of first class men, I had a third class female.
Whenever we saw a numbered blue circle, we could key in that number into our audio device to hear more information. Sometimes it was a recording of a Titanic survivor. Sometimes we heard from Jaynee, the museum's human ambassador (there are also two dogs) or Bernard Hill who played the captain in the epic film. I saw two benefits to the audio devices. First: it limited the number of guests in the museum at one time, making it much easier to see everything and interact with the "hands-on" features. Second: my son viewed it as a scavenger hunt--looking for numbers. He wasn't likely to read all the information on the walls and in the cases, but he didn't mind hearing it. We could not leave a gallery until he had found and listened to all the audio messages. Some of them even seemed geared towards kids--like the boiler furnace that growled "feed me." We all tried our hands at lifting the shovel weighted down with coal. No need to worry about gaining a few pounds on a cruise if you had to do that all day!


Shoveling Coal
My husband called my attention to a menu in the area dedicated to third class passengers. The daily fare included gruel for dinner with a little note that any complaints should be taken to the steward. We snickered at what we thought was a joke, but a museum employee dressed as a crewman informed us that the Titanic was one of the first ships where even third class passengers had rights. They had private, albeit small cabins when most vessels just had steerage passengers in open dorms where they were packed like cattle.
Third Class Cabin
It was here that I found a poignant display dedicated to my passenger, Emily Goldsmith. She had been traveling with her husband and 9 year old son, both named Frank. That hit a little close to home as my 9 year old son also shares his father's name. A post-wreck photograph shows Emily's left hand on her son's shoulder. She was wearing two wedding bands. It seems when the order went out for "Women and children first" that a traveling companion had taken off his wedding ring and asked her to carry it on to his wife who was already in America. Emily's prized possession, her new sewing machine, went down with the ship.
Some galleries were geared to providing information--the first and third class cabins, the room about the ship's design and construction, the maps of the voyage. I learned that the Unsinkable Molly Brown was never called by that nickname--her friends called her Maggie. Other rooms were more about developing a "you were there" experience--climbing the grand staircase, standing in the frigid air on the captain's deck or sitting in a life-size replica of a lifeboat. Scnickelfritz was especially pleased by the hands-on room where he could climb the steeply sloped deck or see how long he could keep his hand in 28 degree sea water. Believe me, it's not long and my hand burned for several minutes after I dried it off.
All of this lead to the memorial room with its list of all the passengers and crew. We could search for our boarding pass names on the alphabetized lists. Names written in italic font perished in the tragedy. During our tour Schnickelfritz and I had already discovered that our passengers had survived (ironically escaping on the same lifeboat I discovered during post-trip research) but we didn't know about my husband's name. It was in italics. Another well-informed crew member said that this man had thought he'd seen the lights of another ship and jumped into the icy waters hoping to swim to it.
I wondered how my son was taking in this whole experience, if he truly understood the tragedy. Was the boarding pass lesson just a game to be won or lost? As we stood in the memorial room I had a brief conversation with him. I explained that although there was no finger-pointing in the museum, the White Star Lines boasted that "God himself couldn't sink the Titanic" so there was no need for lifeboats to accommodate everybody. Others believe that the company's director wasn't satisfied with being the grandest ship afloat and pushed the captain to go for a new Atlantic crossing speed record. If the ship hadn't been traveling at night at unsafe speeds in a ice field...... My son took a few seconds to digest that information and then covered his eyes with his hands and buried his face in a bench cushion. When he looked at me again he whispered "I killed all these people." You see the name on my son's boarding pass was Bruce Ismay, Director of the White Star Lines. Yeah, he got it. He had become so immersed in the last 90 minutes that he bore the guilt of what another man may or may not have done over a century ago.
As a homeschooling mama, I was impressed with the amount of
educational material
available online to prepare for or to summarize our visit. I printed out the Scavenger Hunt for my son to complete during our visit. The Language Arts suggestions include making a travel brochure for the voyage, writing a newspaper article of the tragedy, creating job descriptions for the crew, learning Morse Code, or writing an essay on the concept of "Women and children first." The obvious Science topic is buoyancy and how the "unsinkable" ship went down so quickly. Other study areas are Math, Geography and even Religion. The Religion section focuses on Father Frank Browne, who disembarked in Ireland and wasn't on board when Titanic struck the iceberg. I wish there would have been some mention of Pastor John Harper, who spent his last minutes sharing the Good News with fellow passengers in the freezing waters of the Atlantic.
For full disclosure, none of the objects in the museum were brought up from the ocean floor. That is the final resting place of hundreds of souls and shouldn't be disturbed. Some items were grabbed in haste and carried on the lifeboats. There was a lovely beaded purse of a third class passenger--she thought she would need the luggage claim tickets it held. There's an Egyptian talisman that Molly Brown kept in her coat pocket. Some pieces came from Titanic's sister ship, the Olympic, that represent the craftsmanship in the woodworking. There was a remnant of Titanic's carpeting that some worker took home with him. The photographs came from Father Browne who disembarked in Ireland. Everything is the collection is still authentic and priceless.
In conclusion, there are plenty of attractions in Branson vying for your vacation dollars. I heartily recommend a stop at the Titanic Museum.
Disclaimer: I received free tickets to the Titanic Museum for the purpose of completing this review. There was no other compensation for my honest opinions.