First, let me be clear, if you're looking for tips on how you can be the next star of Extreme Couponing you've come to the wrong place. I'm not organized or committed enough to score 90+ percent savings. I also don't live in an area that doubles coupons. There is a Schnucks 12 miles away that will double the first 15 coupons up to .50 which means at most I could save $7.50. However I do think there are some tips that all of us can learn to use coupons more wisely.
For example, this week the Schnucks flier said they would TRIPLE the first 15 coupons. They also had a good sale on ham so I decided to make the trip. I had a few coupon circulars from the last two weeks in my newspaper pile so I began searching for the 50 cent-ers. They were hard to come by--at least for things I would buy anyway. I did find two yogurt coupons: one for $.50 off eight and one for $.40 off six. So 14 yogurts went into the cart and I saved $2.70. Let's look at the chalk board...
Now on the surface you would think triple coupons was a great thing, right? I however keep a price book on things I purchase often and know that this same store often puts yogurt on sale 10 for $5.00. And on any other week I can still have my coupons up to .50 doubled. So let's look at that scenario on the board...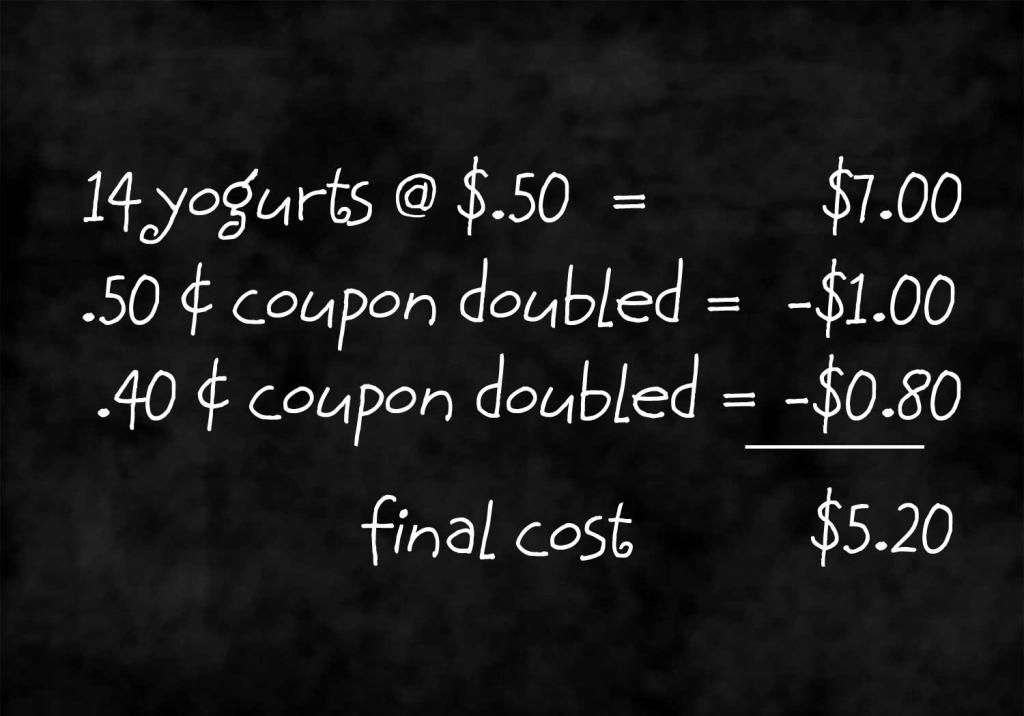 Wow, now I'm not feeling so thrilled about the Triple coupon deal. I could have saved almost two dollars more by waiting for the yogurt sale to cycle around again. The moral of the story is that coupons work best if they're matched up with a sale price. Even if the store just took the coupons at face value I would have come out better--paying $6.10 instead of $7.10.
I still bought the yogurt because I needed to spend $25.00 to get the deal on the ham ($1.77/lb vs $3.98/lb) and the yogurts counted as $9.80 towards that figure (they didn't care whether I paid in cash or coupons). I also track the price of ham because the Toolman likes it for sandwiches so I knew this was an extremely good deal. Bottom line for me--coupons are good but a price book is better.