Well, it finally happened...my Schnickelfritz joined the ranks of us with two digits in our age. I'm not going to try and figure out where the last decade went so fast. Instead, I want to share how we celebrated. I now there have been TV shows where moms outdo one another with the most elaborate and expensive shin-digs they can muster. We didn't rent a bouncy house, hire a magician, or visit that pizza chain where you spend $50 to buy tokens and "win" a $5 prize.
A frugal party takes advantage of and plays up what you already have--in our case: the fall season. Our assets were a fire pit, a tractor and wagon, piles and piles of leaves....and a leave blower.
We'll start with the fire pit. The temps were in the mid fifties but everyone was nice and cozy around the fire. We had plenty of hot dogs and marshmallows for roasting. (That saves me from having to prepare a lot of party food--make them do it themselves). There was apple cider from some of our nearby orchards to drink.
The fall theme has been a standard for this November birthday, but new this year was a hayless hay ride. The Toolman had bought a wreck of a corn crib style wagon at auction earlier this year. After removing all the rotted wood he was down to metal frame. He built a new bed with lumber from his father's saw mill and we replaced the tires with two we'd saved when the pick-up truck needed new ones. A can of spray paint and we had a really nice looking wagon. The first thing Fritz said when it was done was "Now we can have rides on my birthday." It was a big hit, the kids were bumped and jostled for the off-road portion of the trip and then traveled down the road to visit the horses. When Toolman needed a break for hot-dog sustenance, the kids all
sat quietly
in the wagon waiting for the next ride to begin.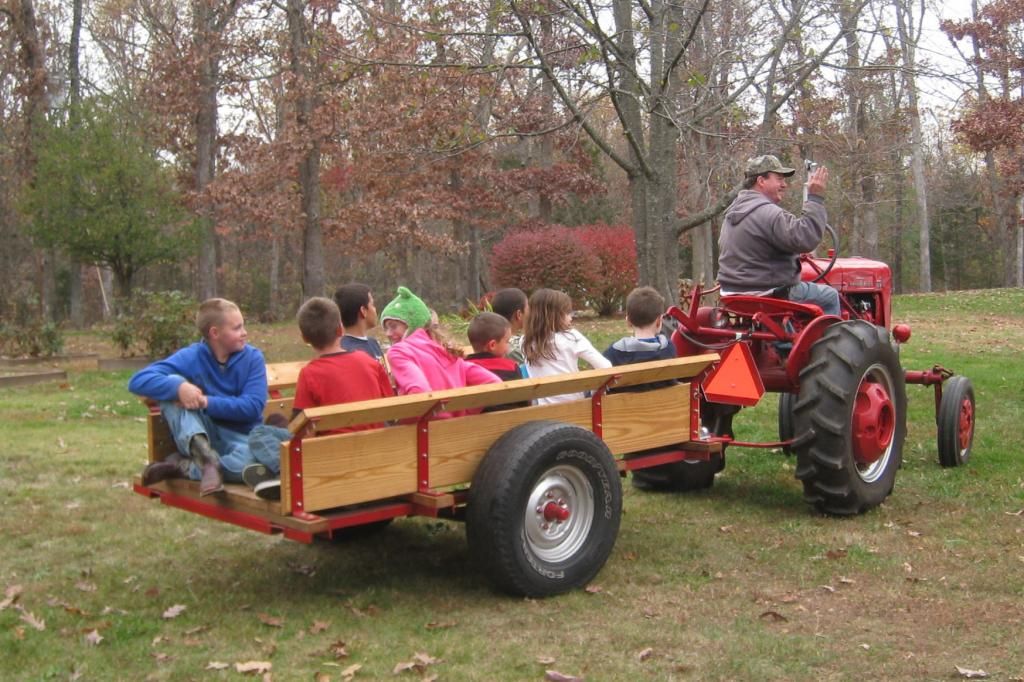 But the highlight for the last two year's has been the pile of leaves! The kids ask when it will start, the parents want to know so they can watch. There's no shortage of trees on our property and we can make great leaf fortresses. And then it's a leaf throwing war--all the kids vs the Toolman.....and his leaf blower pack.
The funniest sight last year was when one boy's baseball cap blew off...every time he reached down to pick it up Toolman was there with a gust of air to blow it out of reach again.
I used to feel bad that my son couldn't't have a summer birthday--his friend always gets to host a party with a homemade water slide. But now I wouldn't change a thing about our birthday salute to fall.