As part of our church's Advent Conspiracy [ Worship Fully, Spend Less, Give More, Love All], rather than purchase gifts for Toolman's co-workers & our neighbors, Schnickelfritz and I make something for them in our kitchen. Our friends will still know that we appreciate them, but the money we don't spend at the store can be sent to provide fresh water around the world. In the past we've made banana bread, blueberry jam, persimmon bread, and cereal snack mix (we try not to repeat ourselves). Several recipients have diabetes so the typical cookie tray is out. This year we decided to make a
Southwestern Dip Mix
recipe that I found on the Taste of Home website.
All the ingredients were available in bulk at Sam's Club.
I used a seive to sift the cumin and chili powder so that no one ended up with a lump of spice.
After stirring everything together I divided the mix into equal portions and placed them in snack- size ziploc bags. Next I needed to work on decorating the bag. First I measured the width of the bag.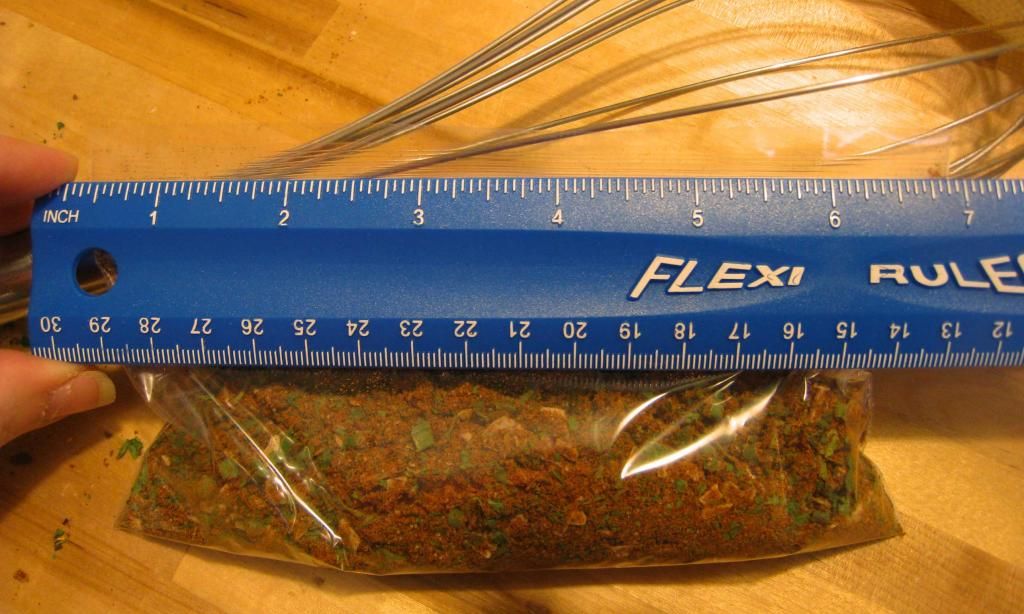 Looks like 7 in. will cover the top





Then I used my Graphic Toolbox software to make a label that will fold across the top of the bag. One side will have our Christmas greeting and the other side will give instructions for using the dip mix. Make sure that you flip one of the pictures/text over so it will look correct when you fold the label.
I printed the labels on card stock, cut them out and scored them with a bone folder. When I held them over the ziplock bag I could feel the thickness of the seal to make sure a placed the staple outside the bag itself.
The Toolman will be taking this batch to work tomorrow.