Whenever the Crew is given the opportunity to review a Writing program, I usually jump on it. This time, when the vendor
Essentials in Writing
popped up, was no exception.
Like Diogenes in search of an honest man, I have been on a never-ending quest to find a writing curriculum to meet our family's needs. The issue is two-fold. First (and worst): my son hates to put pencil to paper. Second: Writing is something I think I can
do
, but haven't figured out how to
teach
. I can explain punctuation and capitalization rules or how to diagram sentences, but I cannot think how to teach crafting words into entertaining and thought-provoking passages. The
Grade 4 curriculum
($40) actually covers both grammar and (formal & informal) writing.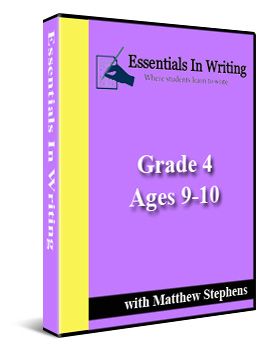 We received two DVDs with 58 lessons and a PDF download of the corresponding student worksheets and an answer key. Following the suggested approach we would watch the video for each new lesson and complete the first worksheet. Each following day we would work on the next worksheet in the lesson. Most lessons had two worksheets but some had 1 to as many as 9. Just completing one worksheet per day, the grammar portion would take 72 school days.

We usually have about six weeks in which to used products before writing our reviews. The vendor requested we spend half our time on the grammar portion and half on the writing portion. I chose to go back and forth from grammar to writing because I didn't want three weeks of whining about writing, but I wouldn't suggest you do it my way. The writing lessons tend to build upon one another (organizing, drafting, revision, edit, etc.) so the break while we did a grammar lesson upset the flow.
And the truth was, I didn't get a lot of whining. Schnickelfritz had no problems watching the video or doing the grammar exercises. The writing lessons were broken down into bite sized pieces that he could swallow without complaint. Some didn't even involve a writing on his part. Lesson 32 involved matching writing process terms with their definitions. Lesson 38 involved underlining the best opening sentence among three choices.
Essentials in Writing definitely overcame our issues--my son didn't complain about writing time and I didn't have to worry about teaching because it was all done on the video. Still, I am concerned that we weren't doing enough writing to log it as an hour of work. The video lessons are only 3-7 minutes long and the longest Fritz took on any of the worksheets was 15 minutes. I am planning on continuing to use this course for the rest of our school year. Maybe I'm running out of steam, but it's nice not having to plan lessons or argue over the need to do writing today. I'd rather have Fritz write two well-constructed sentences than fight and cajole for half an hour and end up with a paragraph of mush.
I must say a word or two about the production quality of the DVD's. The audio sounds "tinny: like an old time radio show and there are no closed captions available. You can see a sample lesson here.

Disclaimer: I received a free copy of this product through the Schoolhouse Review Crew in exchange for my honest review. I was not required to write a positive review nor was I compensated in any other way. All opinions I have expressed are my own or those of my family. I am disclosing this in accordance with the FTC Regulations.