My fellow Homeschool Crewmember, Marcy has been inspiring some of us to pursue a more nutritious lifestyle with her 40 day juice fast. You can get recipes and follow her progress at
JuicingMomma.com
. One of my goals this year was to get my family to eat more fruits and vegetables, especially those leafy and green ones. Reading Marcy's blog is giving me the kick in the pants to get started. While she is juicing, I will be making smoothies. I don't want to debate which is better than the other, I just happen to already own a Vitamix blender and I'm going to work with what I have.
Joining me on this adventure will be Schnickelfritz (who at least has to taste each concoction) and his grandparents, Papa and Dida (they live just two minutes down the road). Dida and I will be preparing the drinks, so we'll know what they contain. Papa and Fritz already have anti-veggie predispositions so we'll keep the ingredients hidden from them until after their taste tests. We're shooting for three new smoothies each week (usually for breakfast), but we may branch out into raw veggie soups and non-dairy ice creams--all made in the Vitamix.
Today's Recipe comes from
155 Healthy Smoothies
and contains mango, banana, lime and (whisper) broccoli. We'll review it for taste, cost, and alkaline/acidity.
I loaded the Vitamix with:
1 Cup cold water
2 Cups chopped broccoli florets
1/2 Cups frozen chopped mango
1 peeled banana
1/2 small peeled lime
Papa does not like broccoli so I made sure to run the blender until even the fine little green balls had been pulverized (maybe 90 seconds?). Since I'd started with refrigerated water and frozen fruit the drink was still cold (the power of the Vitamix can actually heat soup if you run it long enough). Here's our finished glass in the bright morning sunshine....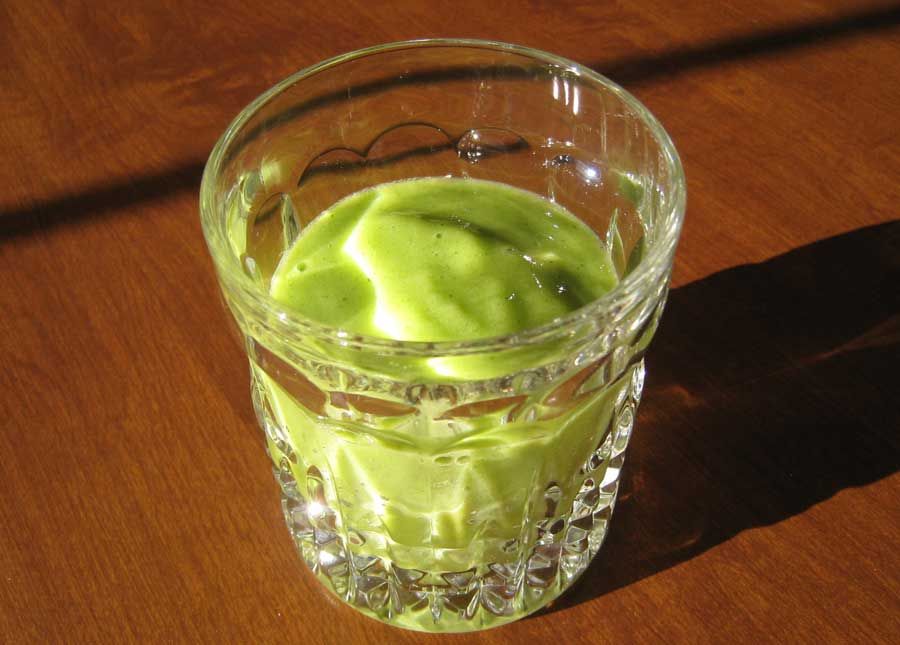 The Verdict:
There was enough for Dida and me to both have full glasses while Papa and Fritz both tried a few spoonfuls. Fritz immediately called for more sugar, but gave it another go when I added a little Stevia and rated it an 7. Papa never recognized the secret ingredient. He rated the drink a 6 and said he would drink it again. Dida would prefer the drink to be a little less thick. She added some water to the Vitamix to get out the very last drops and then used it to dilute her glass. I thought the broccoli had been well hidden by the other ingredients and felt it was on the verge of being like a nice, albeit thick lemonade (especially with the Stevia). Perhaps a whole lime next time.
The Cost:
All the ingredients are available at Aldi's although frozen mango is only there occasionally. If you don't mind cutting your own mango, it's usually in the produce section. I bought a 4 pound bag of frozen mango at Sam's Club for $7.98. The total cost for all the ingredients in this smoothie comes to $1.31--cheaper than breakfast at McDonalds.
Alkaline/Acid:
A lot of the health issues we face today can be attributed (at least in part) to a pH imbalance. A healthy body should be alkaline, but the typical American diet is made up of mostly acids.

 Our bodies are constantly trying to restore balance and that can mean stealing minerals (like calcium, sodium, potassium, and magnesium) from our bones and vital organs to neutralize the acid. According to
NaturalHealthSchool.com
mild acidosis can cause such problems as:
Cardiovascular damage, including the constriction of blood vessels and the reduction of oxygen.
Weight gain, obesity and diabetes.
Bladder and kidney conditions, including kidney stones.
Immune deficiency.
Acceleration of free radical damage, possibly contributing to cancerous mutations.
Hormone concerns.
Premature aging.
Osteoporosis; weak, brittle bones, hip fractures and bone spurs.
Joint pain, aching muscles and lactic acid buildup.
Low energy and chronic fatigue.
Slow digestion and elimination.
Yeast/fungal overgrowth.
So how does our drink rate? Only the lime is extremely acidic and it was the smallest ingredient.
pH
Mango 4.8
Banana 5.2
Lime 2.8
Broccoli 9
Water 7