Several of my homeschoolin' and bloggin' mama friends have been kicking around an idea of a year long series of posts. What a challenge, for me anyway. I tried to blog through the alphabet once and made it up to U I believe, but this series would be twice as long. Still, I'm going to give it a shot for the discipline of posting regularly (remember my word for the year is Consistency). The only things I have 52 of in this house (and more, trust me, MUCH MORE) are books.
I love reading and books stores and libraries…and combining all of them at the library book sale. From time to time libraries have to make space for new titles and I guess they cull out the ones that haven't been checked out recently. It's a shame too because there are some real treasures – they just don't appeal to today's readers who prefer a diet of vampires and post apocalyptic battles to the death (and please don't say "well at least they're reading something"). So I "save" the books by buying them at the sale, improve my home library, and help out the library (or other charity) at the same time. So here's my challenge – to post about 52 of the great books I've found, the treasures from other folks' trash. Most will be children's books, but there are a few others in the mix.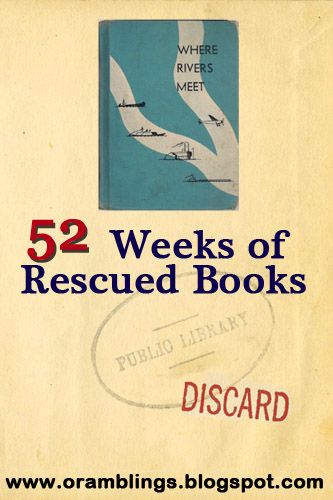 Book #1…Where Rivers Meet Banks, Marjorie Ann, and Edith S. McCall, Chicago: Benefic Press, 1962.
I picked this book up at a fundraiser book sale for the junior high band and was so impressed/enchanted with it that I used it as my spine to teach Missouri history for my son (who could easily read it in the 3rd grade). The rivers in the title are the Ohio, Missouri, and Mississippi and the great majority of the text takes place in the land that becomes the state of Missouri.
The chapters are only 3-4 pages and fall chronologically from the Indians that lived here through most of the 20th century. We meet French explorers, mountain men, Daniel Boone, Lewis & Clark, steamboat captains, pioneers headed to the start of the Oregon Trail, Pony Express Riders, and Charles Lindbergh. The history is told in story format and the back of the book lists brief biographies of the real historical figures but also explains that some characters are typical of people who might have lived in those eras. You'll also find a map and timeline of the recorded events.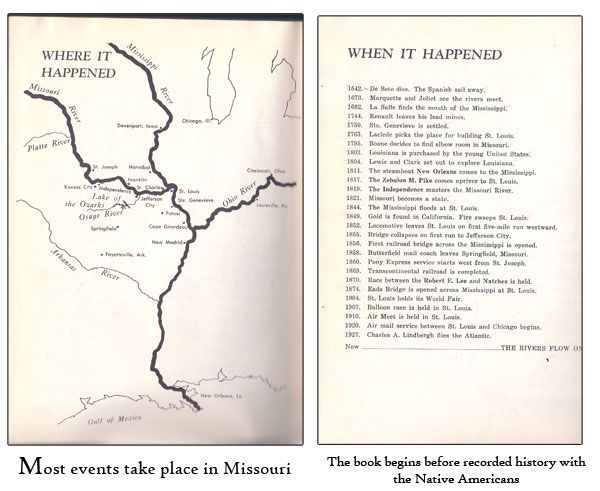 As far as I can tell this book was part of a series called Our Growing America. Other Titles include Where the Ohio Flows and Gateways to America. When co-author Edith S. McCall was inducted into the Writers Hall of Fame in 1996 she spoke about her love of sharing history with others (especially children).
"When I was in college, I took courses under an American history professor who saw influential people of the past as
distinct personalities and not just names. He permanently changed my attitude toward American history. I thought it a shame that my childhood instruction had left me unaware of the fascinating details and failed to bring the story of my nation to life. That professor opened my eyes and gave birth to my love of the subject. I became especially fascinated by our westward growth and the courage of the people responsible for it. Most of my published writing reflects this interest. I'd like to have children and adults, too, see American history as the greatest drama of all time. I find it most fascinating to learn the stories of almost unknown people who make important contributions. I try to retell their histories in a manner that won't
'turn people off,' whether I'm writing for the young child or the adult."
If you live in Missouri and want to use living books to teach your children history I can't recommend Where Rivers Meet highly enough.
Don't miss a thing! Subscribe to Ozark Ramblings and get my posts in your inbox.