Let me tell you, I had a hard time choosing a special destination for the letter M of ABC Blogging Across Missouri. I mean, the name of the state starts with M so anything that incorporates the state's name qualifies. I settled on one of the oldest and most respected institutions in the state and also a National Landmark. I could have saved it for the letter S because most old timers still refer to it as Shaw's Garden (we also call Highway 64 by its old number-40, so don't ask us for directions). Its official title is The Missouri Botanical Garden.
Henry Shaw, an Englishman, migrated to St. Louis, MO in 1819 and set up a hardware store in what was then still a small village. The city was growing however and Shaw supplied goods to build up the town as well as goods for pioneers traveling further west on one of the national trails that begin in the state (hint, hint about next week's topic). Within 20 years he was able to retire as a wealthy landowner. He took roughly a decade to travel, but returned to his holdings in 1851 to build a home and extensive garden. In 1859 he opened the garden to the public. Today, the 79 acres where his home and mausoleum still stand are are green oasis for visitors from around the world.
Here are some of the highlights as numbers on the map.
5. The Sensory Garden – Built especially for the blind or seeing-impaired, the plants of the Sensory Garden were chosen specifically for their fragrance or texture—yes, you're encouraged to touch the plants. Signs and plant labels include braille. There's also a fountain and a "Bell Tree" sculpture to make it an auditory experience as well.
19. The English Woodland Garden—Probably my mother's favorite area when the dogwoods are in bloom.
20. The Japanese Garden – Added more than 100 year's after Shaw's Garden opened, it is THE place to see azaleas and rhododendrons, feed koi, walk over traditional bridges, and see the white gravel raked in patterns in the Zen garden.
26. The Center for Home Gardening—The Missouri Botanical Garden has teamed up with the University of Missouri Extension to help us average Joes and Janes. You can view 23 demonstration gardens to discover how to use native plants, take a Master Gardeners course, or bring a sample of your sick plant for evaluation.
28. The Climatron –The first geodesic dome to be used
as a conservatory. It was opened in 1961, rising 70 feet high and spanning 175 feet across. There are no columns or support structures inside to interfere with light or plant growth. It's kept warm with high humidity to house tropical plants like a rain forest—it even has an indoor waterfall. In front of the Climatron is a lily pond with pads so big people could stand on them. Since this practice is not allowed now, you'll have to look at this old picture as proof.
Every year, the Garden has a special display. This year there are giant Lego butterflies and other creations in the Climatron but two years ago there was a magnificent display of Japanese Lanterns.
Bonus M – The Muny
Here I thought I had my M post all wrapped up and then my son and I went to see Suessical the Musical and I new I had to share The Muny with every one. So here is a bonus M (and who doesn't like M&M's). In the heart of Forest Park lies the Zoo, the Art Museum, and The Municipal Theatre Association of St. Louis –this time old timers and newbies alike refer to it simply as The Muny. Every summer it hosts a season of Broadway worthy musicals. Some of this years productions are Disney's Tarzan, Porgy and Bess, Grease, and Hello Dolly!
These aren't national touring companies. The Muny produces their own performances, using local talents for the orchestra and chorus. They even "grow" their own talent through the Muny Kids and Muny Teens programs (both groups perform for guests waiting to enter the outdoor theater). Okay, the secret is out…you're sitting outdoors in the St. Louis heat and humidity, but when the sun goes down and a breeze comes by it's actually pleasant. Last year The Muny invested in ultra-quiet fans that can be run during the performance to ensure the air keeps moving.
I grew up going to The Muny—it's where I first saw Cats, Fiddler on the Roof, and 42nd Street. I even saw Mikhail Baryshnikov and his ballet company perform. In the last two year's I've taken my son to see Mary Poppins and Les Miserables for ….are you ready for this? ABSOLUTELY FREE! The Muny sets aside 1500 free seats for every performance—all you have to do is be willing to come early and wait in line. And maybe bring a small pair of binoculars, but the sound is perfect—everyone is miked.
Here are a few tips if you're coming for the free seats…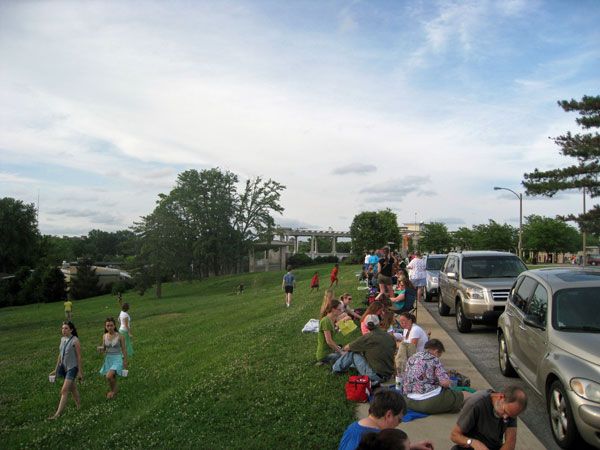 The gates open at 7 for the free section, plan on getting in line somewhere between 6:15 and 6:30. Weekends are more crowded than weeknights and family friendly shows are more crowded than those meant for adults. I usually stand in line while Schnickelfritz plays on the hillside with other kids (it is a park after all). If you bring chairs or Frisbees, have one person hold the place in line while another returns these things to the car before the line starts moving (there's a large free parking lot just to the right of this picture).
Bring you dinner. You can either eat in line or wait till you've found your seats—there's still an hour+ wait for the show. You may bring in soft sided coolers if they'll fit under the seats and your own food and drink (we usually opt for sub sandwiches and lemonade in old Gatorade bottles).
Bring something to "reserve" your seats – a jacket or blanket to drape over them. I've never seen anyone disturb or steal items placed over seats. Then you'll be free to go watch the Muny Kids or Muny Teens perform (or visit the restroom before the long lines form). For family shows, there's often a "storybook" presentation to give kids the gist of the story before the performance and often a drawing for free teddy bears (Build-a-Bear is a St. Louis based company that supports the Muny).
Be aware that you won't get a program. If you aren't familiar with the musical try to research songs etc. online before you go.
I'm linking up with …