"Mom, can I do a piano lesson?" As far as rarely heard sentences are concerned, this might rank up there with "Mom, can I have seconds on spinach?" and yet I heard it nearly every day during our review of HomeSchoolPiano. Even more amazing, because of our satellite internet package, my Schnickelfritz would have to get up to watch some of these online lessons before 7 AM. I don't know which amazed me more—that my adolescent son would get up early or that he was actually learning to play the piano over the internet, but both were absolutely true with our subscription access to the HomeSchoolPiano - Complete Set of Books.
WHAT WE RECEIVED:
Lifetime access to the online lessons and downloadable PDF books. There are three progressively difficult books, each book broken into six units and each unit broken into seven lessons – that's 126 lessons right there. There are also 33 "Core Piano" lessons for the absolute beginner that cover things like how to sit at the piano or terms like "legato" and "staccato."
The units in the three numbered book always follow the same lesson pattern: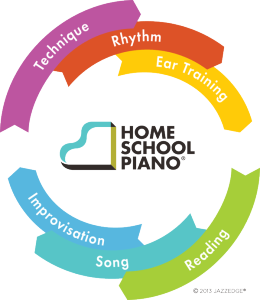 Technique
Rhythm
Ear Training
Reading Music
Song
Improvisation
Bonus
There are brief quizzes after the Rhythm, Ear Training, and Reading Music lessons. The piano teacher is Willie Myette, a jazz musician who has been teaching kids music since 1996. He has written original tunes for each of the units and may I say there's just something about the swing and syncopation of jazz that makes practicing these pieces more appealing than counting the standard 4/4 time signature of the songs I had to use in my own piano lessons. Willie even encourages using the various rhythms built into the keyboard rather than just the metronome. (If you don't have a keyboard with rhythms, you can download the audio files of the lesson and use the recorded version).
The screen for the video lesson is divided into several sections: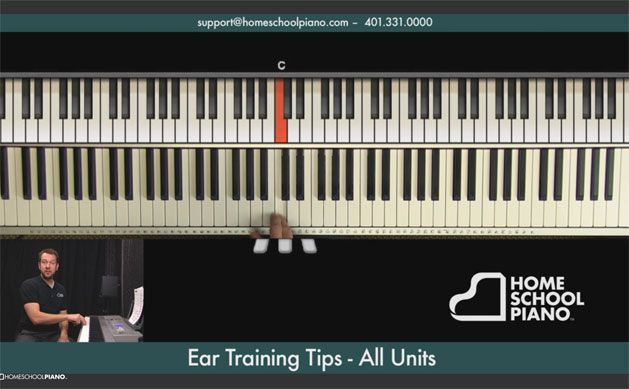 At the bottom you'll see Willie as he talks to you, in the middle is a live overhead shot of the keyboard, above that is a virtual keyboard. When he strikes a key it will light up and the letter associated with the key is displayed (in my screenshot, he is playing middle C). I believe just below the live keyboard are three virtual pedals that will light up when used, but we didn't see that in our lessons to this point.
OUR PIANO EXPERIENCE:
When Fritz was 4 we bought him one of those keyboards with the keys that lit up when you were supposed to play them and over 100 songs in its memory. He could follow the lights to plunk out familiar tunes like Jingle Bells and Happy Birthday but he could only play the songs in the memory banks and the keyboard couldn't provide any guidance if he didn't know the rhythm of the song. He couldn't read music at all. I had taken two years of piano lessons in grade school and could read music from my choir background.
HOW WE USED HOMESCHOOLPIANO
First I downloaded the PDF book files, printed them on both sides of the paper, and comb-bound them together with laminated covers. It just made it so much easier to keep track of a book rather than individual papers and kept the pages from flopping over on the stand.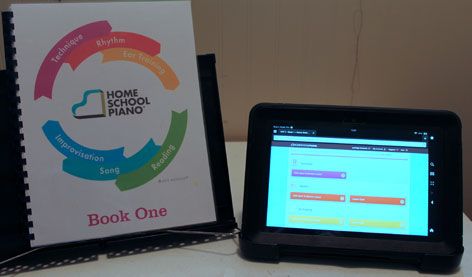 We currently have a Roland D-10 keyboard in our homeschool classroom/basement. Our computer with internet access is upstairs. I made Fritz start at the very beginning with the Core Piano lessons. Since most of these are more theory than hands-on lessons, Fritz could watch the lesson upstairs and if needed, practice down on the keyboard afterwards. The lessons were so short and Fritz so enthusiastic that he'd go through 2 or 3 per day. He had the Core Piano completed in three weeks.
Moving on to Book One Unit 1, it became a little more important to view the lesson while sitting at the keyboard. The lessons can be viewed on any internet capable device so I set up our Kindle Fire HD on a table behind the keyboard. Although you could watch on a smartphone, I think it would be too small to see much detail. The lessons from the numbered books are downloadable so I'd go to the library and use their Wi-Fi to download a week's worth of lessons at a time (for some reason none of the Ear Training lessons have the download feature, nor do the Core Piano lessons).
Fritz would have to play with one side of the headset off so he could hear the lesson (our keyboard doesn't have speakers). His favorite lesson was on improvisation and he'd often have me wear the headphones to listen to his latest "compositions" better yet, he'd ask his friends to listen. I was so thrilled he wanted to show off his piano lessons rather than hide them for "lack of coolness." This fall, we'll continue to keep piano lessons as part of our curriculum. I'll be honest here and say while my son loves the lessons, he's not crazy about the recommended 30 minutes of daily practice –I guess that goes to prove he's normal after all.
Although I didn't need it, there is a Records tab for parents to track up to 5 students' progress. You can see which lessons have been begun and completed and quiz scores to verify students are actually doing the work if you're not sitting beside them. This feature doesn't work if you're downloading the lesson to view later – everything just shows up as 10 percent complete (for accessing the lesson I presume).
HomeSchoolPiano offers unlimited life-time access to the lessons, sheet music, jam tracks and other downloads for up to 5 students with either a one-time payment of $299 or an installment plan ($99.97/month for three months). These lessons are for all ages (I've even started sitting at the keyboard myself after years of regret for dropping out).
The cost isn't chump change I know, but it's also not out of line for piano lessons—especially if you've got several kids. HomeSchoolPiano does offer a full cycle of free lessons, from Technique through the Bonus for you to try before purchasing.