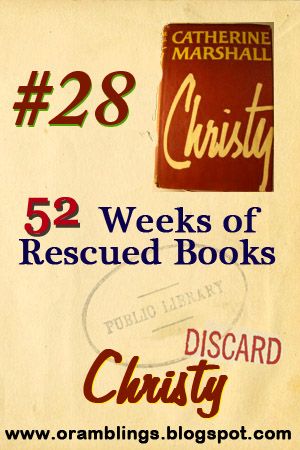 I'm having one of those "I can't believe I'm that old" moments. I almost didn't include this book in my series because I figured everyone knows about Christy, it was made into a TV show a little while ago. Imagine my shock when I saw it first aired 20 years ago! Anyone being homeschooled today would have never seen it (unless they have the DVD's), but even those who have—the TV version can only be said to be loosely based on the book.
Christy
Marshall, Catherine. New York:McGraw-Hill, 1967. 496 pp.
This is the first fictional novel by Catherine Marshall. She began working on it in 1959, but set it aside to focus on her recent marriage to her second husband and his three children ages 10 and under (Catherine's first husband, Senate Chaplain Peter Marshall had passed away over a decade earlier).
The story begins with Christy traveling alone to a mission in the Smoky Mountains of Tennessee to be a teacher in a one room schoolhouse. She is joining the American Inland Mission to work with Rev. David Grantland and Quaker laywoman Alice Henderson. Among the interesting and endearing characters she meets are moonshiner Bird's Eye Taylor, mischievous Little Burl, and noble mountain woman Fairlight Spencer. In addition to her daily struggles to teach 67 children in all grades and find funding for the mission work, Christy must deal with hardships like feuding and a typhoid epidemic. And in her "spare time" she tries to sort out her feelings for both the local minister and doctor.
An undercurrent to the whole story is how different characters come to terms with God—from Creed Allen wondering if dogs will be in heaven, to Christy's wondering if she's truly a believer to Dr. MacNeill and his agnosticism.
Christy's story and work at an Appalachian mission is based on life of Catherine's mother, Leonora Whitaker. Cutter Gap in the story is based on a community near Del Rio, Tennessee and fans of the book and TV show still travel there today. Those fans may be disappointed to learn that main character (and Christy's love interest) Dr. Neil MacNeill is simply imaginary.
I originally "rescued" a paperback version of Christy, published with a tie-in photo on the cover of the television character. It became on of my favorite stories and a go-to book if I had to sit in a hospital waiting room or if I was in the patient's bed. I could open it up anywhere and be immersed in the story for hours—it's not Les Miserables, but it is a long story. Later I found a hardback edition, much more sturdy, with a map of all the story locations near the front cover.
You can find a list of all my Rescued Books here