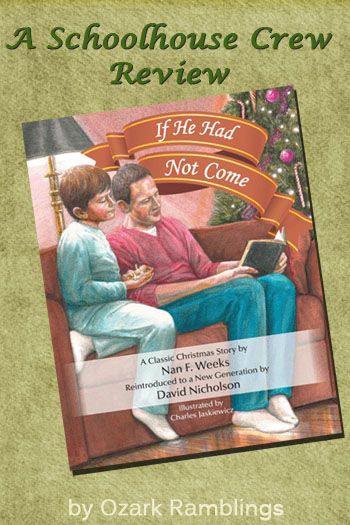 If you like to keep the true meaning of Christmas alive or like to keep the spirit of Christmas alive throughout the year—have I got a book for you. David Nicholson is reintroducing the world to a story originally published in 1938. Back then author Nan Weeks asked her readers to consider what life would be like if Jesus hadn't come to Earth in the form of a new baby in the book If He Had Not Come. The hardback book ($18.95) contains the 28 page story—each two page spread includes an full color illustration for the kids to study while you read aloud (it works great if you can hold it open and read it librarian-style). The pictures were done for this edition of the book and have a nostalgic look about them—not quite 1930's but certainly not modern. I'd place them in the 50's.
The story follows a young boy named Bobby who wakes up on what he knows should be Christmas morning to find no decorations, no presents and no day off work for the local factory workers and shopkeepers—and why would there be if we weren't celebrating Christ's birth. It gets worse though as Bobby discovers no Christmas means much more than no presents, decorations, or carols—there's no church, no orphanage, no local hospital, and no homeless shelter. At every location Bobby finds the words "If I had not come" (taken from John 15:22). Fortunately for Bobby he wakes to discover it was all a dream. He prays to thank the Lord that He did come and promises to do everything he can to please the Lord on Christmas and every day."
The story is recommended for ages 6 and up and I chose to read it aloud to my boys in Ranger Kids. I could easily read it in the 15 minutes we have for devotions (but you may want to allow for extra time if your kids like to comment during story time). Although it's technically a "Christmas story" I found it worked perfectly to share in the time of preparing- for-but-not-yet-celebrating the season. After reading the story we took a little tour of the church building to see how we had opportunities to be God's hands and feet. Bobby tried to visit the Children's Home to watch them open the gifts his class collected and I took the boys to see the Operation Christmas Child boxes our church was distributing. Bobby looked for the homeless shelter and we looked at the sign up sheet to ring the Salvation Army bell and talk about how they use the money collected. We also stopped to see the box where we collect non-perishables for the local food pantry. We talked about the hospitals in our area—St. Lukes, Missouri Baptist, St. Johns Mercy –all with religious affiliations.
The book also includes discussion questions, a brief Bible study covering why Jesus came and what it would mean if he hadn't come, and the ABC version of steps to lead a seeker to salvation. All my K-2nd grade boys enjoyed the story and eagerly participated in our discussion about it. I think it's a perfect fit of religious scouts, Sunday School classes or your own family—especially before a service project of some sort done in Jesus' name.