I once heard a motivational speaker say "You'll be the same person in five years as you are today except for the people you meet and the books you read." For that reason I'm careful with whom I keep company and the books I choose to read and keep around the house. I look for books that are thought-provoking, positive, and fill me with wonder. Purposeful Design: Understanding the Creation by Jay Schabacker hits all those marks. His book, and the free curriculum available on his Purposeful Design website allow us to not only consider the wonders of God's creation, but also build a positive self image as we realize that we too were created for a purpose.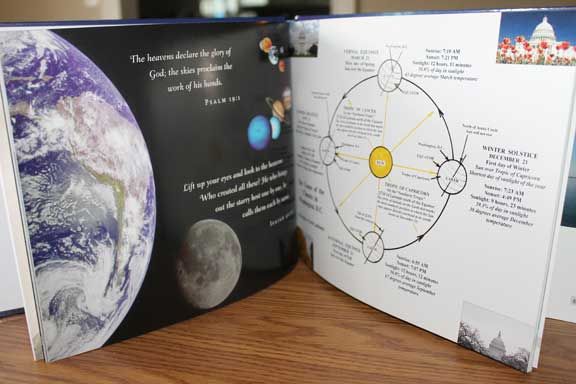 Purposeful Design could be considered a "coffee table" book –the 90+ pages within its hardback cover are filled with gorgeous photography and verses of scripture. On the other hand, it's a book full of fascinating facts, questions to consider, and charts & diagrams too. Mr. Schabacker spends a chapter on each day of the creation week and some of t
he amazing (and sometimes odd) examples of God's handiwork. Did you know a camel can carry up to thirty gallons of water in its hump? Or that even after spending years in the ocean a salmon can migrate thousands of miles back to the stream of its birth? Water is one of the few elements that becomes less dense when it freezes—and why is that so important? Along the way we learn things weren't done just so, life on Earth wouldn't even be possible: if the planet weren't tilted at just the right angle, if a different percentage of the earth's surface was covered by water, if the moon was at a different distance to control the tides, etc. The seventh day chapter is filled with Bible verses for contemplation and the epilogue wraps everything up with the statement "…the author wants to share his findings so that you can marvel at (and be thankful for) the love showered on us by a very personal and compassionate God.
My son and I both loved perusing the pages—he had more interest in the astronomy and focused on Day 4 while I had more fun reading about the human body on Day 6. This book is great to just pick up as time allows and read a page or two that draws your attention. Then when we were ready for a deeper study, we downloaded the free Young Explorers workbook (there's a teacher's answer key also).
Each lesson begins with the applicable verses from Genesis describing the creation of that day. The author really had my son in mind when he phrased some of the questions…rather than ask "how does this verse speak to you" (as you might find in an adult Bible study) he asks "What is your favorite sentence or group of words? which was much easier for my son to understand. Next comes a series of reading comprehension questions and then some additional Bible verses (again asking which is your favorite and why). The other final questions for each day are 1.In your own words, what do you think was neat about what God did on Day ___? and 2. In your own words, how do you know that God loves you very much? Each day we're re-enforcing that God planned everything with no mistakes (including me and you) and He did it all because He loves us so much. As I said at the beginning—positive message, awe-inspiring, thought-provoking.
Purposeful Design can be enjoyed by all ages and is available on the website for $18.95. The Young Explorer's Club curriculum is free.