Last spring as part of a blog hop I shared ways we've used Photoshop Elements in homeschool---specifically, how we'd enhanced/colorized/etc. the PDF files from the Home School in the Woods' Time Travelers U.S. History Studies. Of course I asked their permission before sharing any of their images and after seeing my posts they gave me the opportunity to review one of their products. This fall my son and I have really been enjoying their Civil War CD-ROM.
Obviously, if I was using their products last Spring I'm familiar with the vendor but let me be perfectly clear up front: We LOVE Home School in the Woods!!! We've now used five of their Time Travelers sets, their Project Passport Middle Ages, and their Timeline Figures. If you hated history (or your kids do) because of dull texts or unending lists of only names, dates, and places I urge you to give their activity-based unit studies a try!
Everything is contained on one CD-ROM. I always start by printing out the Teacher's guide and Lesson Texts which I comb-bind for our use (the book on the left below). This gives me a Lesson Plan of material to be covered and all the instructions for creating a notebook, lap-book, crafts and other keepsakes to remember our study. We've always used the Time Travelers to enhance our regular history curriculum so I look through the lesson plan page first to see how the subject material matches up with each chapter of our textbook (to be honest, Time Travelers could stand alone as your history study if you don't mind not having quizzes or tests).
The book on the right is my son's notebook. Rather than four separate pieces: a notebook, a lap-book, a newspaper, and a box of biographical mini-books (referred to as the Library of Leaders); we compile everything into one large bound notebook. We mount all the printables on cardstock pages-- this includes the mini-books of famous leaders and generals. In this case, we used Photoshop Elements to add flags to the image backgrounds so we could keep sides straight, but you could just differentiate with the color of paper you use for printing.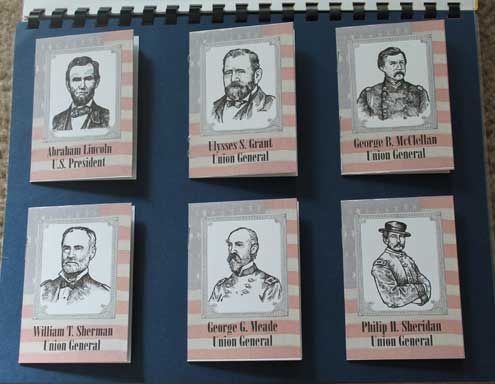 Some of the other notebook pages include a massive timeline….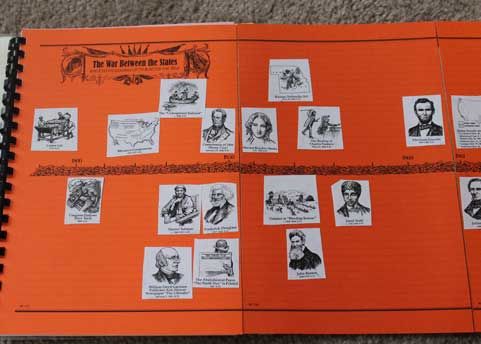 and samples of the uniforms for both the Union and Confederate soldiers.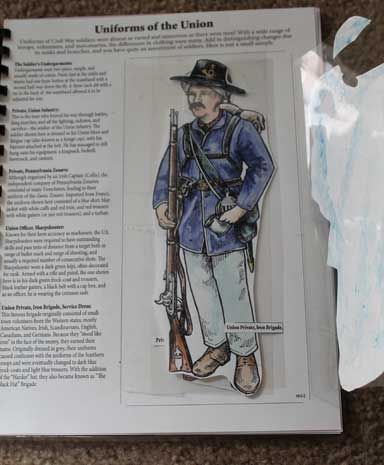 When we went to the 150th anniversary re-enactment of the Battle of Pilot Knob, we took spare copies of the pages that taught us to identify ranks and corps badges—it was like having our own private program to know all the players!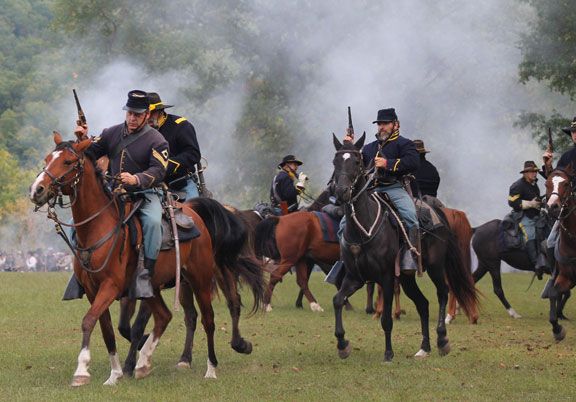 The Union Cavalry was stationed directly in front of our spot, and we quickly realized that the "real man in charge" only had the rank of First Sergeant even though there was a Captain right behind him.
I could go on and on about the materials in our notebook…copies of important speeches and documents, maps, flash cards of military terms, history makes & other vocabulary; even recipes to make our study a more immersive experience. Want your kid to know what it's like to be a foot soldier? Let him spend the day walking all over a battlefield and when he asks what's for lunch, pull out the piece of hardtack you made the week before! (and then when the shock wears off, go visit one of the food vendors—I'm not that cruel).
Of course the heart of the study are the Lesson Texts. Here's where Time Travelers really shine. Every subject from pre-war Slavery to Reconstruction, every battle in between is told in a Charlotte Mason/Living Book format. Sure there are dates and places and General's names to remember, but everything is fleshed out to give it real meaning. I'd found a used book of Civil War battle maps that my son kept side by side with the lesson texts and he could follow all the troop movements on the maps as he read. Everything was spot on!
The Civil War won't be our last product from Homeschool in the Woods (we've still got three more Time Traveler studies to go). And lest you think I'm gushing over a product I got for free in exchange for this review—I was a customer LONG beforehand, having purchased every other product we've used. Every one has been a treasure—a real "this is why I homeschool" experience.
The Civil War is available for download for $27.95 or on CD for $28.95 (plus shipping). It is recommended for grades 3-8. You can see more project photos and download a sample lesson on the website.