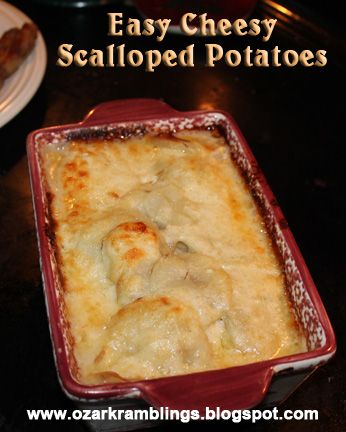 I'm in a cooking rut—not the maid dishes but the sides. It seems like I'm always grabbing a can of corn or a can of green beans. I've also decided that for our health we need to expand our palate and down the road move to fresher foods. But for today, I'm just working with what I have on hand—which is lot's of potatoes. I bought the 10 pound bag since it was on sale for less than the 3 pound bag, but now I need to use them up before they sprout.
I pulled out my Better Homes and Gardens cookbook and turned to the veggie section. The first potato recipe where I had all the ingredients was Scalloped Potatoes, but then I noticed the alternative version at the bottom of the page—and everything is better with cheese. Good thing I'd gotten some natural white cheddar in my last co-op order.
Cheesy Scalloped Potatoes
1/2 C. chopped onion

1 clove garlic, minced

2 T. butter

2 T. flour

1/2 t. salt

1/4 t. black pepper

1 1/4 C milk

1 lb. potatoes (peeled if desired)

6 oz. white cheddar cheese, grated
Begin by making a white sauce: melt the butter in a small pan. Add the onion and garlic and cook until tender. Stir in the flour, salt and pepper. Let this cook for a minute to get rid of the raw flour taste. Add the milk, then cook and stir till thickened.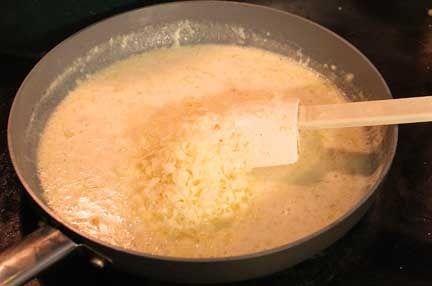 Add the grated cheese to the thickened sauce and stir while it melts (sorry for the white on white image). You could also use yellow cheddar, or an American cheese if you wanted a milder flavor.
While that stayed warm I peeled and sliced the potatoes. Normally I'm a "leave the skin on because that's where all the vitamins are" kind of cook, but with scalloped potatoes the skins tend to fall off in rings anyway so I just peeled them. This KitchenAid food processor was my birthday present last year. I normally use it to make butter, but it has a great "select your thickness" feature so I could get my potato slices just the way we like them.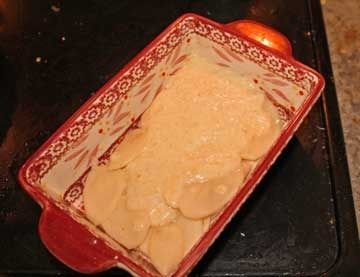 Next begin layering the potatoes in a 1 1/2 quart baking dish. Mine is stoneware so I didn't have to worry about sticking, but you may want to grease a metal or glass dish. Stop halfway and add half the cheese sauce, then repeat. Cover the dish and bake at 350 for 40 minutes. Remove the cover and bake for another 20.