Spring generally means the end of another school year, but this spring we've also reached another "ending" of sorts. We've completed the entire series of Time Travelers unit studies from Home School in the Woods. Since we've been going through them chronologically our final study was their World War II CD.
Up till now we've been using Time Travelers as a supplement to our normal history curriculum, but this time we set aside our textbook and used TT on its own. AND IT WORKED GREAT! I admit, I wasn't that excited about spending weeks studying a war (I know we did so for the Civil War, but that has been somewhat romanticized through the movies and re-enactments). On the other hand, my family has a much closer relationship to WWII: my grandfather was an engineer that worked on the Enola Gay, I had several great uncles who served in the Pacific, my mother's cousin married a man of Japanese descent that spent time living in an internment camp. While I had the opportunity to talk with these men, my Schnickelfritz did not. That's why it's so important to me that the curriculum we use is not only historically accurate, but gives us a "you were there" feeling.
Whenever we start a new study I always begin by creating two comb bound notebooks. The pink cover is for my teacher's book (it's the one color in the card stock pack my son refuses to use and it makes it easy for me to spot at a glance) where I keep the lesson texts, the project instructions, the lesson planning table and and other teacher helps. One particularly useful printable had a list of age appropriate books and movies if you want to expand the unit study—a lot of the titles are Landmark Books which we collect and love.
The first item in Schnickelfritz's notebook is the timeline, I even splurged on olive drab cardstock! It made reading the labels for placing each image hard to read, but each lesson also has a PDF Teacher's key that you can use for reference.
The official title for the unit is America in WW2, but the study begins well before Pearl Harbor and America's entrance in the fighting. We actually started with the end of World War 1 and the punitive treaty that led to Germany's extreme poverty which gave Hitler the opening he needed to offer hope and achieve power. Before the Americans arrive we learned about the dictators of WW2 (highlighted by Hitler's rise to power), the German Blitzkrieg and the miracle of Dunkirk, The Battle of Britain, and the German invasion of the Soviet Union. Most of the war lessons focused on campaigns rather than individual battles—War in Africa, War in the Pacific, Operation Market Garden. And for those with younger students, there is a lesson on the Holocaust and concentration camps. The text doesn't dwell on the horrific details but it is part of the lesson so parents may want to skip portions of the reading.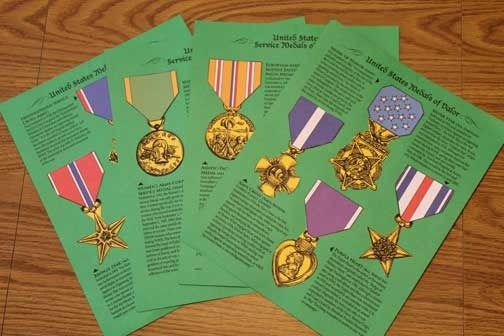 While there are technically twenty-five lessons in WW2, five of those days are project days where we cook recipes, drill with flashcards (called Factfile cards in the series), and complete any outstanding notebook/lapbook projects. We were able to stretch the study beyond 25 days because the notebook/lapbook projects. The picture above shows the military medals that could be earned by US servicemen (and women). The paragraphs for each medal is enough material for a lesson on its own. One day we studied the weaponry of the war, another day we learned about Navajo Code Talkers, on still another we learned about rationing and victory gardens. (while on of the projects was to make a ration book, I was able to show my son the actual ration books that had belonged to my father and grandmother).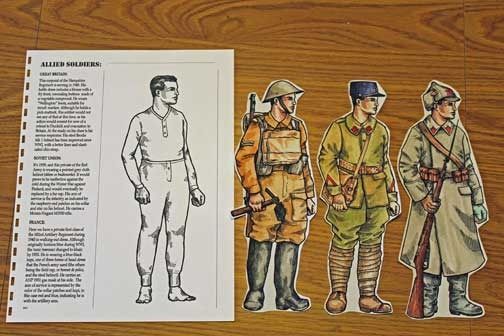 A feature of every Time Travelers study has been a "what did they wear" project. The picture above covers British, French and Soviet uniforms. For students that enjoy it, you can print out black & white versions for them to color. My son has never enjoyed coloring so I allowed him to manipulate the PDF Teacher Key references till they fit the notebooking sample soldier (see below)—perhaps I'll share how that's done in a future Photoshop Elements tutorial.
Another example of his using PE rather than coloring images was the John F. Ebel notebooking project. Lt. Ebel earned quite a few medals and rather than coloring in the awards image, we found examples of each medal online and cut and pasted them over the PDF image.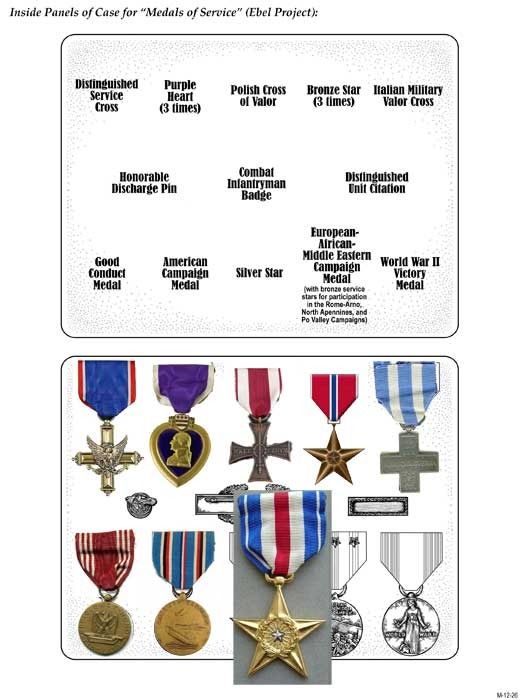 When Fritz finished his page on Lt. Ebel, I took it to share with my Ranger Kids. They needed to hear a story from a veteran for their Flag merit and while I read excerpts of the 16 page story the boys were able to look at pictures included in the project files.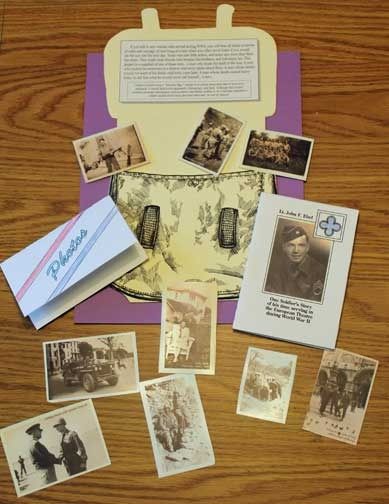 As I've mentioned with other posts, we're not artsy-craftsy folks. For those who are, you can make a Blue Star pennant, paint a silk pillowcase, or sew a garrison cap. There were fewer recipes in this study—one week we just had tips on cooking with rations (substitutes for meat, etc.). Our study of Victory gardens came just as it was time to plant cucumbers and tomatoes in our own square foot garden. There's also a wonderful project on sending a care package to a current soldier that shouldn't be skipped.
As I've said, this is our final Time Traveler's study. If you've missed any of my other reviews you can click on the links below.
The Civil War
The Industrial Revolution
Don't feel to bad for us about reaching the series' end though—Home School in the Woods has started a similar world history series called Project Passport. I've already got the Middle Ages and am looking forward to Ancient Egypt and The Renaissance.

Don't miss a thing!
Subscribe to Ozark Ramblings
and get my posts in your inbox.