Last year Schnickelfritz attended a wonderful Vacation Bible School program at a Baptist church in a nearby town.  You can read about that
here
.   We learned that they also host an Easter egg hunt so Fritz and I attended with his two best home-schooled friends.   True to their reputation, it was a class act all the way.   This church really knows how to serve others with joy and show Christian hospitality.  I only took a few pictures because  more often than not I was trying to catch up to 3 excited boys and carrying
their
baskets.
After registering, each child got to pick out an Easter basket to keep.   They had all shapes, colors and sizes.  Fritz's two friends went for sports-themed,  wicker baskets and Fritz went for his favorite color --blue.  The big draw really shouldn't have been called a hunt.  It was really an exercise in picking up quickly and not stepping on the hundreds of eggs scattered across the gym floor.  (I was so thankful this was indoors because we had a windy, wet, and cold Saturday).  
 Scattered throughout the building were more activities: face painting, family portraits, cookie and cake decorating,  crafts for preschool and school ages, games, and free hot dogs and nachos.   One game I liked best was a shell game, but in honor of the ressurection you were trying to keep track of the
empty
shell.  Guiding us to visit all the activities was a scavenger hunt.  At registration we received an empty egg carton and a clue sheet.  The 12 clues were all written in rhyme and directed us to a different area of the church.  When we arrived we would ask the volunteer if they had egg number whatever.  If we had guessed correctly we received an egg, then we could do the activity.  (I had a terrible time getting the boys to do the activity right then, they wanted to stay on the egg quest but we returned later).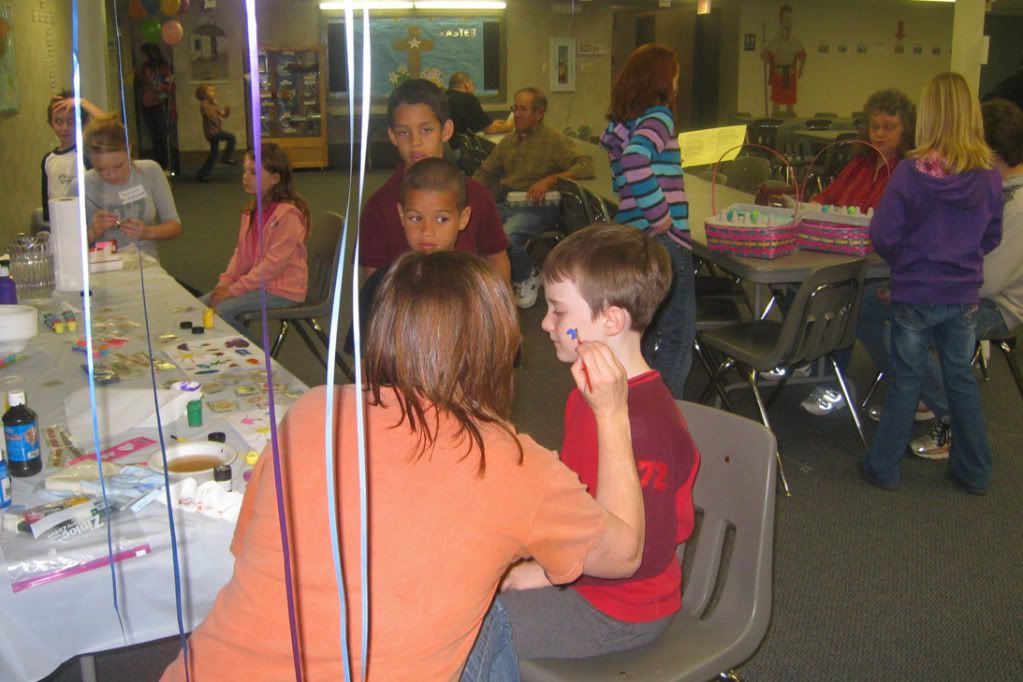 When we found all twelve stations (and the last one was actually a women dressed as Mary who wandered around the building), we ended up with our own set of Resurrection eggs!  There was a puppet show that discussed the symbols in each egg and the wonderful message of the empty twelfth egg.   Unlike the hunt, these eggs were ours to keep so we could share the gospel message with others.  The boys were quizzing each other in the back seat as we came home to make sure they remembered the contents and what they stood for.