Every now and then I feel pangs of guilt that I'm not giving my Schnickelfritz a well rounded education.  We cover our state's core requirements  but things lik
e music and art just don't make it on my to-do list.  Perhaps part of the problem is that I don't feel qualified to teach such things.  Art class was never one of my strong suits in elementary school and in middle and high school I never signed up for a single class.  Our co-op's one art leader has taken time off to enjoy her new baby.  I needed to find someone who would do the teaching for me--and now I have.  We received a copy of the first DVD in a series of Art Classes by
See the Light
 .
A second concern for me was the sincere dislike my son has for putting pencil to paper.  Writing is his least favorite schoolwork.  And while he will sometimes draw maps on our whiteboard, his preferred art medium is to create images by laying Jenga blocks on their sides.
Pat Knepley was the instructor for the four lessons on our DVD.  She was enthusiastic and made the whole idea of being able to draw approachable and acheivable.    Most of our lessons could be done with a simple #2 pencil and sheets of typing paper.  I put in the DVD to preview it alone and before it was done, Fritz had gathered his own supplies and was following along--with no coaxing or cajoling.  Now that's a good art teacher.
As the name and subtitle suggest, this is definitely a Christ-centered art program.  Each lesson included scripture reading or a reference to a story from the Bible.  For example lesson one talks about the tools we need to create art and then the discussion turns towards the Genesis account of creation.   Lesson two uses an apple as the subject for studying contours and the Biblical application was the Forbidden fruit in the Garden of Eden (which bothered me somewhat because no where in scripture does it say that Eve gave Adam an apple).   The bonus lesson on the DVD was a chalk drawing featuring the three crosses on Calvary.
The lessons were 9 to 15 minutes in length  (the bonus lesson was longer and featured a different instructor).   The children may attempt to draw along with the DVD or just watch the artist and do their own work later.  Below is my Schnickelfritz doing what was the hardest exercise in the lessons.  If you look carefully at his eyes, they are focus on the contour of the apple and not on his paper.  This is training the hand to follow the eye and even Pat was not able to have the end of her line meet up with the beginning on her first demonstration.  I'm sure this was intentional on her part, but it did help my perfectionist son see that there is a learning/training curve to drawing and we just have to keep trying.
 I'm including copies of
MY
work for lessons three and four.   Fritz took the whole "need to draw lightly" idea to heart and I could not get a good scan of his drawings no matter how I manipulated the image. As mentioned above,  I never learned to draw well either so I did the lessons right along with Fritz. 
[caption id="" align="aligncenter" width="716" caption="Apples and image depth"]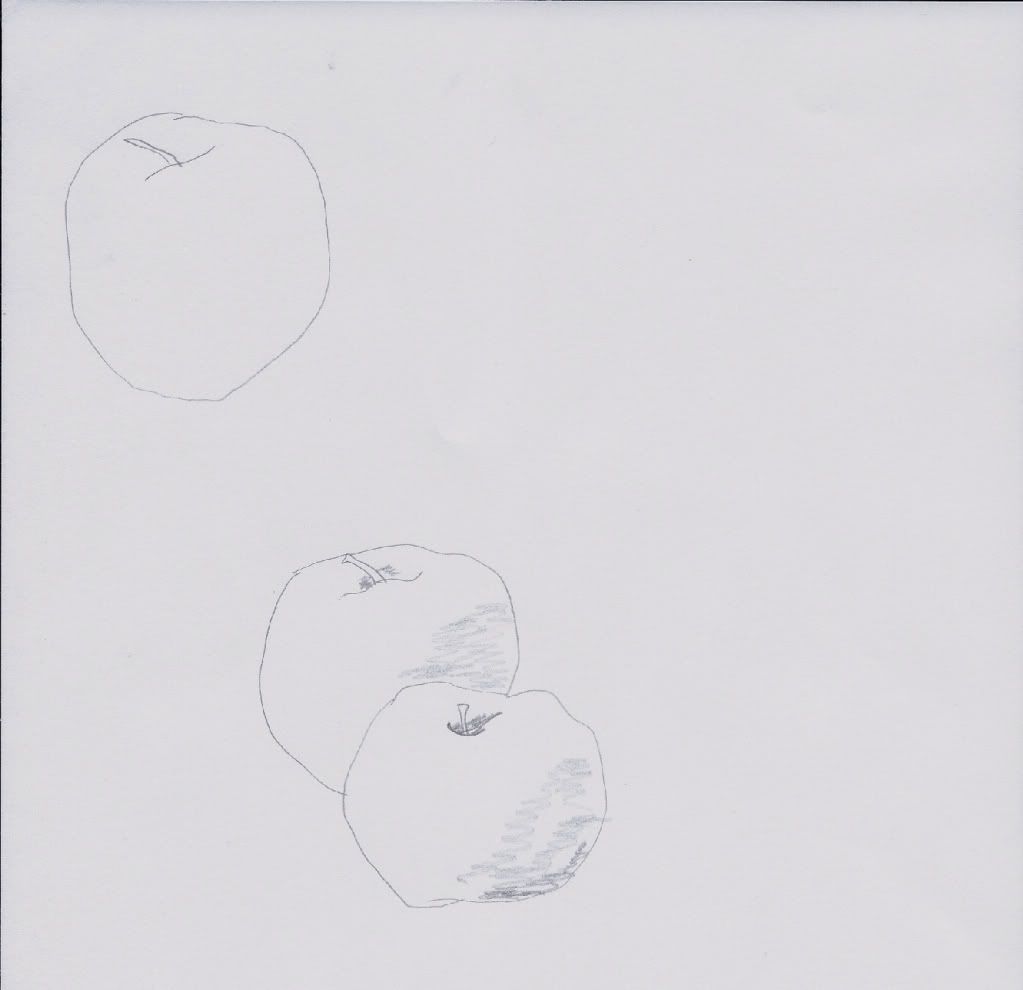 [/caption]
[caption id="" align="aligncenter" width="716" caption="My Shoe"]
[/caption]
 The Art Classes videos can be purchased as a set of DVDs (36 lessons on 9 DVDs) for $99.99 or viewed online through a monthly subscription.  Each month would cost $10 and you would receive access to 4 lessons each month (retaining access to prior lessons).  If you are wondering if your family would enjoy the Art Series, you may access the
first three lessons online
for free.  You can also click on the Curriculum tab to learn what is covered in each lesson of the other DVDs.   I would say the lessons are geared towards elementary students although I certainly never felt "talked down to"  so you may be able to use it with older students who have never received art instruction before.
You can read whatfellow Homeschool Crewmates have to say about Art Classes by See the Light by clicking
here
.
Disclaimer: I received a free DVD of Art Class Volume 1 for the purpose of completing this review.