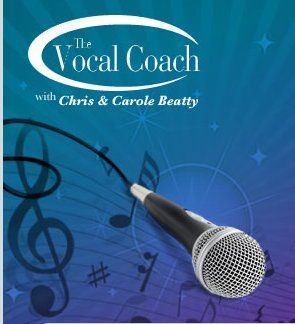 Back in my high school days when it seemed everyone was labeled and put into a category, I was one of the singers. Between Concert Choir, Show Choir, Jazz Ensemble, Madrigals, school musicals and solo & ensemble festivals, I spent a dozen hours or more a week singing. My Schnickelfritz inherited my love of music. We used songs to memorize phonics basics, times tables, and the books of the Bible. His Mapping the World by Heart class is using Geography Songs to learn all the countries. One of my key gauges to his emotional well being is if I can hear him humming or singing to himself.
Through the Homeschool Crew, we've been given the opportunity to review a DVD set that will help him improve his singing technique and perhaps prepare for more formal music training. Chris and Carole Beatty of
The Vocal Coach
have been training singers for over 40 years. Since not everyone can travel to their Tennessee studio, they're willing to come into your home in the form of two DVD courses. We received the
Teaching Kids to Sing
set.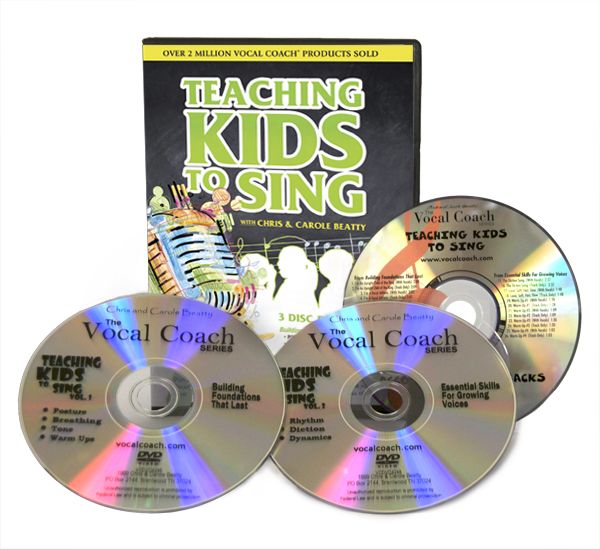 The three disc sets contains:
Building Foundations That Last DVD (43:11) explains that singers are vocal athletes and covers posture, tone, breathing, and warm ups.

Essential Skills for Growing Voices (31.38) helps the vocal athletes learn concepts like rhythm, dynamics, tempo, diction and tips to protect their vocal health.

The Accompaniment Tracks CD has samples of every warm-up and song from the DVDs, first with the vocals and then just the accompaniment track.
Obviously, the DVDs are short enough to view in one sitting but we chose to break them up into lessons, studying one concept each day. Chris Beatty gives a 4-5 minute lesson and then teaches a song (okay, one was a breathing rap) to reinforce and remember what you've learned. My son was amused by his example of slouching ruining your singing voice and also clearly understood the visual aid of blowing up a balloon in a restrictive space vs out in the open. I sang all the songs with him and even lay on the floor with him to practice diaphragmatic breathing. True to his nature, I caught him humming some of the songs to himself in his free time.
I even learned a few things in the vocal health lesson. Did you know a singer can lose up to a gallon of water through his mouth during a concert? I also learned a new, less damaging way to clear phlegm from my throat (something I've unfortunately needed this past week). WARNING TO THE SQUEAMISH--there are several clips of actual vocal cords taken while someone is screaming and clearing their throats. I've known for a while my son wasn't cut out to be a doctor, there's no blood but he was definitely put out at the thought of a camera going down some one's throat.
In our area, it seems like most homeschoolers choose violin if they're going to pursue any music lessons, but think of all the advantages of singing. You're more likely to have early successes with singing than violin. There's no instrument to buy or rent. You'll never leave your instrument at home or forget it after practice. You can perform alone or with an ensemble.
We will review these lessons again before Schnickelfritz auditions for the local college's children's choir, but other than that I'm not sure we would view them over and over. Perhaps the set is best suited to a choir director (church or co-op) who could lend the DVD to new kids who join.
The three disc set sells for $44.99 and is targeted to kids from kindergarten through 6th grade. The Vocal Coach also has a much more extensive DVD set that some of the other crew members reviewed so you may want to check that out if you have a serious singer in the family.

I received a free set of Teaching Kinds to Sing discs through the Schoolhouse Review Crew in exchange for my honest review. I was not required to write a positive review now was I compensated in any other way. All opinions I have expressed are my own or those of my family. I am disclosing this in accordance with the FTC Regulations.