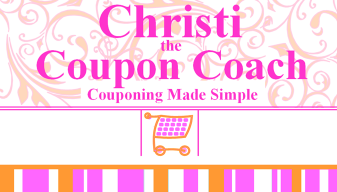 Contrary to its name, paper money in the United states is printed on a blend of linen and cotton. I propose that the Treasury department start adding some spandex to help me stretch my dollar a little bit further each month.
All kidding aside, most families are seeing money flowing out at a greater rate than their income is rising. It's even more noticeable in homeschooling families which tend to be one-income households (with more members than the U.S. average). So one homeschooling Mom, Christi the Coupon Coach decided to do what we do best—teach others what she has learned. Her book ,Couponing Made Simple states you will "Learn to save 80% today & for the rest of your life."
The paperback book ($18.00, or $4.99 for an eBook) is just over 125 pages and contains ten chapters—starting with Success Stories to motivate you to try the system. The next seven chapters are the meat of the program—learning the terminology, suggestions for organizing coupons, the step by step process, and coupon ethics. The last topic is really more about the legalities—don't copy coupons, don't pull peelies off of things you're not buying. It doesn't delve into whether or not it is ethical to clear the shelves of 200 bottles of energy drink leaving none for other shoppers. There is a bonus chapter on finding bargains at yard sales and thrift stores and a final chapter sharing a plan of salvation.
The book is an easy read, I got through most of it in 3 hours at the pool. There are also several money saving tips that don't involve coupons—like weighing bags of produce (say a 3 lb. bag of apples) because some bags weigh more than others.
Do her techniques work? They certainly can. Last week our Schnucks store has yogurt on sale 20 for $10. That may seem like a lot, but you don't really have to buy 20 to get the sale price (Christi explains this in the book). Since I had two coupons for $.40 off of eight, I bought 16 yogurts. The great thing about our Schnucks store, is it's the only place in driving distance that doubles coupons (for the first 15, $.50 or less).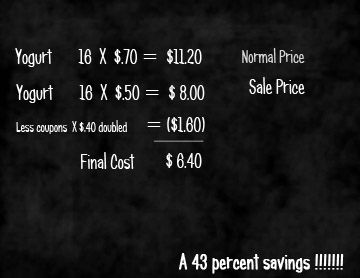 I scored a better deal on a recent trip to Walgreens. They had my mother's supplement drink on sale Buy One Get One Half Off and my husband's deodorant Buy One Get One Free. I had four $3 coupons for the drinks and four $1 coupons for the deodorant.
Neither of my two best examples is close to the 80 percent mentioned on the book cover but I have several factors working against me.
I live in a rural area. My local paper doesn't carry coupon circulars. I have to get the big paper from St. Louis but I live outside the normal delivery area so I can't take advantage of the great sale prices they offer for subscriptions. If I buy four papers as Christi suggests, I'm out $10.00.
The only store that doubles is 13 miles away and they restrict me to the first 15 coupons less than $.50. They are a pricier store to begin with so I don't normally shop there. I figure is takes a gallon of gas to drive round trip so that's nearly $4 I can't spend on groceries.
My two local groceries are Mom & Pop stores. Their sales flyers are filled with their house brands, not national brand named items so I can't match coupons.
I seem to have better luck with personal care items at the drug store than actual groceries. I'll take my dollar stretching victories where I can get them. Couponing Made Simple is really the basics so I still need to find online sites that help me no what order to present coupons at Walgreens – Yes, order does matter. Christi does have a page on her website with some of her favorite Coupon Match Up Websites. If your new to couponing this book may be up your alley. And I prefer learning from a book than sitting in front of a computer screen browsing websites for help.