Am I the only mother that cringes when her kid says "I'm bored." My response is always the same—read a book! If you looked around our home, you'd think I could open my own branch of the county library. Fortunately for me, our latest review was a book my son wouldn't put down so thank you Susan Marlow and Kregel Publications . Goldtown Adventures is her latest series set in California town after its Gold Rush heydays. In the first book, Badge of Honor , we are introduced to 12 year old Jem, his 10 year old sister Ellie, and their widowed father. Jem still dreams of striking it rich on the family claim, but the father is moving on—purchasing a ranch, taking on the sheriff's job, and inviting his recently widowed sister Rose and her son Nathan to bring a woman's touch back into the home.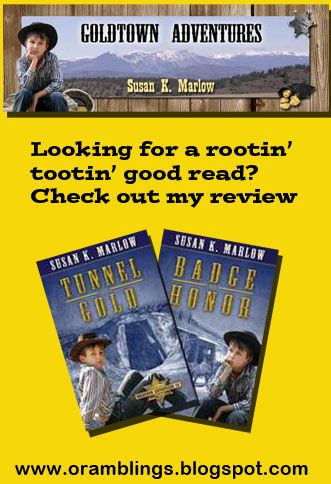 As my son and I sat on our porch swing we were transported back in time to a land of lucky strikes and claim jumpers. Actually, I was the one sitting as Schnickelfritz acted out the story. Ms. Marlow certainly took P.T. Barnum's motto "Always leave them wanting more" to heart. Most chapters end with a carrot dangled in front of your nose, daring you to put the book down without finding out what happens next—sentences like: And he found himself looking right into the business end of a Colt .44 revolver.
Which brings up a good point. The setting is a mining town in the wild west. There are saloon fights and shootouts. A constant plot element is Jem's concern for his father's safety as the new sheriff in town. At one point Jem is held prisoner and his life is threatened. The the reading level for Badge of Honor is ages 8-12 (and my 10 year old can certainly read it on his own), but you may want to make this a read aloud so you can edit some passages and soothe anxious listeners.
The book has 142 pages and 18 chapters. I was able to read it all waiting for my son to finish robotics camp—just shy of 3 hours, it really is a page turner. We enjoyed the book as summer reading fun but if you're studying the era and want to make it more like school, there are free study guides available for each book. There are 24 pages of vocabulary, word searches, writing prompts, and informational articles.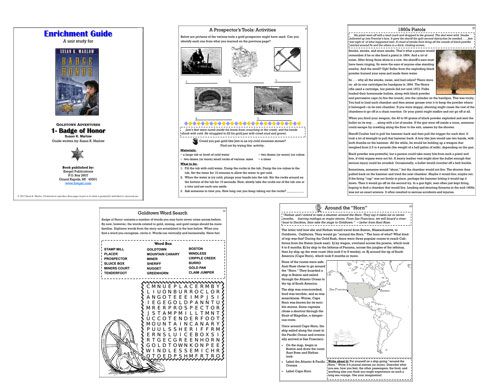 The Goldtown books may be purchased separately for $7.99 or as a package for $13.95. The third book in the series is due this fall.