This week the youth at church were having a spaghetti dinner and baked goods auction to raise money for their mission trip. Here's what I contributed.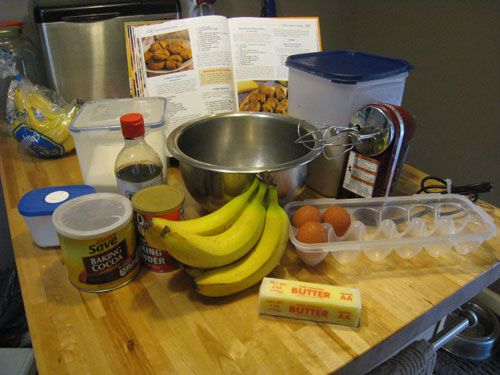 Ingredients
1/2 Cup butter, softened 1 1/2 cups all-purpose flour
1 Cup sugar 1 tsp. baking powder
1 egg 1 tsp. baking soda
1 tsp. vanilla extract 1/2 tsp. salt
1 1/2 cups mashed ripe bananas 1/4 cup cocoa
Cream together the butter and sugar, then add the egg and vanilla extract. Beat until thoroughly combined. Mash the bananas (approx. 3), but measure them to ensure you have enough. This measuring cup is great for shortening and sticky things like banana.
In a separate bowl combine flour, baking soda, baking powder and salt. Add to the creamed mixture. Remove about 2 cups of the batter and reserve it to the side. Add the cocoa to the remaining batter. Spread the cocoa batter into a well greased 9X13 baking pan. Spoon the reserved batter on top and swirl it with a knife or spatula. Bake at 350 for 25 minutes or until a toothpick inserted near the center comes out clean. Cool before cutting into bars. Yields: 2 dozen.