Full disclosure time—we are very familiar around this house with
Apologia Educational Ministries
. We've used their
What We Believe
worldview series since we reviewed it several years ago and we've always used their Young Explorers elementary homeschool science books in our homeschool. Author Jeannie Fulbright has been leading us to explore creation from Day 1 (Astronomy) through day 6 (Land Animals of the Sixth Day and Anatomy & Physiology—creation of man). So we had a good idea what to expect when we had the opportunity to review the newest title in the series, Exploring Creation with Chemistry and Physics (in fact we were chomping at the bit to get it in our hot little hands). Along with the main textbook we received the Exploring Creation with Chemistry and Physics Notebooking Journal . Let me cut to the chase and say we highly recommend all of the books in the series but I'm sure you'd like to hear a little more about this title in particular.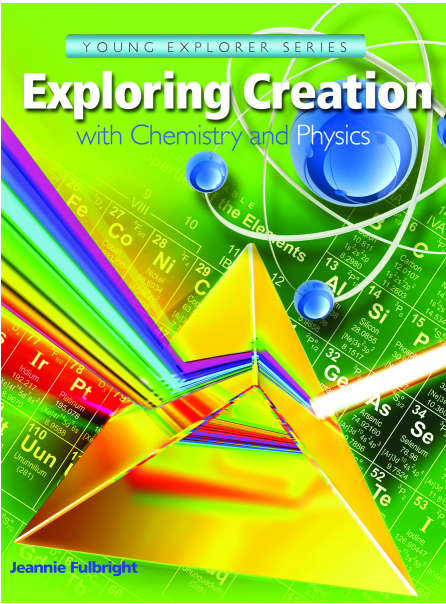 Hardback, 280 pp. $39.00
The text is divided into 14 chapters, spending more time with physics than chemistry. Apologia lists these books for K – 6 students. Kindergartners may absorb some of the material if they sit in while you're working with an older sibling, otherwise I'd suggest you save this book for 5th or 6th graders.
Chemistry and Physics Matter

Moving Matter

Building Blocks of Creation

Compound Chemistry

Multitude of Mixtures

Mechanics in Motion

Dynamics of Motion

Work in the World

Sound of Energy

Light of the World

Thermal Energy

Electrifying Our World

Mysteries of Magnetism

Simple Machines
Trust me when I say these chapters are packed: the margins are smaller, the spacing between lines has shrunk, even the font appears slightly smaller. The only thing that hasn't decreased is the number of hands-on activities (you'll find them in tinted boxes labeled Try This!). Where other Exploring Creation titles might have had one or two chances to Try This! per chapter, this book may have a dozen. According to the Introduction, ideally you will have the materials on hand to do the activity as you encounter it in the reading. One day when reading a section entitled Density Matters, roughly three pages, we had four activities! So you'll either have to progress through the book rather slowly or pick and choose what you'll do. To my knowledge there is no kit to buy for Chemistry and Physics yet, but I'm sure third party vendors will have something available for next school year. The supply list for the Try This! and chapter projects is six pages long! You can download copies of the supply list, the table of contents, and Lesson 1 of the text on Apologia's website.
What's making the egg on the left float?
In addition to "lab work" the Exploring Creation series does a great job at building in review of information. Chapters end with a What Do You Remember? section (answer key in the back). Every so often in the text the student will be asked to "Explain in your own words what you've learned" (the text is written directly to the student and often refers to "you"). You can either have the student do this orally or use the Notebooking Journal.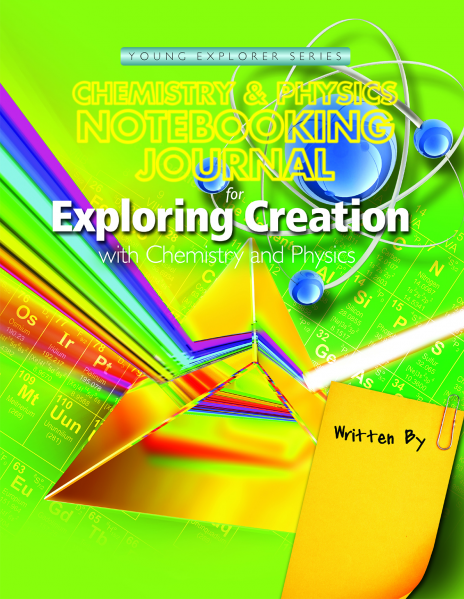 Spiral-bound, 206 pp. (plus tear out sheets for mini-books) $24.00
For some reason the recommend daily schedule is in the Journal rather than the textbook. The table suggests reading assignments, Try This! activities, journaling and chapter projects two days per week/ two weeks per chapter. The Journal has blank notebooking pages to write important facts from the text, crossword puzzles, Bible verse copywork, a page to write out answers to the What Do You Remember questions and a place to document chapter projects. Schnickelfritz usually explained what he remembered orally so we used the blank journal pages to document some of our other Try This! activities. If your student were really getting into the topic, there are also pages with additional experiments and suggested further reading.
By an odd turn of luck, we also received the Exploring Creation with Chemistry and Physics Junior Notebooking Journal ($24.00) . It had coloring pages, larger space for writing (with the dashed line in the middle), simpler crosswords, and pre-printed vocabulary activities where the definitions were already printed for the student (mini books, draw lines to match, etc.).
How We Used It
The schedule from the Notebooking Journal made each day too long for my son. I broke the material down into smaller chunks and we do science daily rather than twice a week. Some days we would read and journal, other days were all hands-on activities. We still covered a chapter in two weeks. The last Thursday we answer the What Do You Remember questions and complete the mini-books in our Journal and the final day is devoted to the chapter project.
We didn't do every Try This'! in the book, because frankly some were cost prohibitive. One density experiment would have been really cool but it called for a cup each of honey, 100% pure maple syrup, dishwashing liquid, and whole milk. That's more (really expensive) food than I care to donate to science. Still we tried to do about 75 percent of the hands on activities.
For the most part the activities turned out as expected – when we did Land Animals of the Fifth Day we seldom got the results we expected. The
only flop (and it would have been a really cool activity if it had worked) was to stack colored liquids of different salt solutions in a straw. We had four tubes of water, each one saltier than the last lined up in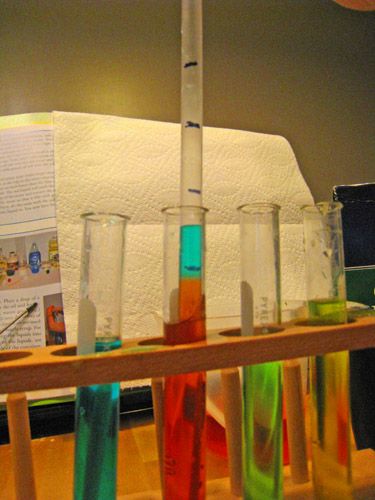 test tubes (the text says to use plastic cups but they'd have to be very narrow because the depth of the liquid needs to be at least 4 inches). We inserted the straw into the first and when it had about an inch of blue liquid in it we put our finger over the top to create a vacuum to hold it in place (I think everyone has done this with their soda at one time or another). The we pushed the straw into the next liquid—an inch deeper than before, and lifted our finger. The denser liquid pushed the first further up the straw, but when we reapplied our finger trying to lift both liquids layers out we could never get the suction to work. Both liquids ended up dribbling into tube #2. Schnickelfritz and I both tried several times and this picture was as far as we got. If someone has successfully completed this challenge and knows the secret please leave a comment.
After this review we'll be returning to Exploring Creation with Anatomy & Physiology for the rest of the school year. But both Schnickelfritz and I are already looking forward to sixth grade when we'll go through the entire Chemistry & Physics course. I will probably be replacing some of the final chapter projects with something a little "meatier." For example, lesson 3 ends by making a sugar cookie periodic table. While I want my son to learn a lot of the elements, this project seems more about Home Ec. than Science. On the whole this does give homeschool kids the opportunity to go through the entire scientific method and have lots of practice documenting experiments and procedures.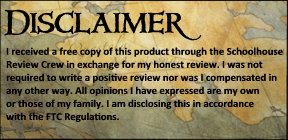 Don't miss a thing!
Subscribe to Ozark Ramblings
and get my posts in your inbox.