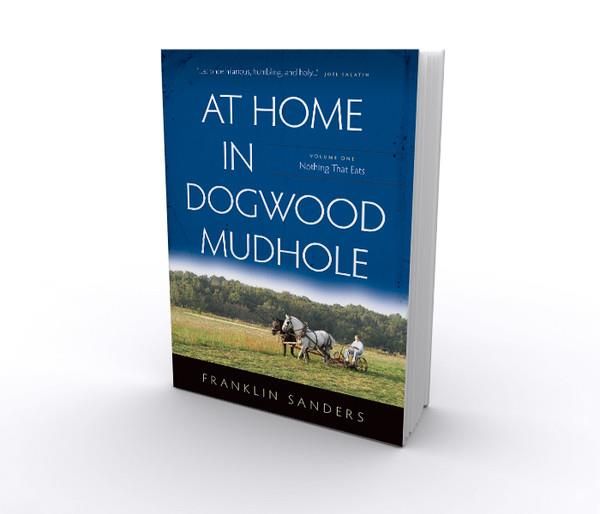 Let me be up front and say that I at least a third generation bibliophile so I wasn't going to pass up the opportunity to review a book, especially one with such an amusing title—At Home in Dogwood Mudhole. There really is such a place…it's in Tennessee, and author Franklin Sanders moved there with his family before Y2K (does anyone else recall what a disaster that was supposed to be?). The first of three planned volumes is subtitled "Nothing That Eats," a reference to wife Susan's order not to buy any animals for their new home. I'm not sure what wasn't clear about that order but it didn't take long before they had dogs, pigs, horses, and chickens, chickens, and more chickens.
I knew I liked the author's sense of humor when I read of all things, the Acknowledgements page. He began by stating: "People fudge a lot when they say 'this book wouldn't have been possible except for the help of' and then list everybody they know from the president to the second assistant tire checker." I found myself giggling at all the zingers tucked in like Easter Eggs amongst all the pages, like "When we shop for chickens, 'dog-resistance' is our first concern….any chicken with a life expectancy greater than a quark needs both supersonic speed and a profound mastery of evasive tactics." Other times the humor is drawn out into more of a story – the $30 dog that ended up costing more than $1000 by the time damages and vet bills were factored in.
Dogs are a favorite topic, as are visits to the local flea/farmers market, Civil War (pardon me, the War for Southern Independence) re-enactments, family ties, and an ongoing legal battle with the IRS. The book is really a compilation of newsletters written to customers of Sanders' small business-- The Moneychanger. You'll find it organized by month and year (from 1995 to 2002), but really that's the only organization. Sanders jumps from topic to topic—he might recommend a restaurant in one paragraph and switch to talking about how his cows can herd up pigs in the next. Some months he has a lot to say (June 2000 had over 5 pages about hauling hay) , but other months he's pretty terse (January 2000 was only half a page when Y2k turned out to be no big deal).
I wasn't drawn to curling up with this book and a cup of hot chocolate for an afternoon of reading, but it was easy to pick it up and start reading just about anywhere when I found 15-20 spare minutes. True, it helped to try and stay chronologically so I wasn't stuck wondering where this new dog had come from, but I could skip over the passages about the court case with the IRS without feeling like I missed something. We live in a rural setting and every so often I fancy a go at raising chickens or beekeeping, I think a virtual visit to Dogwood Mudhole will keep my feet on the ground and my head out of the clouds.
Volume One: Nothing that Eats (379 pp.) is available in paperback for $22.95 or eBook format (Kindle or PDF) for $16.95. You can read a sample chapter of Volumes One and Two on the Dogwood Mudhole's website.