We're winding down another year on the Review Crew. This next to last review is for
French Essentials
. The subscription we received for their
Full Access Online Program
lasts for an entire year and we have access to all Modules (Modules 1-4 are available now, 5 will be coming soon, and 6-10 are planned). The program claims to be the equivalent of 2 years of high school French but it can be used by any student from 3rd to 12th by adjusting the pacing. Finally, a foreign language review for which I feel qualified. I studied French for five years in high school and college and spent a summer as an exchange student in Rouen, France (the town where Joan of Arc was burned at the stake).
The majority of this program needs to be done at the computer. The lessons themselves come as PDF files, but they have embedded audio and video files built into them. As my Schnickelfritz was reading the text he could click on boxes to hear the vocabulary words or hear and see them being spoken (being able to see expressions and hear tone of voice comes in handy when learning phrases like "I feel very bad" or "I feel well." ).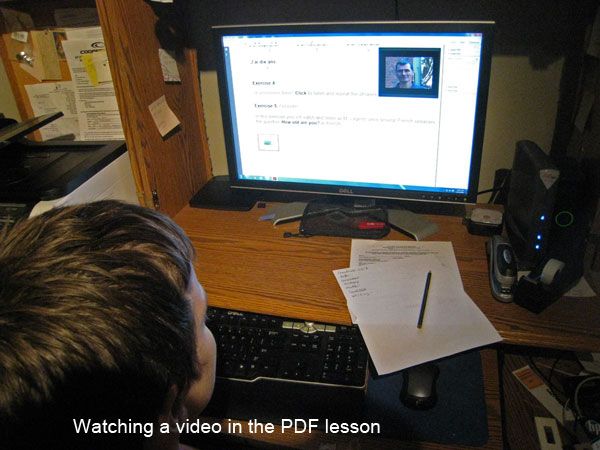 Each lesson contains several exercises. I found I needed to sit with my son during the lessons as he didn't have a very good ear for pronunciation. I could catch his errors and make him repeat the words. He was able to do the written exercises with direct supervision.
Listen to the vocabulary words
Read a brief lesson about their usage
Read a deeper explanation about pronunciation (nasal sounds, accent marks, silent letters at the ends of words, etc.).
Listen and repeat the vocabulary for Ex. 1.
Listen (and sometimes watch) native French speakers using the vocabulary
Listen (and sometimes watch) and repeat the vocabulary
You will hear something spoken in French and you must make the appropriate response in French. You will then hear the answer for confirmation.
A written exercise.
We usually did this in one day and then did the online exercises the following day. There were virtual flash cards -- you were supposed to be able to hear as well as see them, but we had hit or miss success with the audio for some reason. Then Fritz took the quiz. We were several lessons into the program before I realized I could customize the quiz (look in the box to the right on the quiz page). I could set it up so he only had to match English and French phrases rather than ask him to type in French translations for the English sentences. For older students, where typing/writing is important there are buttons below the type-in boxes so you can click and add any necessary accented letters. Be aware that they will always appear, even when not necessary so it's not giving a hint to the student.

Matching Quiz for younger students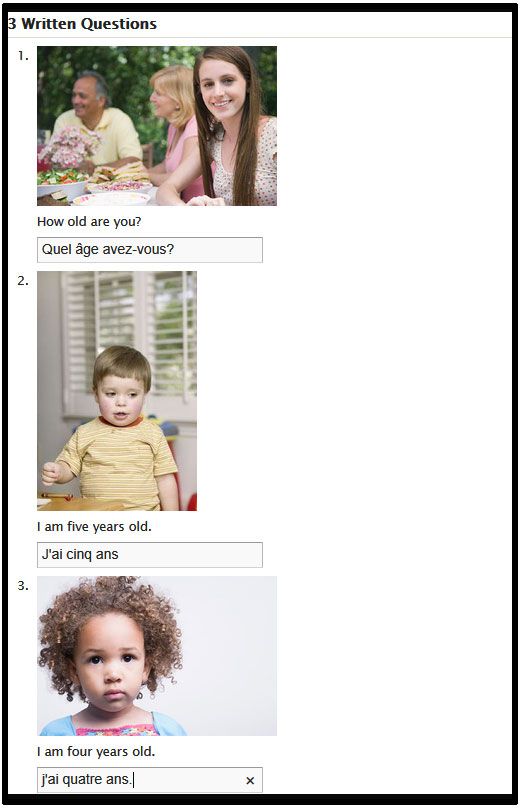 Older students can type in answers
Incidentally, when I took this quiz to create a screenshot I deliberately made a few errors--leaving off the period at the end and not capitalizing the first word. I was curious how much leeway a computer would give. I got number 1 wrong, they were apparently looking for the informal version of the question (although there was no note to that effect), if I were grading this I would give credit for having an equally correct phrase. Question 2 was graded correct even without the ending period, but once my son got an answer wrong because he left out a comma. Question 3 was wrong because I didn't capitalize the beginning of the sentence. You can always ask the program to create a new quiz if you want to try again (Schnickelfritz wouldn't stop until he achieved 100 percent correct).
There did not seem to be a lot of review built into the program. Once we learned "How are you?" and the appropriate responses (Lesson 7), we didn't see them again until Lesson 18. That was several weeks later and the vocabulary had been flushed from my son's short term memory. I would have liked to have seen some review exercises built into each lesson so the vocabulary could begin migrating to his long term memory.
A second area of concern was that we never learned to conjugate any verbs. For those unfamiliar with the term, verbs are usually introduced in the infinitie e.g. "to eat" is "manger." In English we usually just have to add an "s" to the third person singular (he
eats
not he
eat
), but in French the verb has six different forms
| | | |
| --- | --- | --- |
| | Singular | Plural |
| 1st Person | I eat – je mange | we eat – nous mangeons |
| 2nd Person | you eat - tu manges | you eat – vous mangez |
| 3rd Person | he eats – il mange | they eat – ils mangent |
Until you learn to conjugate, you really can't hold a conversation. You're just learning to memorize canned responses to questions (e.g. Do you like to eat apples? Yes, I like to eat apples.) This may not be so bad for elementary students just being exposed to the language, but I don't think it would keep a homeschooled high school student from being on par with his public school counterparts for foreign language. My son and I only managed to work through Module 1, but I looked ahead and the first mention I found for conjugation was Module 4.
On the other hand, this program had something most public schools often don't get around to--learning about the culture along with the language. French Essentials builds in exposure to France and French Canadian history and geography.

Because this is a computer based program we have to going into system requirements. You will need:
Internet access -- they recommend reliable high speed
Mac users: Adobe Acrobat 9 or later, Flash Player, Quicktime
Windows users: Adobe Acrobat X or later, Flash Player, Quicktime
French Essentials will not run on an Ipad.
The embedded audio and video the lesson files are very large (15-20kb for 3-4 PDF pages), but the lessons can be downloaded one at a time.
A full year, full access subscription is $149.95. You may also order modules individually for $69.95 (only 90 days access).

Note: I received a free subscription to this product through the Schoolhouse Review Crew in exchange for my honest review. I was not required to write a positive review no r was I compensated in any other way. All opinions I have expressed are my own or those of my family. I am disclosing this in accordance with FTC regulations.
Don't miss a thing!
Subscribe to Ozark Ramblings
and get my posts in your inbox.