Last Friday was one of those really good days. My son and I had our school wrapped up by noon. We went to a friend's home for science co-op and then some play time. Because I had put dinner in the slow cooker before we left, I could let Schnickelfritz play longer and (and I could spend more time with the other moms) without that nagging little voice in my head asking "What's about dinner?"
When we returned home, the house already smelled wonderful and I wasn't running from fridge to pantry trying to assemble something before my husband got home. Isn't that one of the most satisfying feelings in the world. This is one of my husband's favorite dinners. I love that there are only 5 ingredients and the instructions. are so simple I don't need to refer to the recipe card.
Pork 'n Tater Casserole
6 boneless pork chops (1" thick)

4-5 medium potatoes, peeled and sliced

1 can cream of chicken soup

1 can cream of celery soup

15 oz. can French cut green beans
Since I was using my Ninja 3 in 1 Cooker, I could brown the pork chops first (nice but not necessary). Layer the ingredients in your slow cooker in the order listed. Cover and cook on low 6 hours. The chops will be fall apart tender so either remove them carefully to serve whole or break apart and stir with a large spoon to make more of a goulash.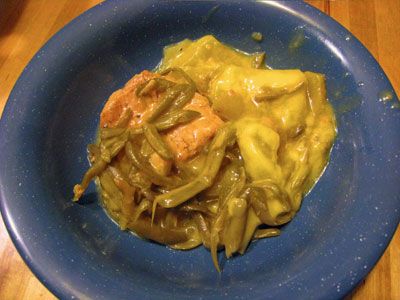 I'm linking up this recipe at