Last year I wrote a post about the importance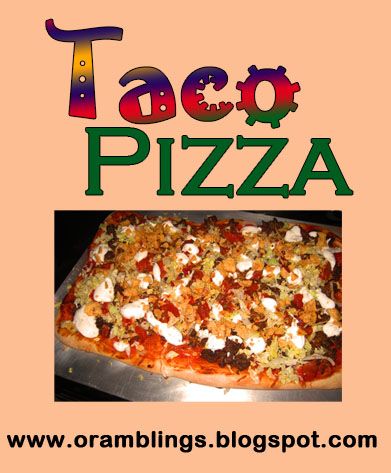 of traditions/consistency to my son called If It's Tuesday It Must Be Pizza Night. A year later my son hasn't changed – sometime around 3 or 4 in the afternoon my son will remind me that it's time to make the dough for dinner. And he still wants pepperoni. Mom and Dad on the other hand are ready to move on to something different. Since we can't change the pizza tradition, I can at least start being creative with the toppings. So here is last night's creation—a taco pizza. It really wasn't that hard once I determined it needed to be built in steps. If you make pizza at home I'm sure you already have your favorite recipe for dough so we'll skip ahead…
While the dough is rising brown 1 to 1 1/2 pounds of ground beef and season with a packet of taco seasoning using just enough water to incorporate the spices (most envelope directions say to add a cup but that would make for soggy pizza).
Roll out your pizza and cover with sauce. Distribute the ground beef, sliced onion, and chopped jalapenos if you're daring. Sprinkle Mexican blend cheese on top. Then bake in the oven (I use a pizza stone so it takes about 10 minutes in a 425 oven).
When the pizza comes out, add shredded lettuce, chopped tomatoes, crushed Fritos or tortilla chips, taco sauce or salsa, and sour cream (I actually used plain non-fat Greek yogurt last night and didn't hear any complaints). It was a hit! My husband asked for some in his lunch today. If you think you'll have leftovers you may want to hold off on the crushed chips until after you reheat the pizza to keep them from getting soggy in the fridge.