Spring has arrived in St. Louis once again which means we headed downtown to watch the FIRST Robotics competition again – if you missed it this year it will be in St. Louis through 2017.
At the MetroLink Station we found another of the 250 birthday cakes celebrating the founding of St. Louis in 1864. Let's see 8 found, 242 to go. We may need to visit the city more often.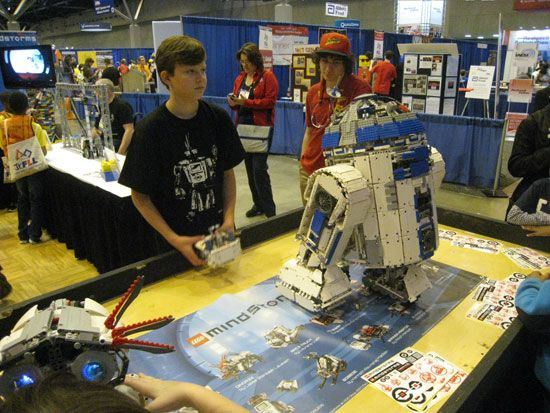 First stop in the pits was the Lego display (the sponsor the youngest two divisions), what's not to drool over—like this working model of R2D2.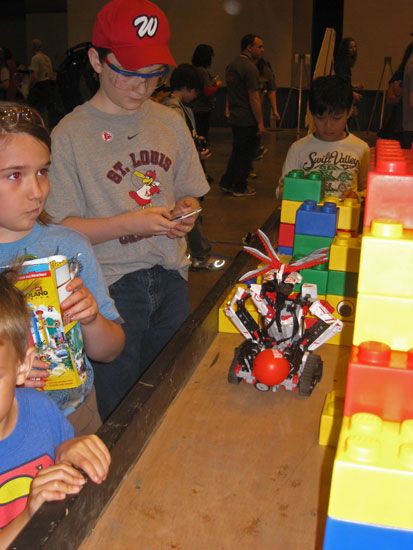 R2D2 was reserved for the exhibitors, but Schnickelfritz got to drive this MindStorm robot through a maze, controlling it with an app on a smartphone. When he finished the challenge they gave him a mini-figure.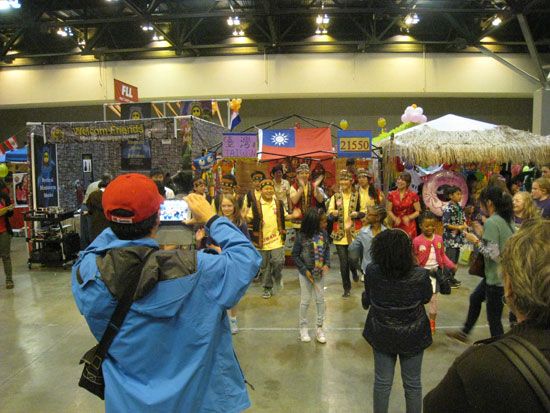 Speaking of Legos, the First Lego League had contestants from around the world. In addition to their displays on the competition subject (severe weather), many made cultural displays—like this team from Taiwan dancing. Looks like we can log some time to social studies as well.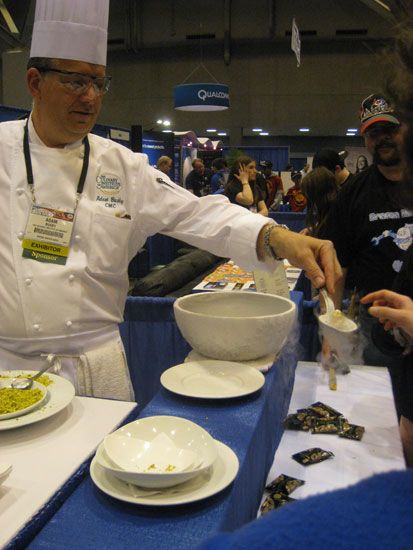 Not all the exhibitors were strictly technology. This chef from the Culinary Institute was making Dragon's Breath mousse in a bowl of liquid nitrogen. When you put it in your mouth, you could breath vapor. (And it tasted really good too)
You had to be careful walking around because you never knew what might come rolling at you feet or whizzing past you head. Then you had to look around to find the person controlling the thing. This hovercraft was particularly cool because it could flip over and still keep flying.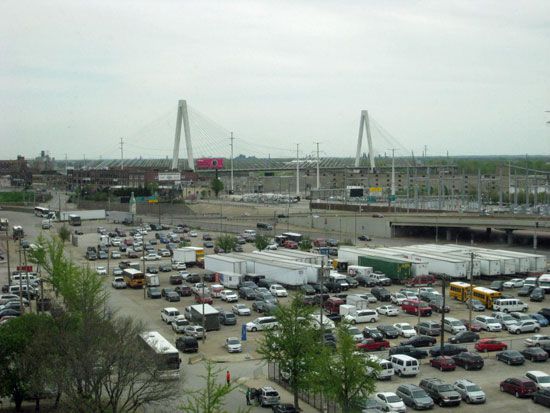 Somewhat off topic, but when we moved from the Convention Center to the Dome we finally got to see the new bridge over the Mississippi. They offered tours while they were building it, but they filled up before we got our names on the list.
Of course the big draw is the competition. Alliances made up of three robots each try to pass and shoot giant balls across the court. The four divisions are all named after renowned scientists: Curie, Archimedes, Newton, and Galileo (which we always follow). The finals take place on the Einstein court. The last two years the Galileo alliance has won the finals, but they weren't able to complete the hat trick. Congratulations to the Curie alliance for finally breaking the curse.