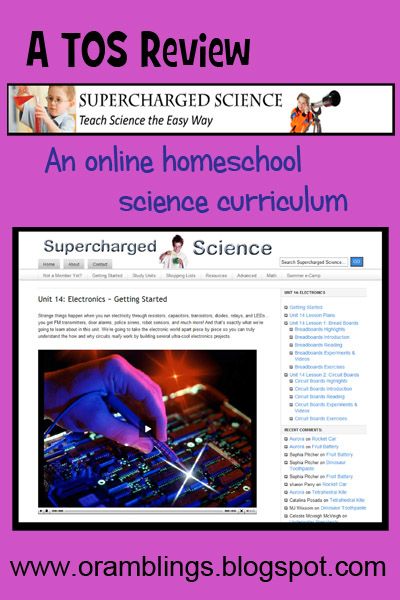 Last Spring, when we had our first chance to review Supercharged Science we had already finished our main science curriculum for the year so I let my son choose projects that suited his fancy. You can read about it by clicking here, and I do recommend it because it will give you more of the overall picture of the program. This year we were given a second opportunity to use their e-Science Premium Membership. We've been studying human anatomy this year so we focused in on Unit 19: Biology 2, but here is a list of all the units available at this time. Note: A new subscriber has access to the first 7 Units and gains access to 2 additional Units each month they continue their membership. Since this is an online program, there are a few technical requirements to check.
Supercharged Science Units
Mechanics

Motion

Matter

Energy 1 (Levers & Pulleys)

Energy 2 (Potential & Kinetic)

Sound

Astrophysics

Chemistry 1 (Molecules, Atoms & Chemical Kinetics)

Light

Electricity

Magnetism

Alternative Energy

Thermodynamics

Electronics

Chemistry 2 (Reactions, Bonds, Acids & Bases)

Life Science 1 (Living Organisms, Cells, Genetics, Microscopes)

Life Science 2 (Prokaryotes, Plants, Protists & Fungi)

Biology 1 ( Invertebrates, Fishes, Amphibians, Reptiles, Birds & Mammals)

Biology 2 (Skin, Bones, Muscles, Cardiovascular)

Earth Science
Bonus Levels:
Award-Winning Science Fair Projects

Mathmagic

Teacher Resources

Science e-Camp (in the summer)

The unit begins with Aurora Lipper's video introduction. She explains what will be covered and previews some of the experiments. On the right you'll see links to download the PDF file for the Unit, links to the specific lessons within the unit, and a Shopping list of materials for the online lessons (the videos).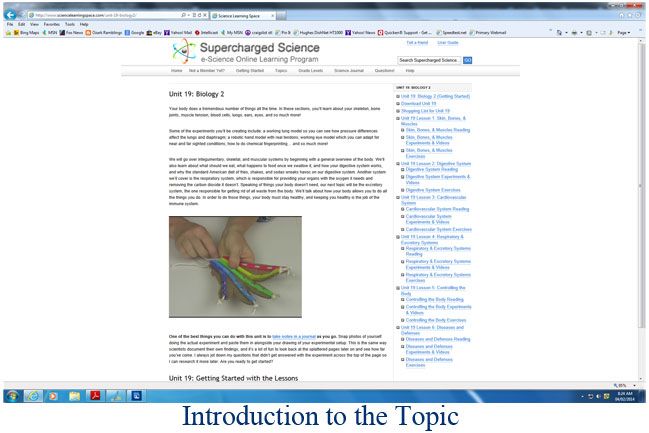 Most of the items you'll probably already have in your home (or can pick up easily at Walmart), the few more difficult items usually have a link to an online source. The next image shows the lesson we were working (Respiratory and Excretory systems) and you can see the video lessons (I would use the term activities).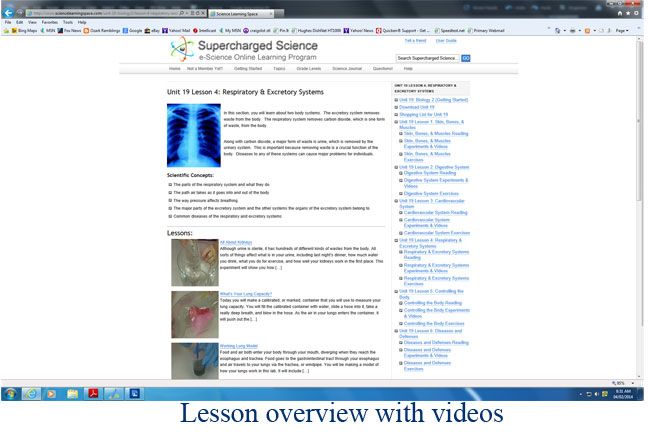 The download for the Unit has 137 pages that include another materials list (this time for the activities within the document, not online), 13 pages of vocabulary terms, and then Objectives, Textbook Reading, Activities & Experiments, and Exercises for each of the six lessons in the unit. The exercises are really a bunch of questions that could be used for a quiz or test at the end of the unit.


If you want to do the online experiments, there are separate PDF downloads with detailed instructions.
How we used the product:
We read from our normal science curriculum but did the projects and exercises in Supercharged Science instead of our textbook—we even went back to do some activities on topics we studied a while ago because the videos just looked fun. The website actually includes a Conversion Chart that matches up the Units with chapters or modules in many of the common homeschool science textbooks. If you are using Supercharged Science as your only resource there is now a webpage organized by grade level and covers Pre-K through high school, but be aware if you choose this approach there are some units and projects that aren't listed in this approach.
On this particular day we were studying the Respiratory and Excretory systems—not two systems I'd necessarily combine on my own…





In this project we were testing lung capacity. All we needed was some plastic tubing (try a pet store), some water, a bowl, and a soda bottle. Turns out, both Schnickelfritz and I have a lot of air to blow out! We hade to run to the dollar store where they sell 3-liter bottles of soda to try again. Nothing was wasted though—the 2-liter was the "chest" for our working lung model below.







What We Liked:
No need to buy any special "science" materials – there were plenty of activities to choose from that only used common household items. (This may not be true for all units.)

Each online Lesson/activity has it's own comment section. If you leave a question there, you'll get a response shortly.

The videos really help in setting up the projects, watching her build a certain item was much clearer than just reading a sheet of instructions.

Supercharged Science avoids the topic of evolution entirely so I don't have to worry about "millions of years" or "goo to you by way of the zoo" teachings.
What We'd Like to Change:
I don't know if it's our satellite internet, but sometimes the videos were blurry, or the action would freeze although the audio continued. Some mornings we couldn't get the videos to start at all. (again refer to the system requirements to make sure it will work for you)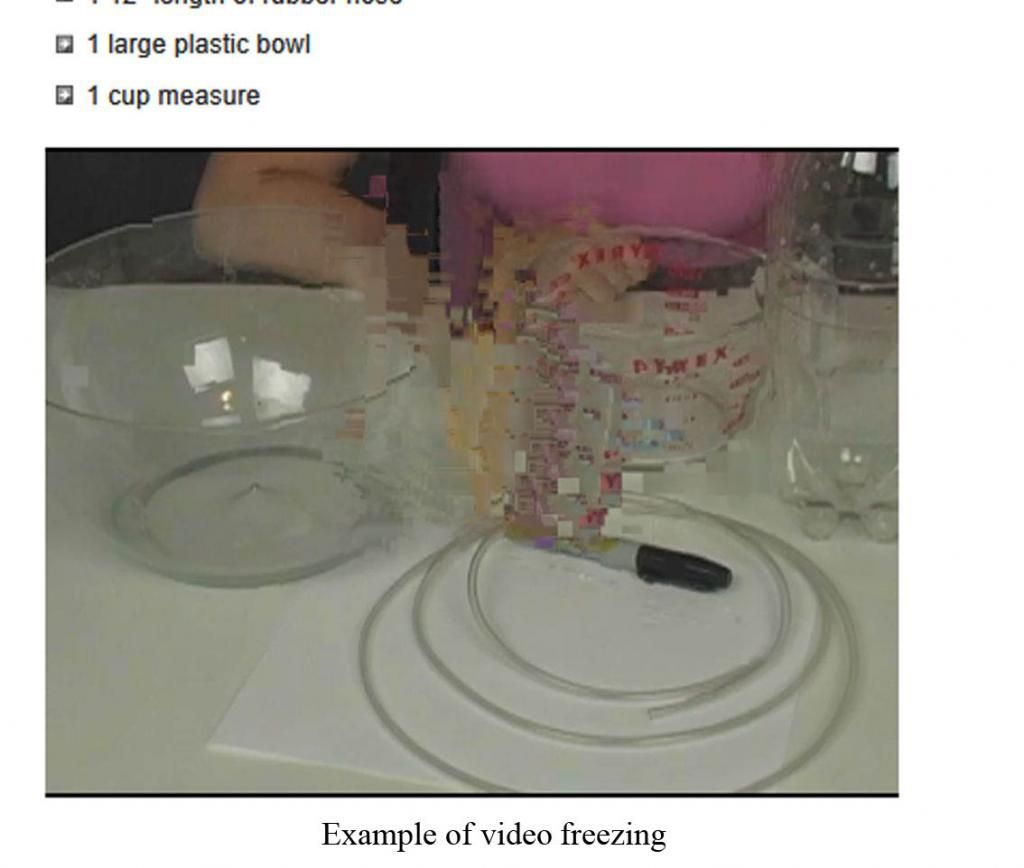 It is a little pricey. The subscription is $37/month ($57/month for high school material). That would be $333 for a 9-month school year. That might not be so bad if I had several kids that could benefit from the course, but I school an only child. Still, if you have a child with a real bent towards science, this is cheaper than a course at a community college.
If given the opportunity to review the program again we'll jump at the chance because we really have loved all the experiments and Ms. Lipper explains things so well. It is definitely worth visiting the Supercharged Science website and signing up for the money-back guarantee 30 day trial—especially when it's being offered for only one dollar! Find out more at the TOS Special Offer. Once your registered, you'll also receive emails from Ms. Lipper with invites to free online seminars and other bonus materials. Or you can receive a free set of sample materials by just submitting your email address.