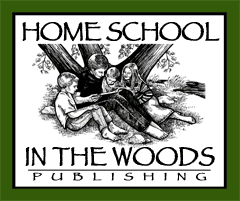 When we first moved to Missouri, Schnickelfritz used to say we lived in "the woods," there were certainly more trees than our old home built in a former cornfield. So with all due respect to the
Home School in the Woods
company, we also fit that description. We just don't offer wonder lapbooking kits or timeline figures. This year I've been using their
Project Passport
on the Middle Ages and loving it so there was no way I was turning down the chance to review their
Great Empires
activity study for elementary students.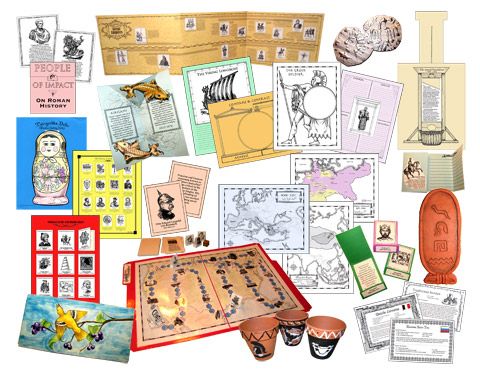 The fourteen empires included in the study are:
Ancient Egypt—The New Kingdom, Akhenaten & Tutankhamen
Ancient Greece—The Archaic Era, the Golden Age, Alexander the Great
Ancient Rome—the founding of Rome, The Punic Wars, Julius Caesar
Ancient China –The first two dynasties and then jumping forward to communism
Arab/Muslim—Mohamed, Islamic invasion of Europe, the Fall of Constantinople
Mongolian—Mongol culture, Genghis Khan
Viking—European invasions, Erik the Red, Leif Eriksson
Spanish—The Reconquista, Ferdinand & Isabella, Phillip II
French—Charlemagne, Louis XIV, French Revolution, Napoleon
English—Battle of Hastings, War of the Roses, Queen Victoria
German—Charlemagne, Protestant Reformation, Third Reich
Japanese—Shoguns, Emperors, WWII
Russian—Tsars, Revolution, Soviet Union
The United States of America—Revolution, Civil War, Cold War
Since we couldn't get through all the empires, we chose to focus on the ones we'd already been studying from the Middle Ages—Rome, Viking, Mongolian, and Japanese.
The download we received is mostly PDF files (there are images of finished projects for reference). For each empire there is a 2-3 page lesson to read. They all also have an art/craft project. You can wee several in the composite picture above: a clay Egyptian cartouche, a Roman fresco panting of a yellow bird, circullar Viking coins made with cardboard, glue, and spray paint and painted clay pots representing Greek pottery. We're not really artsy/craftsy folk so we stuck with the minibooks and map exercises (there's a teacher's guide for reference).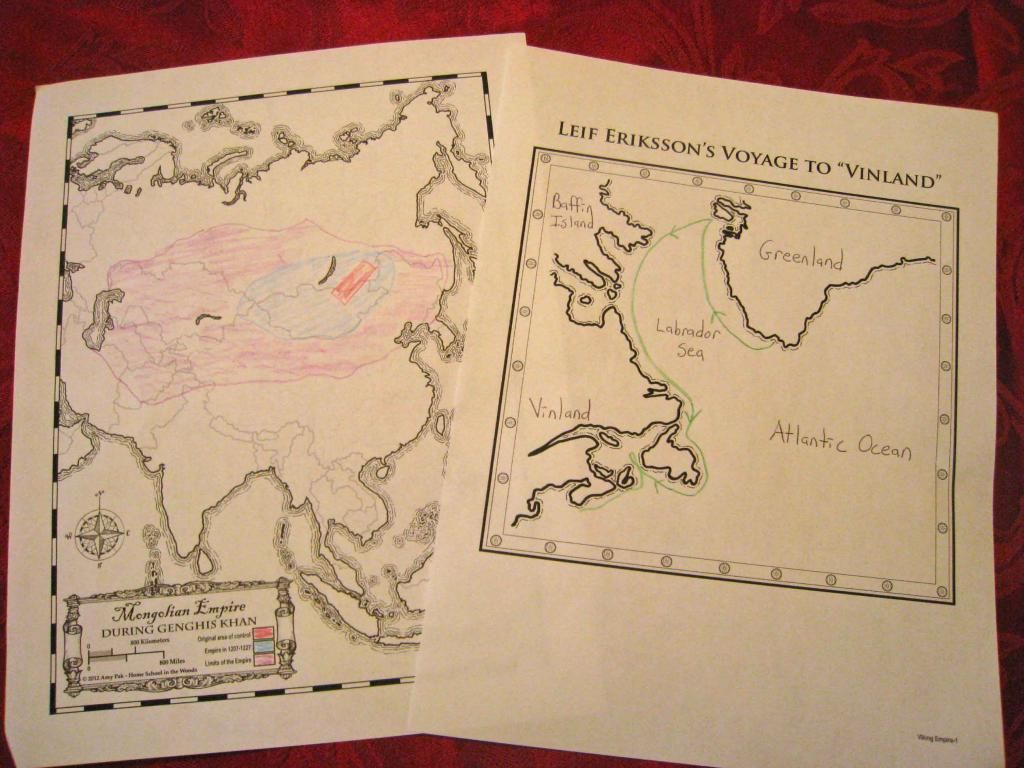 Better still are the typical (if not authentic) recipes to try—some empires, like the Vikings did not keep written records so we don't know exactly how they prepared their food. The Beef stew was favored by my meat and potato boys, but having been to the Middle East myself and liking Tzatziki sauce I liked the Jalik (cucumber soup). If you're curious, the American dishes are Apple Pie and Chili Dogs.
There were no pictures of a finished project—some pages seemed better suited for a notebook (the maps and lesson texts) while others seemed sized for a lapbook (like the Citizens of Impact of the Roman Empire, below)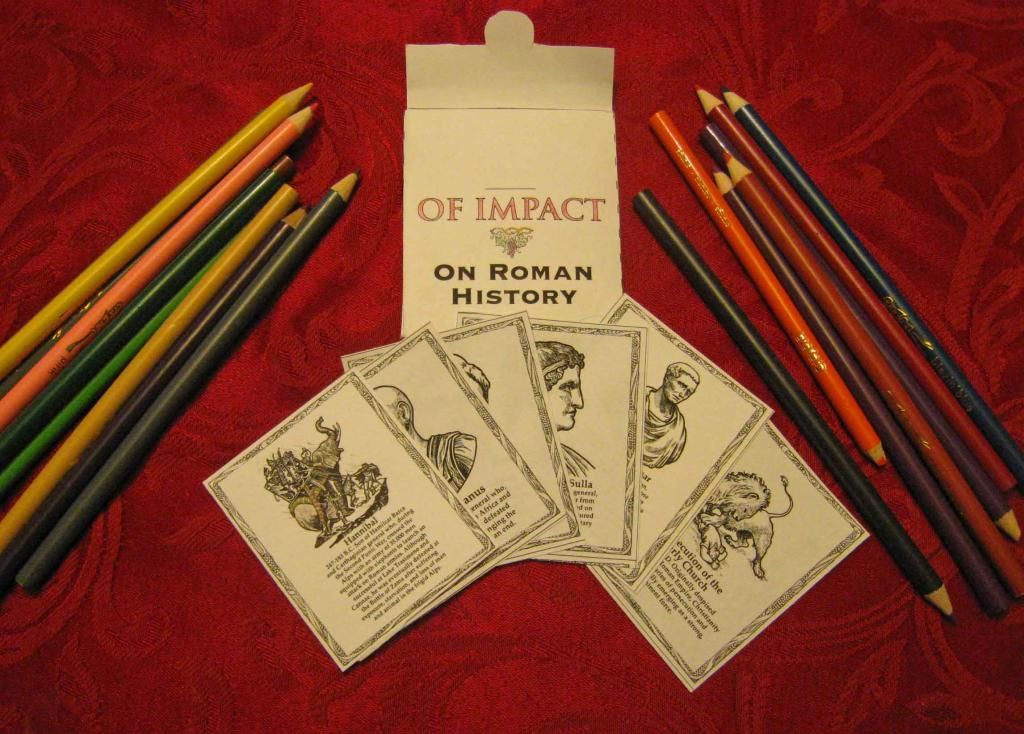 In the end, there seemed to be more notebook pages than lapbook pieces so we went with that format—gluing the smaller booklets on card stock.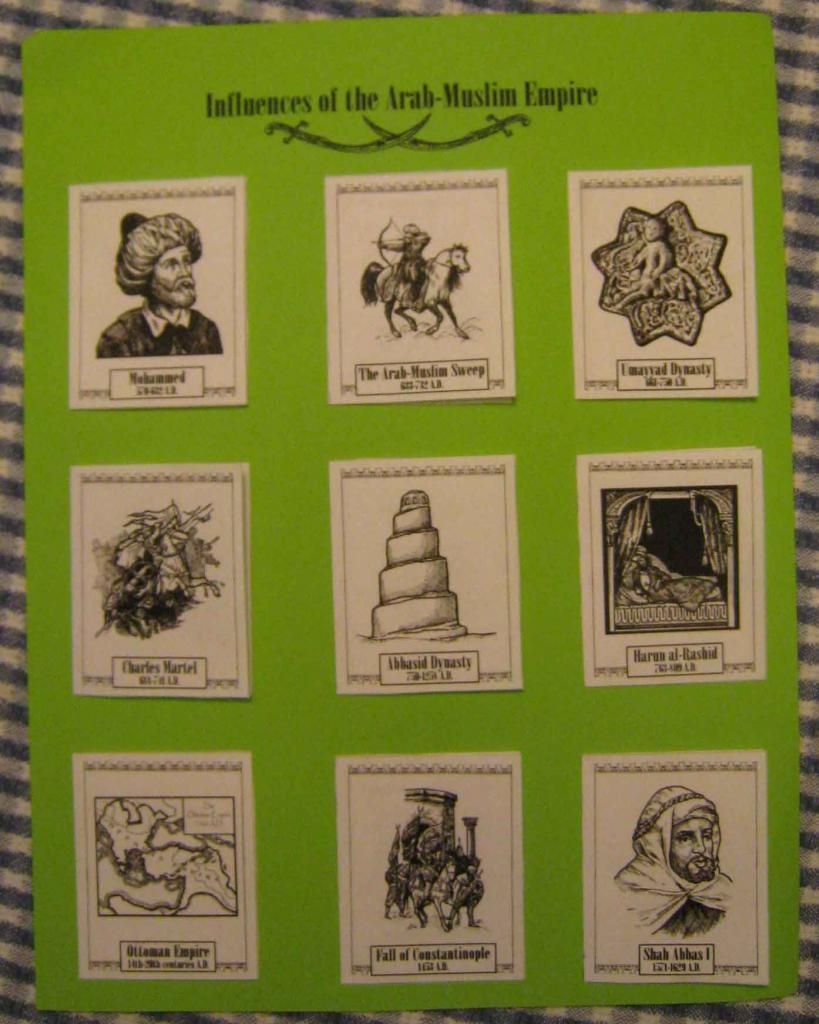 There was a 3-page timeline to get an overview of all the empires.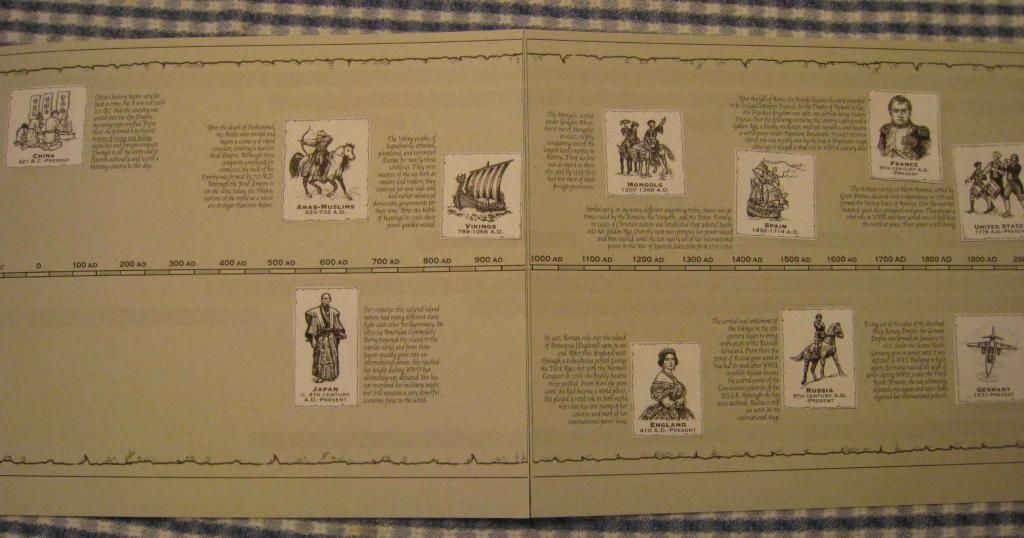 I ended up trimming the tops of the second and third pages so I could fold it up and only be held in the notebook by the first page (it's clearer in the picture below)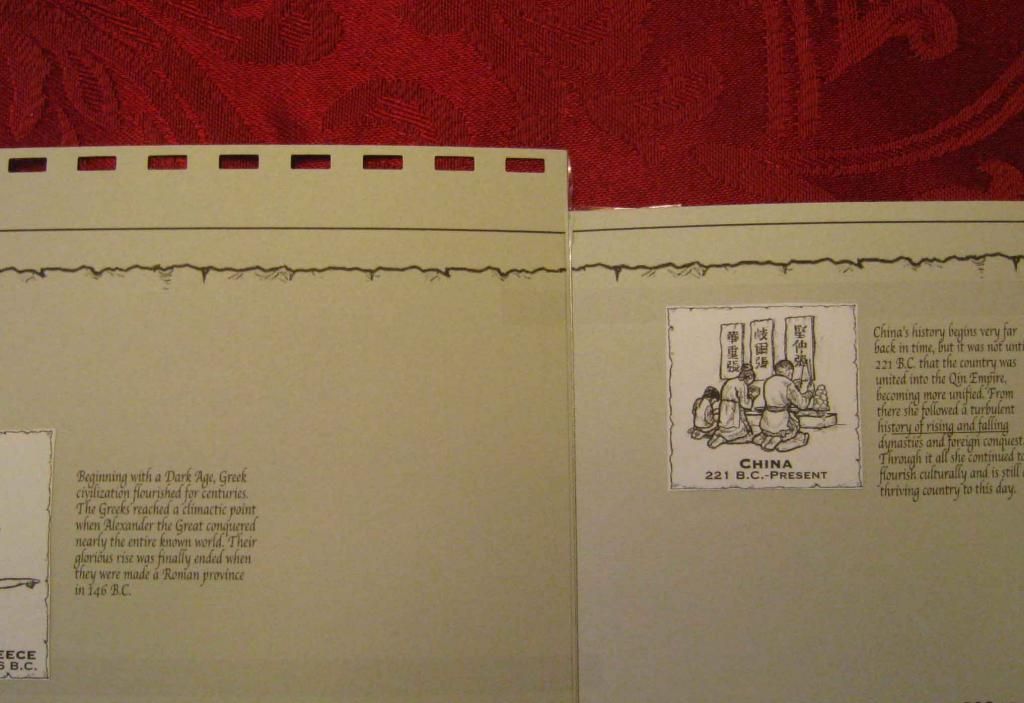 We certainly enjoyed the activity portion of this activity guide. Our one disappointment was in the lessons themselves—it was just too much like a textbook—a series of dates and names, giving each person and event a sentence or two at most. It didn't hold my son's attention, even when he was listening for facts to write in the notebook pages. It was just too many facts at once for him to keep track of. By contrast, Our Project Passport from the same vendor went into depth to describe everyday life for a Viking—their work, their homes, their ships, etc. Since we've only used these two studies, I don't know which format is the norm. You can follow the link below to other Crew reviews and see what they thought of their products.
Great Empires is available as a download for $18.95 and on CD for $19.95 plus shipping.