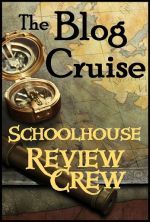 "Eighty percent of all books have been published since 1980. Eighty percent of those would have been better off left as trees."
This quote appears in Jan Bloom's reading guide (listed below) and has to be at least 10 years old now so the percentages are certainly greater. Now we have Nooks, Kindles, and other e-readers so maybe we aren't killing as many trees to make paper. Still it seems whenever I check out the top 100 list on Amazon, I find mostly quickly churned out romance novels supernatural teenage angst stories. I once stood in line at a library book sale behind a public school teacher hoping to nab multiple copies of the latest teen "must read" for her class room. "At least it gets them to read" she sighed. And in an age of video games and apps on phones maybe she thought that was the best she could do. I'm not willing to settle though. It's like feeding a kid a diet of chocolate ice cream and Twinkies, but at least they're eating something. My Schnickelfritz is required to read as part of our school day. When I let him pick titles for his own amusement (with my approval) they usually lean toward Hank the Cowdog. However, I also get to pick titles for him to read: to expose him to different genres, to bring historical settings or characters to life, etc. So where do I find the good books... in other books! Consider the resources I keep on my shelves.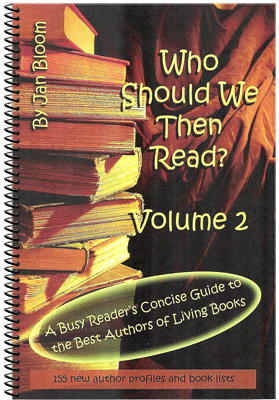 Who Should We Then Read? Volumes 1 and 2
by Jan Bloom
The Blooms travel the country selling used books at homeschool conferences and curriculum fairs. Since you may never have the opportunity to walk into her booth and ask "What would you suggest?" she's written it all down for you. Both volumes contain over brief biographies of over 150 authors and lists of their works. The beginning pages will list authors by reading level and genre
(Adventure, Historical Fiction, Fairy Tale/Fantasy, etc). The end of the book gives titles from famous series link the Landmark Books, Childhood of Famous Americans, and (one of my favorites) Winston Adventure books. This was the book that introduced us to Walter Brooks and his Freddy the Pig series! We've managed to find most of them in reprinted hardback editions. You'll find familiar names like Charles Dickens, Laura Ingalls Wilder, and Beverly Cleary, but also names you should know like the D'Aulaires and their beautifully illustrated biographies and Charles C. Coffin who brings American history to life. True story: The first time I attended the Greater St. Louis Book Fair I was so overwhelmed I couldn't get my bearings and find the Children's classics. I saw a lady sitting on the sideline comparing books she'd picked up in her own copy of Who Should We Then Read? and I knew I could ask her where I should be looking.
WSWTR? does not include summaries or descriptions of any of the books so if a title looks intriguing you may need to look elsewhere to see what it's about. I've also found that, sadly, few titles are still available in my local library--they've been discarded to clear the shelves for the latest pulp. These are great books to take to used book sales, to help you can find treasures from others' trash.
All through the Ages
by Christine Miller
There are several great curricula built on reading "living books": Sonlight, Beautiful Feet, Veritas Press, etc. There are also a variety of awards to distinguish quality publications: The Newbery Honor and Pulitzer Prize for example. All through the Ages has collected all the recommendations from these sources (and more) and organized them Chronologically and geographically. She's got you covered from Creation, the Ancient Empires, the Middle Ages, the Age of Exploration and Colonization. Then things focus in on America for Colonial Times, The Revolution, National Growth, Civil War and the Wild West. Then we go global again with World Wars I and II and the Modern Era. For each era you may find Overviews, Specific Events, Biographies, Historical Fiction and Literature from the age arranged by age level (1-3, 4-6, 7-9, 10-12).
The Geographic categories may cover a whole continent (like South America), a region (like Eastern Europe) or specific countries (like India and England). Again, you'll find Specific Events, Biographies, Historical Fiction and Literature for each region by age level. There are shorter sections with titles based on Science & Math or Art themes and finally the Great Books of Western Civilization.
The listings are each one line, with Title, Author, two few words about the subject matter, and a code for the award or curriculum recommending the book. This is a great book for those who organize their own unit studies or who want to find a real aloud to go with the history study. When Calico Captive was checked out at our library, I was able to look up an alternative-- Indian Captive by Lois Lenski (not only suitable, but a Newbery Honor winner!)
Honey for a Child's Heart
by Gladys Hunt
This is perhaps the best known of my "what to read" books along with others in the series (Teen's Heart & Woman's Heart). The first half goes into depth about what makes a good book and why children should read and be read to. The second half is filled with recommended book from picture & board books for toddlers through titles for young adults. The older kids get more attention with chapters for Animal Lovers, Fantasy & Myth, Historical Novels and even poetry. Usually one work of a author may be described in depth and the others are listed by title only. This is my go to guide when we're looking for a "just for fun" book to cuddle up and read.
Read for the Heart
by Sarah Clarkson
This book about books is written by an unabashed Christian and published Apologia, known for its science curriculum but branching out to publish other helpful homeschooling titles. That should give you a clue to the types of books included here--God honoring if not necessarily Christian in content. They could be considered "Living Books" by those with Charlotte Mason tendencies. You can find: Picture Books, Golden Age Classics, Fairy Tales & Fantasy, History & Biography, and Spiritual Reading for Children. Each chapter is organized alphabetically by author (the history section is organized by era and then by author). The title, publication date and recommend reading level of their key works are followed by a one-paragraph synopsis (usually just one or two titles per author). Occasionally, there may be a caution about bad language or situations that may disturb younger readers. There may also be a list of some of the author's other titles but with no elaboration.
You may have stumbled onto this "A Good Read" blog cruise looking for just the name of a book to read this summer. To my way of thinking, that's handing you a fish so you can eat today. These books will "teach you how to fish" so you can find enough good books to last a lifetime.
You can check out what other Crew members are reading (and probably some specific titles) by clicking
here
.