Whenever I gather with other home school moms and we chat about favorite subjects I am always in the minority. I favor math and science--both when I was the student and now as a teach my son. When I taught a hands-on science class at co-op all the other moms were telling me how brave I was to tackle a subject they found intimidating. From my perspective, the hardest challenge was finding experiment that the kids would find fun but were still packed with learning. Our latest review product from
Supercharged Science
may be just the help for everyone concerned. Their
e-Science
subscription series offers a plethora of streaming videos with a real rocket scientist explaining concepts for the intimidated set. For those just looking for fun experiments--there are HUNDREDS! Seriously, there are about 900 activities, experiments & projects.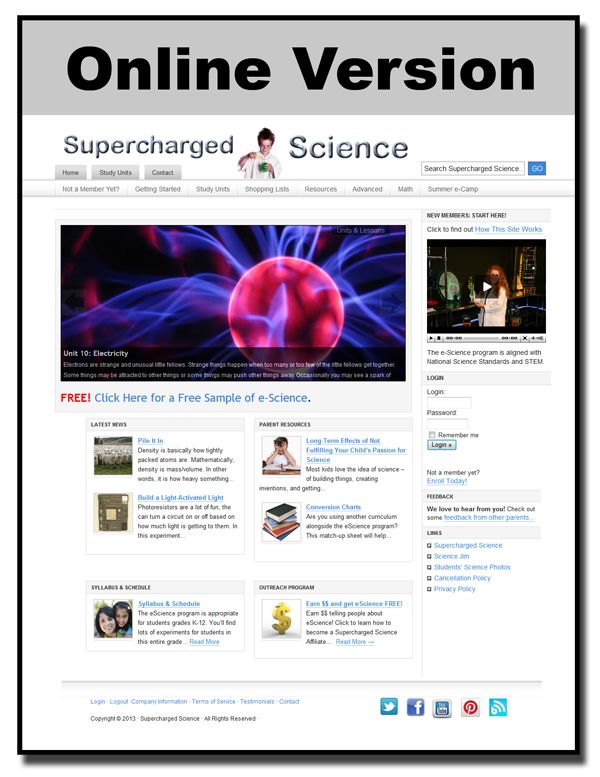 The lessons are organized into Units:
Mechanics
Motion
Matter
Energy 1 (Levers & Pulleys)
Energy 2 (Potential & Kinetic)
Sound
Astrophysics
Chemistry 1 (Molecules, Atoms & Chemical Kinetics)
Light
Electricity
Magnetism
Alternative Energy
Thermodynamics
Electronics
Chemistry 2 (Reactions, Bonds, Acids & Bases)
Life Science 1 (Living Organisms, Cells, Genetics, Microscopes)
Life Science 2 (Prokaryotes, Plants, Protists & Fungi)
Biology 1 ( Invertebrates, Fishes, Amphibians, Reptiles, Birds & Mammals)
Biology 2 (Skin, Bones, Muscles, Cardiovascular)
Earth Science--Coming Soon
There are also special "bonus" units on The Scientific Method, Award Winning Science Fair Projects, Mathemagic, and a summer Science e-Camp. For each unit, you'll find an introductory video and audio clip, reading materials (you can read on screen or print out the PDF files), a printable lesson plan (with concepts taught, shopping list, answer key), and videos explaining the experiments and how to build them. I wish I'd had access to this series when I was teaching hands-on science at our co-op. The Try It project for one lesson was to build a hovercraft using a leaf blower and cutting a board with a jigsaw--way beyond what I was comfortable doing with a dozen kids. Supercharged Science also has a
hovercraft experiment
with the same concept but uses a CD and a balloon and a hot glue gun (something I'm much more comfortable with).
Blowing over paper lowers air pressure, making it rise
You can use the e-Science program as a stand alone program going from unit to unit (think of it as delight-directed--if you kid wants to learn about astrophysics, let him) or you may download
PDF files
on which units correlate with popular science curricula like Apologia, A Beka and Switched on Schoolhouse.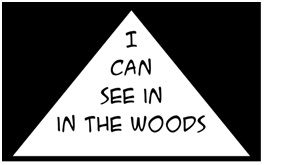 We had already finished our science book for the year so I let Schnickelfritz pursue whatever suited his fancy, although I made him begin the Scientific Method Project Guidebook. It was full of puzzles and games to introduce the importance of observation; how to recognize variables and why we should only change one at a time; and exercises in being clear and concise in our communication of results. Here's a chance to test your observation skills...what do your read in the picture on the right? If your student is old enough for Science Fair projects, the Guidebook ends with walking them step by step through a Linear Accelerator experiment complete with report, display board and oral presentation.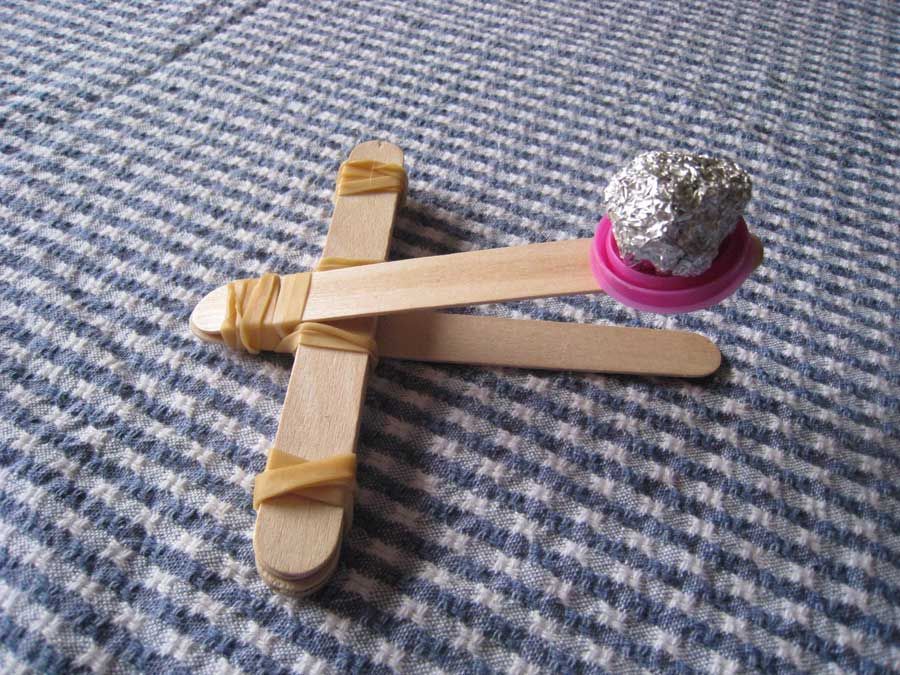 A basic Catapult
Fritz is still at an age where I want him to recognize learning can be fun. So he could watch the videos and choose the experiments he wanted to try. If he was interested in learning more then we could go back and read the lessons. I, on the other hand, am absorbing the articles like Keeping a Scientific Journal, and Seven Biggest Mistakes in Teaching Science.
The majority of experiments use objects you probably already have in your home: rubber bands, string, washers, straws, index cards, etc. We also used a few hand tools and a glue gun. There are so many experiments in each Unit, you don't need to go buy "specialized science stuff" unless you want to. These materials might include Neodymium magnets, neon bulbs, and electrical supplies that can be found at Radio Shack (they even supply the RS part numbers).

The monthly subscription to Supercharged Science is $37/month for K-8 material. To add the high school material (in addition to K-8) is $57/month. This is no small sum, but if your kid has a bent for science it's certainly cheaper than a course at the community college. A new subscriber has access to the first 7 Units (see the list above) and gains access to 2 additional Units each month they continue. There's a 30 day satisfaction guarantee. Still not sure? You can try this FREE
Science Activity Manual and Video Collection
(normally $30).