Yesterday, over 50 families from our county met at the town park for Field Day--an End-of-the School-Year celebration. The kids participate in tug-of-war, races, and skill events. Everyone sits down for a pitch-in lunch. The afternoon is always the highlight, with the "you may get wet" events take place. This year the local fire dept. and ambulance district came with their rigs for the kids to see during lunch. They even stayed to play Baby Pool Baseball (it's a wet sport).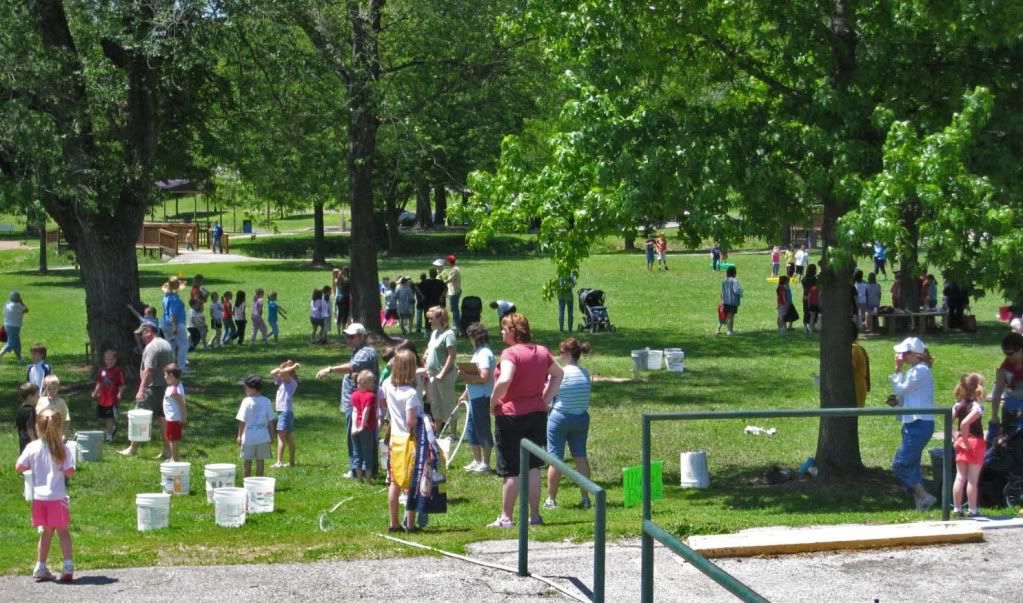 I brought my camera but had very few opportunity to take pictures. I was on the kitchen crew: we set up tables, grilled 50 packages of hot dogs, cut up fruit and the desserts, poured drinks, and washed dishes after lunch. Afterwards I went home, settled in on the couch, turned on RFDTV to watch Campfire Café, and immediately fell asleep. I woke up to find Schnickelfritz asleep in the recliner so he must have had a full day too.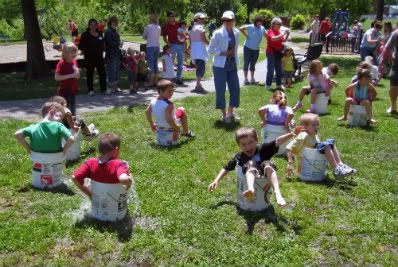 This game is Musical Buckets. Rather than scurry around for an empty chair you have to sit you tush in a bucket of water. The littlest kids eventually sink down in the buckets and have to be pulled out. They have so much fun, they don't even worry about who's the winner.