One of the questions we homeschool teachers always get (after that socialization one) is "How can you teach all that?" The truth is, there are some subjects that need to be outsourced. In our house it's foreign language. I can't teach Spanish because I don't know Spanish—that's what Co-ops are for. I can bring a virtual co-op into my home with Spanish for You! and its creator, Debbie Arnett. She's been teaching Spanish to students from K-12 for the past fourteen years. The unique thing about her curriculum is it's built around themes and she provides syllabi and worksheets for three grade groups: 3-4, 5-6, 7-8. We received her Fiestas package (grades 3-8) to review. Our package included: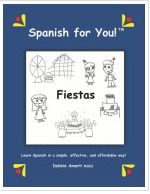 the Spanish For You! book (ours was an eBook, but a purchased set will have a soft-cover copy)

PDF Lesson Guides for grades 3-4 (30 wks.), 5-6 (24 wks.), 7-8 (24 wks.)

PDF worksheets for every lessons (for each grade). Page 1 has the exercises, page 2 has the answers.

MP3 audio files for every lesson—a set by the author and a set by a native speaker.

PDF files of flashcard pictures for vocabulary words
My son and I both worked on the 3-4 level and spent the entire review on reference section (pronunciation guide, common phrases, commands, colors, and numbers) and Lesson 1 which focused on Birthday Parties. The other lesson's fiestas are The Day of the Dead, Carnival, Holy Week and April Fair. There is a brief description of each of the last four fiestas at the beginning of the book.
The first week of the lesson focused on vocabulary (cake, friends, candle, etc.) and verbs to sing, to open (as in a present), to eat, and to talk. And yes, we did have to learn to conjugate the verbs, including an informal "you all" used only in Spain. The driving force of Spanish for You! is the flashcards. We did receive PDF files for the object vocabulary, but the lesson plans really want your kids to make their own as a memory reinforcement. You'll have to make the verb and sentence flashcards anyway (stock up on index cards—you'll need a lot!) There are pages of games using these flashcards at the front of the book. Of course my son's favorite game wasn't even in the book. I hide all the English translation cards around the basement and then show him one of the Spanish cards. He has to race around the room and then bring back the correct card to me. It's a great game for Wiggle Worms
The audio files are great for practicing pronunciation and learning to answer questions. I had to sit next to the computer ready to press the pause button because there's not that time between phrases. My Schnickelfritz needed just a little more time, especially when he was responding to a question and wasn't just repeating what the speaker said.
There are usually wor
ksheet assignments every day as well (the lesson plans are designed with a 4 day per week schedule). My advice is to take some time Sunday night to print out the worksheets you'll need for the week. Each sheet is its own file and I had a difficult time finding the ones I needed. Part way through the review period I received an email from the author saying she'd organized the worksheets into folders by lesson so this may help.
| | |
| --- | --- |
| | |
| Some days he drew pictures of the vocabulary. | Days when he had to write were harder. There was no explanation that accent marks were important in spelling the word. |
The lessons need to be done in order so if learning about the Day of the Dead isn't appealing to you, you may want to try the other curriculum which is about seasons. I didn't know that it had nothing to do with Halloween (which we don't celebrate), but is to honor friends and family who have passed on. Still I don't think I'll have a need to be able to say "Regresa al cementerio" (Return to the cemetery)any time soon. I get that the program is just to prepare students for formal high school Spanish, but I'd still like to learn things that I may use in real life not just learn for the sake of learning. Maybe the new book coming out this year on Travels would be more what I have in mind. The teaching and review methods were certainly effective and easy to follow.
As I mentioned, I don't know Spanish but I understand there are differences between how it's spoken in Latin America and Spain. It appears this curriculum is trying to cover both. The native speaker for the audio is from Mexico and the Day of the Dead is a Mexican holiday. On the other hand we had to learn the "you all" form of verbs used only in Spain with people you address on a first name basis (highly unlikely I'll ever need that) and the April Fair is a fiesta in Seville, Spain.
The package with all grades (3-8) is $64.95. If you've got an only child like me, you can just buy one grade level for $39.95. Want to try before you buy? This page has samples from both the Fiestas and Estaciones books.