Our family's favorite Missouri author is Laura Ingalls Wilder. True, none of her books are set in the Show-Me State, but she spent the majority of her life here (over 60 years) and did all of her writing here. If you're interested in her life beyond the Little Houses, I'd highly recommend the DVD Little House on the Prairie: The Legacy of Laura Ingalls Wilder DVD ($24.95). It was directed by Dean Butler and produced by his company, Legacy Documentaries . If you grew up in my era (or you've watched the countless reruns still on today), you may recognize that name as the actor who played Almanzo Wilder on Little House on the Prairie.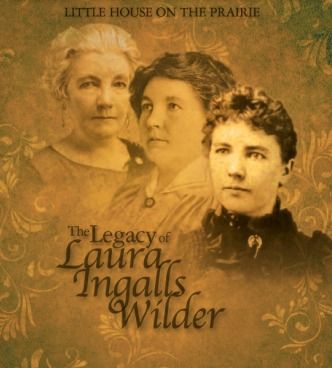 If you're only familiar with Laura through the TV show I'm sorry but they strayed pretty far from reality—there was no Albert, Mary never married or taught in a blind school, it was never Laura's dream to become a teacher (she did it to help pay for Mary's schooling). Even the books don't always paint an accurate picture. Are you ready for a shocker? There was no such person as Nellie Oleson! The girl we love to hate is really a composite of three girls from Laura's childhood. Here's another surprise—there was another family (never mentioned in the book) that stayed with the Ingalls family during The Long Winter
.
All these facts and many more are shared on the nearly-hour long DVD. It begins with Laura's life during The First Four Years and continues through her arrival at Rocky Ridge farm in the Ozarks and her becoming the author of the beloved Little House series. The focus really is on her adult years – the facts from her childhood come up as details as she writes each book.
I was thrilled to get this DVD as we prepare to attend Wilder Days in Mansfield, MO this fall. I didn't assign my son to watch with me (that would make it too much like school), but I did turn it on in the living room while he was playing with blocks. He ended up leaving the blocks and joining me on the couch—so don't think this is just for girls to watch. Laura's story is told through re-enacted vignettes, illustrations from the books, and panning and zooming over old photographs (think Ken Burns documentary) while Mr. Butler narrates. Occasionally a historian or literary expert will share some insight..
Let's focus a minute on the DVD itself rather than content. There are no closed captions. The video is divided into chapters but there is no scene selection menu. The bonus features have trailers for Legacy Productions two other DVDs –Pa's Fiddle and Almanzo Wilder: Life Before Laura. There is also a 10 minute Director's Diary with Mr. Butler's reminisces from filming the documentary.
If you're planning a trip to Wilder Days, or any of the Little Houses, this DVD may give you more insight into the author's life. Better still, suggest you local library purchase a copy so everyone can learn a little more about on of America's favorite storytellers.