I don't want to sound like I'm complaining – we really have had a much cooler summer than last year during our drought. Still there have been days when the last thing I wanted to do was turn on the oven – especially pizza nights when I crank it up to 425 and need to let the pizza stone preheat. So last month I asked for suggestions on putting dinner on the table without heating up my kitchen. Here are some of the responses.
The one response we'll skip over was to make ….reservations! Funny, but let's assume that's not an option. After all, if you can afford to eat out through a long hot spell you can afford to
crank the air conditioning.
Salads and cold sandwiches came up frequently. If you do buy cold cuts for sandwiches (my husband takes a sandwich to lunch daily) try this money saving tip. I buy a half ham from the meat dept. and take it to the deli for slicing. I wait until it's on sale (last week I got 7 pounds for $2.29/lb. The same meat in the deli case was $6.98! I divide up the sliced meat, vacuum seal and freeze what we won't get to for a while.
Grilling and cooking out is another option. Yes it involves heat but the heat stays outdoors. Someday I'm going to learn to make a pizza on the grill, but I've read that you shouldn't use those Pampered Chef pizza stones over an open flame. We also enjoy Dutch oven cooking (there may be a series coming this fall as my son works on his cooking merit). Baking in a Dutch oven does have its drawbacks as you have to rotate the oven over the coals and rotate the lid every 15 minutes to keep the heat even. That means you have to stay close by the fire pit in the outdoor heat. I'd much rather save campfire cooking for the fall.
By far the most popular answer was using the crock pot. Everyone knows you can use cheaper cuts of meat in a slow cooker and they still come out moist and tender. It has the added benefit of being a hands-off cooking method. I can go about my day—teaching, cleaning, running errands, and my automated sous-chef takes care of everything. The one drawback is that if you've forgotten to start your meal early enough in the day dinner may be too late or not worth starting at all (then you back to making reservations).
Today, I'm going to share a recipe I made in my pressure cooker. Like it's slow cooking cousin, it's not going to heat up the kitchen. I LOVE my pressure cooker for last minute dinner prep. In fact you can start out with frozen meat and dry pasta and still put supper on the table in about 15 minutes. My PC is electric, but nothing fancy—just a pot with a temperature control on the cord. There a two lines on the pop-up gauge for me to judge high and low pressure (I almost never use the latter). And there is a quick release valve. Those are all the features I need. I figure those models with all the fancy buttons just have that much more that can go wrong with them. Now on to the recipe, based on one found in Bob Warden's Great Food Fast.
| | |
| --- | --- |
| 2 Tbs. oil | 3 1/2 C. beef broth |
| 2 lbs. stew meat, cubed | 1 Tbs. fresh chopped cilantro or 1 tsp. dried |
| 1 red onion, chopped | 15 oz. can pinto beans, drained |
| 3 cloves garlic, minced | 1 C whole kernel corn |
| 1-2 Tbs. chili powder | 2 Tbs. cornmeal |
| 1 tsp. cumin | 6-8 oz. can refrigerated biscuits |
| 2 bell peppers, chopped | salt and pepper to taste |
| 15 oz. can diced tomatoes with green chilies | shredded Mexican cheese blend (optional) |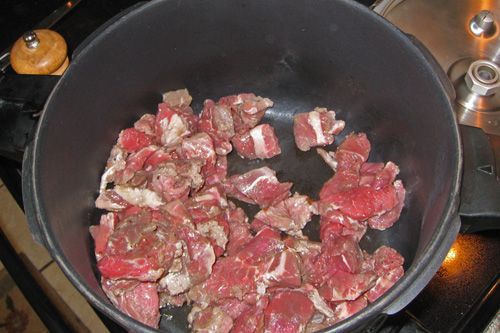 Brown the meat in oil over high heat. Season it to taste with salt and pepper.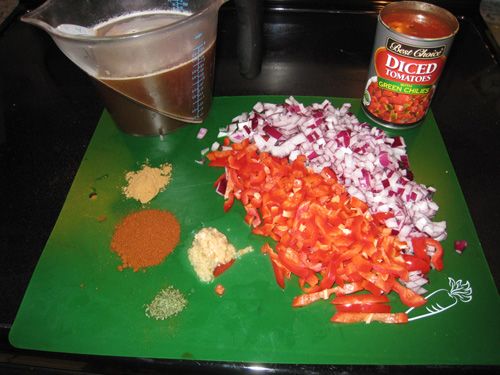 Add onion, garlic, chili powder, cumin, bell pepper, tomatoes, beef broth, and cilantro. My family prefers red bell peppers but for presentation you may wish to substitute green or any other color available. Securely lock the pressure cooker lid and cook for 20 minutes on high.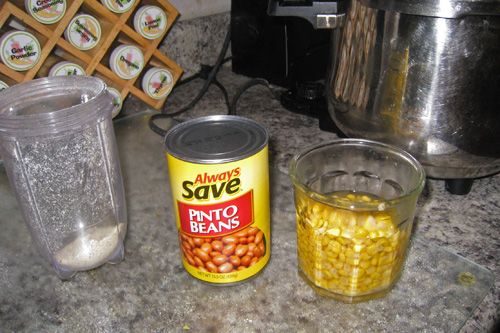 Quick release the pressure. With the lid off add the beans and corn. Bring to a simmer over high heat. Stir in the cornmeal and simmer till thickened ( I make my own cornmeal grinding the grains in my Magic Bullet).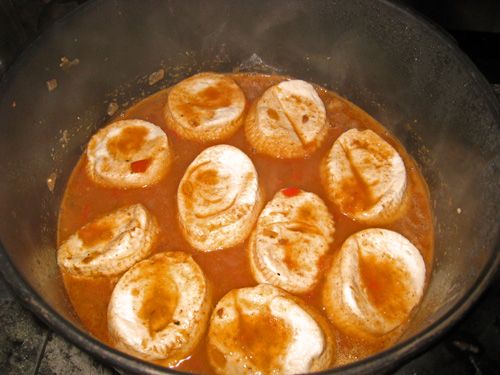 Separate the biscuits and drop in the pot to simmer 10-15 minutes before serving. Serve in a bowl topped with shredded cheese.
Need some more recipe ideas? Check out what my Homeschool Review crewmates have to share here (on Aug 20.)