Every year at a local Homeschool conference I spot a man dressed in a civil war uniform.
This year I followed him back to his booth and I can now identify him as fellow Missourian John Notgrass. When I stopped to admire the beautiful textbooks (really, I'm calling a textbook beautiful) his family's business the Notgrass Company, publishes, I couldn't wait for this review. The America the Beautiful Curriculum Package
($99.95) contains three hardback titles and three softback books.
This curriculum is designed for grade 5-8. Since the writing skills can vary so much between these levels, the workbook is purchased separately. The Lesson Review book is designed for 7-8 grades. We used the
America the Beautiful Student Workbook
(
$11.95)
geared towards 5th and 6th graders. There are also 10 books assigned for reading time: Across Five Aprils, Amos Fortune: Free Man, All-Of-a-Kind Family, and others. Most are probably available in the library or you may order them for Notgrass Company. You will most certainly need to order Katy written by Mary Evelyn Notgrass.
The two volumes (one per semester) of the main texts are divided into 15 units of 5 lessons each. Here's what separates America the Beautiful from other history texts. Each unit covers a period of American history, but the lessons themselves don't just present events and people in chronological order. One or two lessons in the unit may do that (referred to as Our American Story in the book), but other types of lessons are:
God's Wonders – describing an amazing creation God placed in America. Lessons include: the Great Lakes, Chesapeake Bay, Niagara Falls, and the Mississippi River.

An American Landmark—interesting sites, this time manmade. Lessons include: The Smithsonian Institution, Route 66 (in volume 2, but since it was close to home we skipped ahead), the Erie Canal, and the Gateway Arch.

An American Biography – a focus on one person who lived during the unit era. Lessons include: James Audubon, George Washington, Noah Webster, and Samuel Morse.

Daily Life—learning how people lived an worked in the unit era. I appreciated these lessons most of all. The names and places we were learning about became fleshed out. Lessons include: cattle drives, the Pony Express, and working on a steamboat.
We read one lesson per day. The end of the lesson lists the possible activities using the other books in the set, Bible study, or creative writing assignments. Younger students may only do Bible Study and writing assignments twice a week. An eighth grader may need to complete all the activities every day. Here is a sample of what we did for lesson 14 about the founding of Plymouth Colony (we are Mayflower descendants so we study Plymouth frequently).
Thinking Biblically: William Bradford quoted from Psalm 107 so we read that passage and discussed what it meant to the Pilgrims.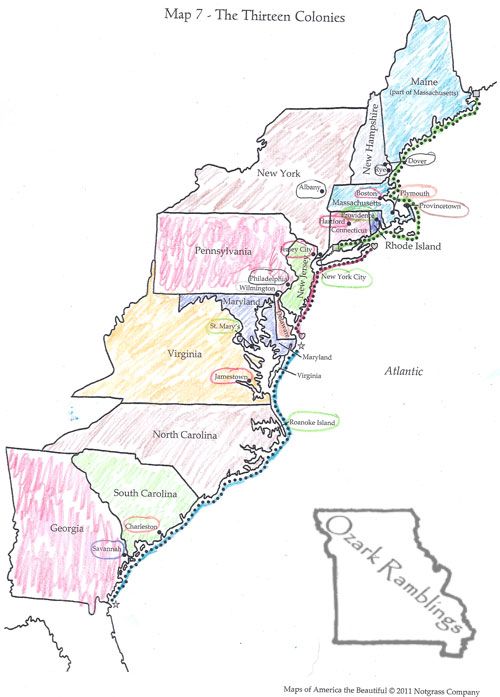 Map Study: My Schnickelfritz loves studying maps and creating his own so he was very excited to see the package included a separate softcover book devoted to maps. His enthusiasm waned as lesson after lesson all he did was color in shapes and circle names. There was no plotting routes or drawing in regions of Native tribes or mountain ranges. He didn't have to label anything, it was already printed in the book. In his mind the fun part of mapping exercises had been done for him.
We skipped the Creative Writing assignments. This review came during summer school and I didn't press him to do his least favorite activity. The activity was to write your own compact of ten things everyone must agree to obey.
The Timeline also comes in it's own softcover book. The years 1000 to 1499 are arranged by a century per page. The years 1500 through 2019 are grouped by decade per page. Every page has a coloring picture –not one of my son's favorite activities. A lot of events have been pre-printed, but there are lined spaces where the student should add something (the number in parentheses refers to the lesson). The text book tells the student exactly what to write.
Literature assignments are done in the hardback We the People Book. We read a passage from Of Plimouth Plantation. It had been edited for modern spelling and length. There were lots of ellipses, but in this case it was not to remove God's name from our historical documents. These passages were the most challenging work for my 10 year old son and often I read it aloud to him.
The Student Workbook assignment was to fill in the blanks using the names supplies at the bottom of the page. Other lessons had crossword puzzles, multiple choice questions, word searches, etc. The Answer key (another softcover book) had all the solutions for both the Workbook and the Lesson Review for older student.
This unit did not have a reading assignment but beginning with Unit 4 we read Elizabeth George Speare's classic, The Sign of the Beaver. The was also no Vocabulary. For Lesson 2 Fritz had to look up: descendant, immigrant, confederation, dense, and cache in the dictionary and write it out in a separate notebook we were keeping.
As much as I hoped we would like America the Beautiful, it just didn't seem to click with us. We loved the pictures, we enjoyed feeling connected to history when lessons involved things close to our home: the Gateway Arch, Route 66, and the Mississippi River. Still, my son felt the text, map study, and timelines were designed for a much younger student, even though he's at the low end of the recommend grades. If I were considering this curriculum for an older student, I wo
uld definitely have them look at some of the sample lessons online and see if they felt similarly.