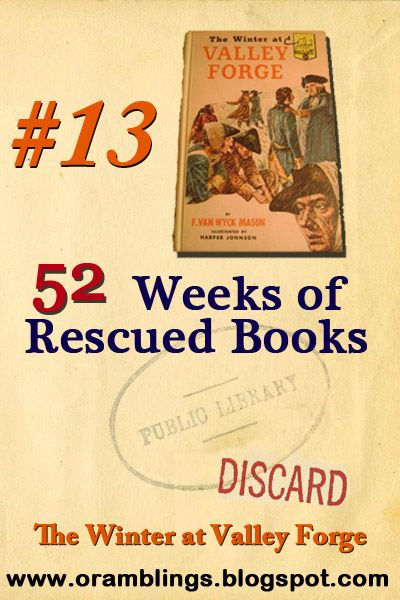 Last Monday we were driving home from karate class in a mini-blizzard. Tuesday morning the ground was all white and I worried about the daffodils that had already started to pop up. Both my son and I complained about the winter that would never end….and then we stopped. You see, this week we've been studying about Valley Forge. It's a name nearly synonymous with the American Revolution and yet no battle occurred there. Unlike those soldiers, we had shoes for our feet, a full pantry and refrigerator, and a warm home – we could live with a few snowflakes (that were gone by the next afternoon. This week we look at another Landmark title…
The Winter at Valley Forge
Mason, F. Van Wyck, and Harper Johnson (Illus.). New York: Random House, 1953. 173 pp.
The 15 chapter book could almost be divided into two parts—the first five chapters set the background for the winter camp. It actually begins with the battles at Brandywine Creek (Sept. 1777) and Germantown (Oct. 1777). It was the custom at the time for armies to "take the winter off" from active fighting. Even before arriving in Valley Forge, Washington's army was short on weapons, powder, medicine and food. A supply train with 6000 blankets was sent in the opposite direction of the troops. Sometime later they managed to get 200 of those blankets back which were immediately cut up to wrap shoeless feet. The British rounded up nearly 700 cattle from the region to feed their own troops in Philadelphia. The Continental Army has strict rules against confiscating anything from civilians who were generally unwilling to sell their crops and animals for worthless paper money. And then there was no way to transport the food when heavy snow closed the roads.
After setting up the scene the author turns his attention to two specific volunteers—Gil Weston and Silver Hawk (one of the few Native Americans that sided with the Americans). The forward makes clear that these are fictional characters but that all the events they witness and partake in either actually took place or were typical of the living conditions. They scavenge for food, attack British supply wagons, and eventually take part in a skirmish between Gen. Charles Lee and the (in)famous Dragoon Banastre Tarleton. Other real persons we meet are Gen. Washington, Prussian baron von Stueben,and the Marquis de Lafayette.
Finally in June 1778 the long winter was over and Washington led his army out of the valley to pursue the Redcoats leaving Philadelphia. The book ends with this passage:
Behind them they left the rude shacks, the unmarked graves, the fortifications that never had come under fire….They left the hospital where so many men had dies and so many others had prayed for death. They left the whitened bones of starves horses and the stumps of trees hacked down for precious firewood. They left the hard-packed parade ground where Gen. von Steuben had made soldiers out of farmers. They left behind Valley Forge where the cause of Liberty was supposed to have been frozen, beaten and starved to death…
The Army sang smartly as its ordered regiments marched out of Valley Forge…ahead of the men lay bitter struggles…Ahead also lay victory and freedom!
My copy of The Winter at Valley Forge had originally been someone's Christmas present judging from the note in the cover. I picked it up at the Greater St. Louis Book Fair.
You can see all my rescued books by clicking here.