Who doesn't love a good Easter Egg hunt? And I do mean hunt. This is not some event where it's impossible to walk without stepping on an egg, I'm talking about searching high and low and looking in every nook and cranny. Well the folks at Egglo Entertainment have kicked the annual tradition up a notch or two by allowing you to search for glow in the dark eggs. Hunting eggs can be done by any age level but the book and program guide seemed to be geared for 4-13 year olds. For this review, we received:
Well you can't have an Easter Egg hunt without the eggs so let's start there. The Glow in the Dark Egglo Eggs arrive nested together in a box (no pun intended) so the first thing you must do is assemble them. It doesn't sound like a job for a rocket scientist, but it's also not as easy as you might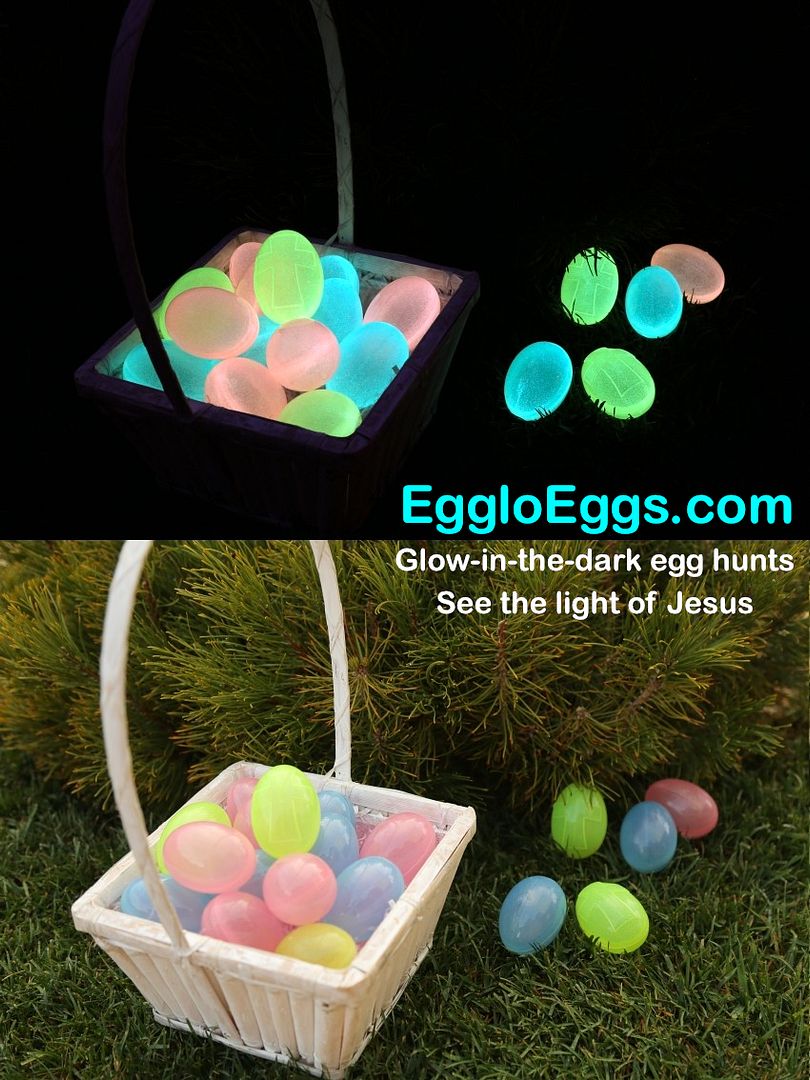 think. Half of the egg sections have a cross molded on the side and because of this design the seam goes around the length of the egg not its circumference. I just started grabbing cross pieces and plain pieces to join together –but sometimes they wouldn't join. It turns out that the joint is made with an "inner lip" and and "outer lip" for lack of better terms. Half the cross pieces were "innies" and half "outies" just like the undecorated halves. This probably allows for more combinations (pink & yellow, blue & yellow, pink& blue, or solid color eggs), but if you choose solid color eggs (like the photos) be aware that the blue ones will have crosses on both sides and the pink ones will have no crosses at all. You can "charge" up the eggs in sunlight (fastest method, but still 45 minutes) or artificial light. To differentiate the colors, a sunlight charge is best. As the glow fades it's hard to which color is which. In the light, you can see through the egg to see what it contains so if you hide cash in one as a treat, it will be obvious.
The Egg-cellent Easter Adventure (39 pp.) is not your typical Easter story of the cross and resurrection. The book takes us on a global adventure with Anastasia, Pascal, Hardy, and their dog Zeke. They search for glowing eggs in Egypt, under water, and on a volcanic island. The eggs pop open to reveal scripture and clues for the next hidden egg. The great think about the story was that each child began with a character flaw: Anastasia is fearful, Pascal won't submit to authority, and Hardy thinks of himself before others. The scriptures they discover helps each child overcome their sinful natures. I read it aloud to my son although the text was easy enough he could have read it on his own. You may also want to download the audio version for kids who can't read to themselves.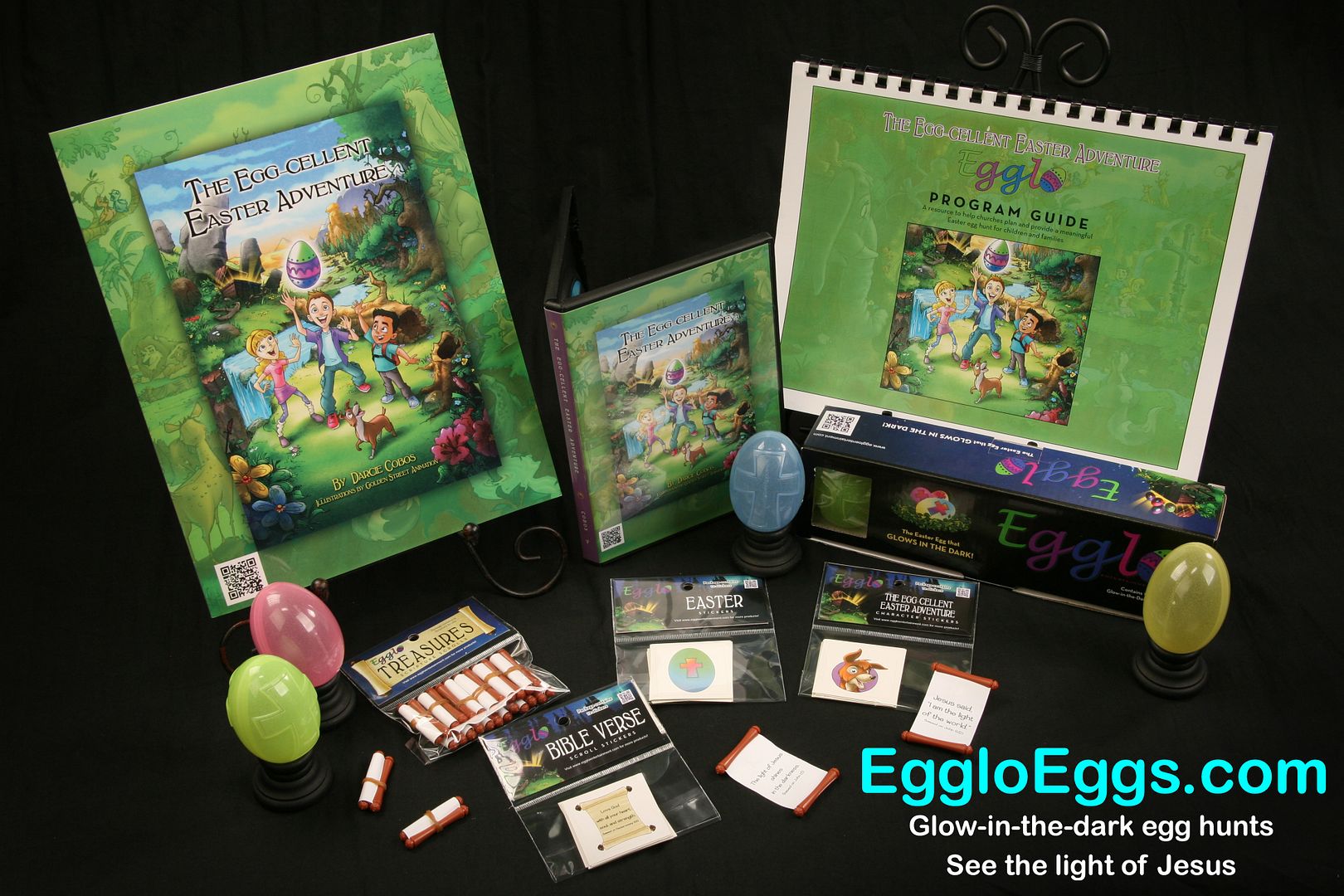 The Scripture Scrolls are made of paper and plastic and held closed with small rubber bands. The fit easily in the eggs leaving plenty of room for a Hershey's Kiss or two. I found them fairly sturdy but we did manage to rip the paper off from one scroll so open these with adult supervision if you want to make them last. The scrolls contain sentiments based on scripture with the Bible verse referenced. For example, one says "Jesus said 'I am the light of the world.' (based on John 8:12)"
The Egg-cellent Easter Adventure Program Guide seems geared towards churches or organizations that want to create a whole program, not just hold an egg hunt. There are suggestions for decorations and snacks, coloring pages, printable invitations and a poster. Honestly, as a homeschooling mother on a budget I would probably just search for ideas on Pinterest.
The Final Word
The book, eggs, and all resources are really top notch. I'll be saving them for use again. I can really think of only one flaw—and it is more from a sales/marketing standpoint: When we were selected for this review, the instructions made clear that we would be using these resources outside the Easter season (in fact I had the eggs for a hunt at a Valentine's Day party). They ARE great for Easter, but I think the vendor is limiting their sales by making a product that's only used at Easter time. I kept thinking how much fun it would be if the glowing objects were shaped like treasure chests instead. You can have a treasure hunt any time of the year. The Adventure book even references this idea in the last scroll "Well done, good and faithful children. You have persevered to the end, and a gift you shall receive. it is the treasure you seek, the greatest of all. Not of this world, the treasure is a light to the nations."