It's been quite a winter hasn't it? Every week it seems I see a school closings list crawling across the bottom of my morning news. Occasionally my Schnickelfritz will be up at that hour and comment "why don't we get to take a snow day?" To be fair, we did….the first snow of the season we drank hot chocolate, made snow ice cream, and went sledding. Since then we've seen our local school district closed more than a dozen times for snow, ice, or just really cold temps (I guess they don't want the kids waiting out at the bus stops), and I've heard complaints about "homeschoolers never get a snow day." Well guess what, homeschoolers get to take off a perfectly fine day and go to the City Museum! And that's just what we did last week with several other HS families in our area.
A museum is a place where you have to talk in whispers, walk don't run, and keep your hands in your pockets and the City Museum is anything but those things. The kids played several games of tag and hide & seek, they're encouraged to touch, climb, and crawl through. I suppose they chose the name "museum" because "indoor amusement center made of repurposed industrial parts and reclaimed architecture" wouldn't fit on the sign.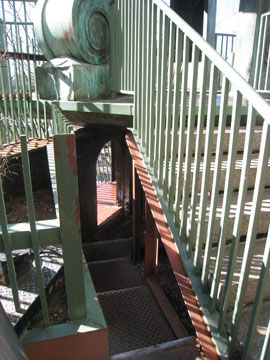 Here is an example of a reclaimed piece of architecture. As you approach the focal point you'll discover a hidden passage to the side of the steps and you're off on another adventure to who knows where.
We didn't stay outside long this day because temps were only in the teens.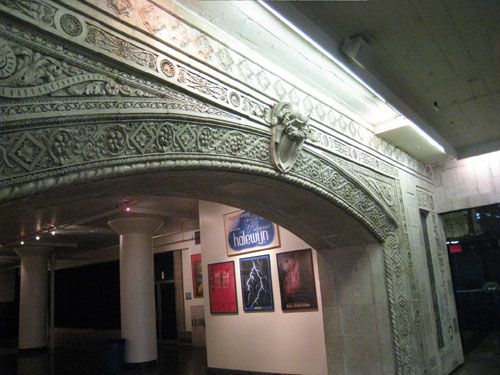 The City Museum is housed in a former shoe factory, and they've brought in this marvelous archway, saving it from destruction when presumably its original building was taken down. Now you can see the detailed work up close.
There's even beauty to be found in the symmetry of this large vault door. I'm sure whatever it protected was never in danger of theft.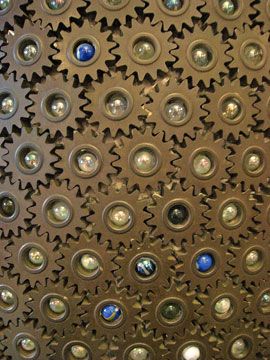 The City Museum is above all else, a labor of love. When you first enter, you'll notice a series of columns. As you get closer you'll see that someone has covered the columns with gears (maybe from the original shoe factory) and inserted a marble into the center of each. How many hours must that have taken? You can see some undecorated columns in the background of the archway picture to get an idea of the scale of the project.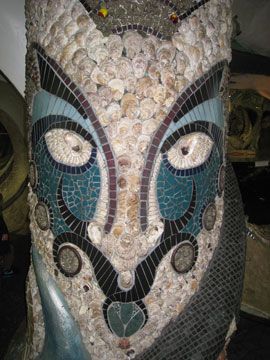 In other places the columns are covered with tiles and seashells. Our kids refer to this area as "The Whale Room." It's name will be obvious if you visit the first floor. There's a giant white whale that you can crawl through and pretend you're Jonah. (You can see a photo in a post about our first visit to the City Museum). There's also a not-so-obvious tunnel entrance underneath the whale. In fact the whole room is filled with small openings to crawl in and venture under the floor or passages of rebar attached to the ceiling if you want to pretend to be a human fly.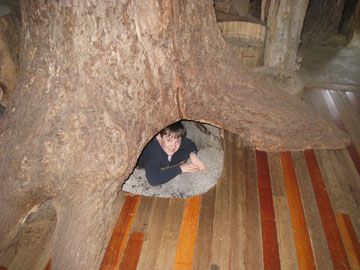 Here's my Schnickelfritz emerging from a rabbit hole chiseled into the floor. The hollowed out tree had been living at one time. A word of warning: when your kids first go in a tunnel, there's really know telling from where they'll emerge. You'll either have to trust they'll show up again sooner or later or be willing to venture with them.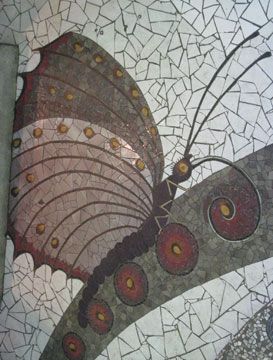 I'm more of the trusting type. We moms tended to patrol the perimeter—making sure nobody left the area but leaving it to the kids to explore every nook and cranny. I took in some of the artwork in the form of mosaic tiles on the floor like this moth or butterfly.
Then I noticed the artist herself working on a new masterpiece in the mouth of the whale (which had been cordoned off with yellow caution tape). She was creating what appeared to be a flying Mississippi catfish (I was looking at it upside down) and talking to a supervisor. She was concerned that she wouldn't have the project finished before the Spring Break rush. "What would happen then?" she wondered. The supervisor pointed at me, peering over a wall, and said that people would probably love to watch her work. Just another experience at the City Museum.
It's seems there's always something new being added. In a separate area another worker was welding an extension to a slide. I even heard a rumor of a much larger expansion in the works—it's a ten story building and they've only opened three stories so there's lots of room to grow.
By far the most favorite area for everyone in the caves and the slides.
The spiral structures were once used to move shoes and other materials from floor to floor in the factory. Now they move bodies – with a 3,5,7, and ultimate 10 story slide. An attendant at the top told Schnickelfritz that the record for one day was 19 trips down the mega-slide and Fritz immediately took up the gauntlet. Of course to go down the slide 20 times, you also have to climb up 20 times –that's 10 stories each time. Maybe I should log the hours as gym class? He certainly got a workout.
The City Museum is one of our few exceptions to the free field trips we look for. It's not a cheap day ($5 parking and admission of $12 with addition fees to visit the roof or the aquarium). Homeschoolers can usually find special rates ($8) in Jan-Feb and Sept-Oct when other kids head back to public school). Also, be prepared for some bumps and bruises –even floor burns (Heck, they sell knee pads in the gift shop). But don't let these trifles stop you. If you're coming to the city for a visit, you'll be up for the "World's Greatest Parent" award if you bring your kids here.