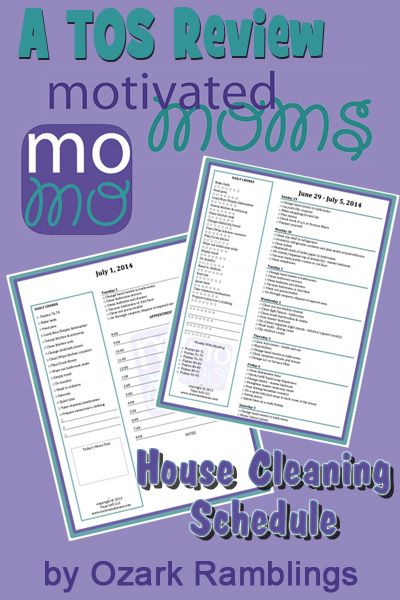 Confession time: housework and organization don't come easy to me. Most of the time I don't even notice the smudges the dog has left on the windows or the crumbs collecting beneath the kitchen cabinets. I will try to start tidying up but when I take an object to a new room with the intent to put it away I get distracted by all the new chores in that room. The original room stays a mess and sooner or later I take an object from the second room to a third….by the end of the day nothing is cleaner and some areas seem worse. Apparently I'm not alone or there would be no need for Motivated Moms and their apps and planners. At first glance you may be overwhelmed by the number of choices for the Motivated Moms Ebooks .
Whatever you choose, you will receive downloaded PDF file that needs to be printed. The house cleaning schedule for each day is the same no matter which planner you choose. There are daily chores (make beds, feed pets, cook dinner, wipe kitchen counter) and chores that cycle on a weekly, monthly, or quarterly basis (clean a shelf in the refrigerator, wash the porch rug, even clip children's nails). You have to decide which planner fits your needs or whims.
| | |
| --- | --- |
| | |
| Half size pages (2 per sheet) | Full size page (1 per sheet) |
| | |
| --- | --- |
| | |
| One day per page | |
Other choices black & white or color (the only color I could see in the sample is the Motivated Moms logo in the background) and whether or not you'd like to include a Bible reading plan. I didn't see a need to waste colored toner, the Bible reading schedule was a faster pace than I could commit to, and I wanted to conserve paper so I chose the black & white weekly chore planner. I printed and comb-bound the pages. You'll notice I didn't use the word "chore" on the cover though—it ranks up there with "spinach" or "visit to the dentist" in terms of popularity in our house. I went with a perky picture and positive message to remind me of my ultimate goal. (I made this myself, it is NOT included in the PDF file).
I would keep it by my bedside so that I could refer to it in the morning (I even placed my glasses on top because they're the first things I reach for). Most tasks had to wait until after we finished homeschool and lunch. And I'll tell you now—that first week was hard, not so much what I was doing but how long it took me to do it. The first time I cleaned the oven took hours trying to soak the burned on stuff and scrap it off. I had to research how to do that in the first place, along with the dishwasher door because I'd never done it before (look on Pinterest for great ideas). I was thankful that I only had to clean on shelf of the fridge instead of the whole thing.
I can see that things are going to get faster (better) because the next time I clean the oven it will just be a maintenance wipe (unless I spill something). I'm getting more efficient in moving things from shelf to shelf in the fridge for a quick wipe down, etc. And I get a great deal of satisfaction seeing things shine and sparkle. I'm even starting to notice the dirt that I used to walk right past before. This week I washed the bannister rail because it was so grungy—and that wasn't even on the schedule.
What I Liked:
Motivated Moms is very thorough—including such tasks as changing the furnace filter and ordering your free copy of credit reports.

Saturday and Sunday tasks don't involve a lot of manual labor (for those who keep Sabbath)—tasks involve filing coupons, watering indoor plants, planning menus

It's not just all work and no play—some tasks are work on a scrapbook, spend time on a craft, and simply "Pamper yourself" (Sorry honey, I must take a bubble bath-- it on the to-do list)

The planner tells you what to do, not how to do it—You can use all natural cleaners, buy chemicals at the store, even delegate tasks to the kiddos!

There's a two-week menu plan that you can print and fill out as needed
What I'd Like to Change
The tasks are arranged according to someone else's schedule, not mine—the making grocery/shopping lists always falls on Sunday but our grocery fliers come in Wednesday's paper.

There is no place to add my own tasks to the non-daily chores – now that I've discovered the bannister rail needs to be cleaned I'd like a spot to write it in every month. (There are four blank lines for Daily Chores on each week's page)

It's more about cleaning not de-cluttering—you'll find "de-clutter" tasks every now and again but the assumption seems to be that you've got surfaces that only need to be dusted, not rediscovered under piles of stuff. That may be a whole other planner.
So is my house ready for the cover of Better Homes & Gardens now? Of course not. Just like putting an exercise bike in your basement is not going to make you lose 20 pounds, having the Motivated Moms Housecleaning Schedule laying on your bed stand isn't going to make the dirt and grime disappear. YOU HAVE TO USE IT CONSISTANTLY!!!!! The pounds and the mess didn't come overnight and they won't go away any faster. I am taking baby steps in the right direction and I'm not beating myself up when I can't get it all done. Most things I know will appear on the list again at some point and I just need to highlight them to be sure I do them the next time.
The Final Word
If you're already a neat and tidy person there's probably very little reason to get this planner. If you panic every time the doorbell rings that someone is going to see the state of your house then this tool might help you if you're willing to put in the work. The $8.00 eBook covers all of 2014. If you buy a copy now and get in the habit of following the routine it may become second nature and you won't need to buy next year's edition to help you .

Other Crew members got different versions of the planner and some used the Motivated Moms App. You can read about their experiences by clicking on the graphic below.