Last week we made a thick and hearty bean soup—perfect for cold weather days. But with Spring and Summer, I prefer lighter dishes. This recipe takes advantage of one of the first things ready in my garden—snow peas! Normally, I make this dish in a wok, but this day I tried it in my new favorite kitchen appliance: a Ninja 3-in-1 Cooker. You can do it all in here, including cooking the spaghetti noodles beforehand.
Szechwan Chicken Pasta
1T. vegetable oil
4 boneless, skinless chicken breasts
2 C. fresh pea pods
2 cloves garlic
1 large bell pepper (I prefer red)
2 green onions
1/4 C. soy sauce
2 T. white vinegar
1 t. chili oil
1/2 t. crushed red pepper flakes
8 oz. spaghetti, cooked per directions (I prefer to break in half)
1/2 C. roasted peanuts
The key to stir frying is to have everything prepped and ready while you heat the oil. You won't have time to leave the pan and make the sauce or chop anything else. Also, practice kitchen safety and don't cut the veggies on the same mat as the raw chicken.
So, rinse & pat dry the chicken. Cut into 3/4 inch cubes. Coarsely chop the pea pods. Mince the garlic, slice the green onion. You may either slice the bell pepper or chop in into chunks roughly the size of the pea pods. In a bowl combine soy sauce, vinegar, chili oil and red pepper flakes.
Heat vegetable oil in wok over high heat (or set Ninja on Stove Top High) Add the garlic and stir fry for 15-20 seconds before adding the other vegetables.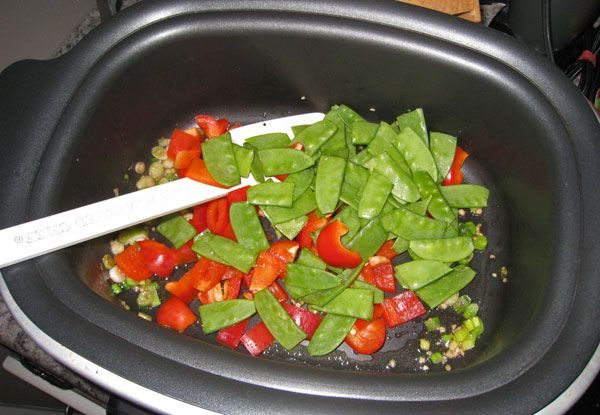 Stir fry for 1-2 minutes until crisp-tender, then remove from pan.
Add 1/2 the chicken to the pan, stir fry 3-4 minutes (chicken needs to be cooked through, not just browned on the outside) and remove. Repeat with the remaining chicken. Return all chicken to the pan, add sauce, veggies and noodles. Stir to coat & heat through. Sprinkle portions with peanuts to serve.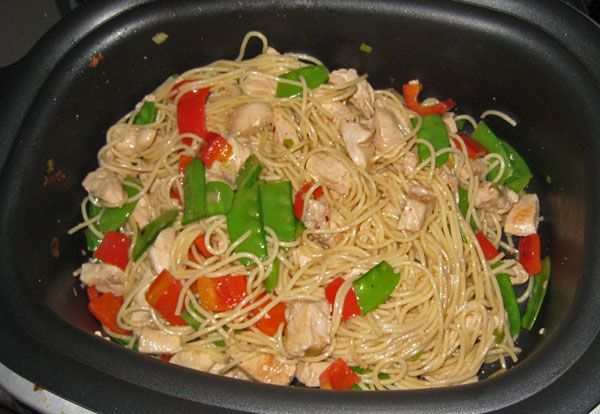 I'm linking up with...