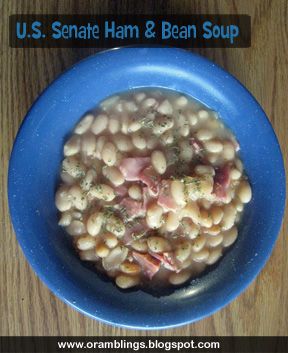 It's wacky weather time – one day in the high 70's, the next is snowing and we don't even reach the freezing mark. And when it's cold I want the comfort of a thick soup. This recipe was passed on to me from someone who knows I like freezable dishes. A version of this soup has been served daily in the Senate dining room for over a century (no political jokes about "hot air" and beans at this time).
U.S.Senate Bean Soup
1 lb. dried great northern beans

1/2 C. instant potato flakes

parsley or chives for garnishing
Place beans in a saucepan and cover with water; bring to a boil and boil for 2 minutes. Remove from heat and let soak for 1 hour. Drain and rinse beans. In a large Dutch oven, place beans, ham bone, and 3 qts. of water. Bring to a boil, reduce heat, cover and simmer for 2 hours. Add onions, garlic, potatoes, salt & pepper. Simmer 1 more hour. Take the bone from the soup, remove the meat, dice meat and return to the soup. Serve with chives or parsley garnishment. Makes 2 1/2 qts.
I'm linking up with...