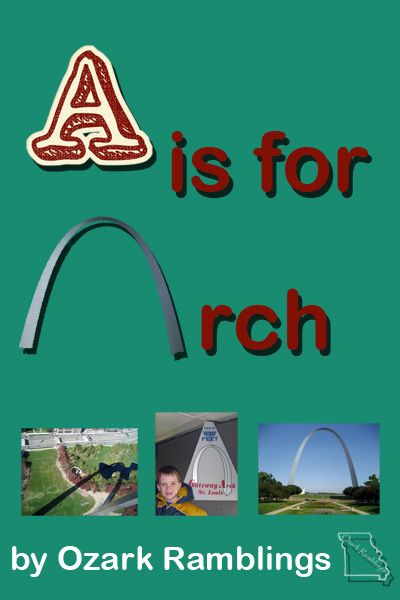 It dominates the skyline of St. Louis and is the symbol of the city. It is the tallest monument in North America and by some accounts, in the world. It's the centerpiece of the Jefferson National Expansion Memorial. It's official name is the Gateway Arch, but everyone refers to it at The Arch.
I'm joining the Ben and Me blog's new round of Blogging Through the Alphabet and I'll be focusing on cities and places for homeschoolers (dare I say anybody) should visit in the great state of Missouri.
The Arch is the design of Eero Saarinen who described it as a catenary curve, that is the shape a chain takes when suspended by the ends (of course the arch curves up rather than down). The structure is 630 feet and 630 feet wide. If you were to slice a cross-section it would be an equilateral triangle with sides of 54 ft. at the base and 17 ft. and the top. The stainless steel "skin" of the Arch covers concrete and steel rebar walls that are 44 ft. thick at the base. The Arch is approaching it's 50th anniversary of completion in 2015.
Underneath the Arch, you can view a movie about it's construction or tour the Museum of Western Expansion. One of the highlights is an exhibit of the Peace Keeping medals carried by Lewis and Clark to give as gifts to the Native Americans they encountered on their trek to the sea. Of course most tourists come to take the two minute ride to the top (claustrophobics be warned, it's like climbing into your dryer). At the top, you can lean over and see up to 30 miles on a clear day.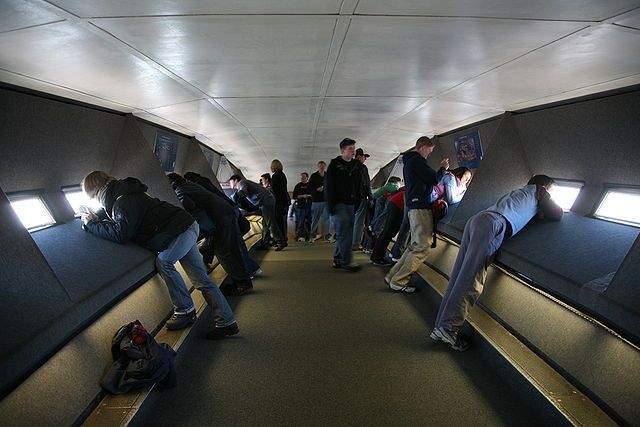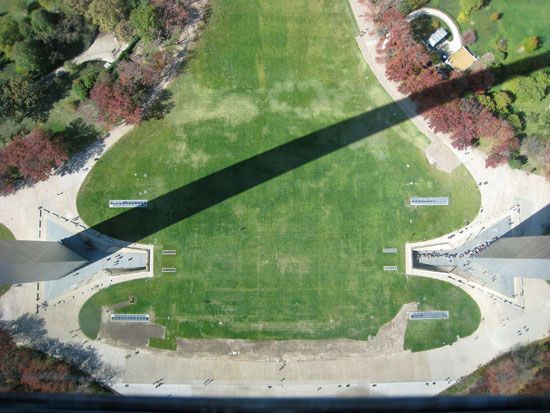 It sure doesn't seem as wide as tall when looking straight down. You can see the two entrances to the museum complex and the base of the legs.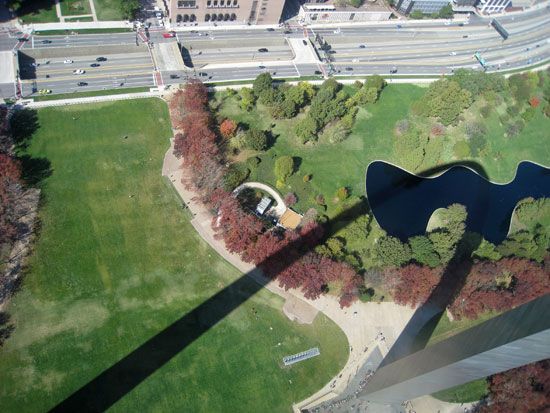 At the top of this photo you can see U.S. Hwy 70. One of the upgrades for the 50th anniversary of the Arch will be to cover this section of highway so pedestrian traffic will have easier access to the Arch from St. Louis downtown and the other part of the Jefferson National Expansion Memorial – the Old Courthouse where the Dred Scott case was heard.
You can visit the Arch and tour the museum for free (homeschoolers love that word). Tram tickets to the top are $10/adults, $5/ages 3-15 or you can purchase a package to view the movie Monument to the Dream.
I'm linking up with…