I've confessed before that history was not my favorite subject in school. I've come to believe it wasn't the subject matter that was so boring but the way it was presented…name, date, war, date, place, name etc. Page after page of blips of information. The men and women of history were as shallow and lifeless as the portraits that appeared in the margins. I vowed history wouldn't be that way for my son. A perfect example is our latest review product from Golden Prairie Press. We put ourselves in the moments of history with great American characters by listening to their music, tasting their food, even giving voice to the past by performing skits. All this from the Digital Heroes & Heroines of the Past: American History Curriculum.
I was familiar with the author Amy Puetz from her history articles in a homeschooling magazine to which I subscribed—she being a homeschool graduate herself. She's also a committed Christian and presents history as "His story". Although we're well past the times of the Bible in this American History study, you'll find Bible verses to memorize every week and the inclusion of facts that daily prayers during the Constitutional Convention.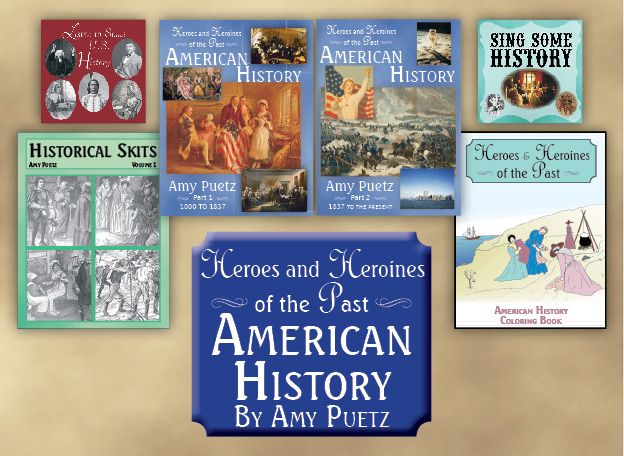 In the package we received:
Heroes and Heroines of the Past: American History Part 1 eBook
Fifteen weeks with five lessons each (388 pp.) covering Leif Erikson and Columbus to Andrew Jackson's presidency. The first chapter also discusses the Native Americans and how they must have arrived via a land bridge after Noah's flood (remember I said it was His story). You can view the Table of Contents and a sample of the first three lessons.
Heroes and Heroines of the Past: American History Part 2 eBook
Fifteen more weeks with five lessons each (408 pp.) covering the presidency of Van Buren to the current administration.
Additional Materials Downloads
You'll find the link and password to several videos (dancing the Virginia Reel, Mr. Bell invents the telephone, etc.), a collection of maps (these also appear in the text books, but much smaller), reproductions of paintings and illustrations of historical significance (for art studies or inspiration to write a story) and several blank timelines to be printed and filled out by the students. There are actually several versions for each timeline to meet the needs of a variety of ages. Youngest students may simply us the completed copies, slightly older kids may use one with the dates or the events and fill in the other size, older students may have a blank form and have to fill in everything.
Historical Skits eBook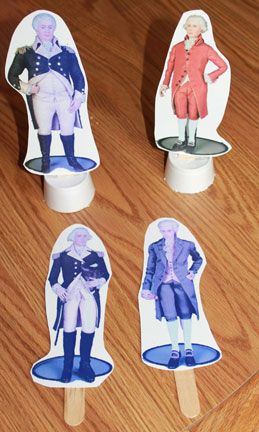 This 50 page book has nineteen skits about Sir Walter Raleigh, Lewis & Clark, the Panama Canal, etc. You can see a list of all the skits and a sample of the Christopher Columbus skit. As the parent of an only child, we've had to tweak programs that include skits. We may end up just reading them and taking turns with the parts. I've found had success using mini figures or toy soldiers and making a puppet show of sorts. In this case we were reading The Price of Liberty with George Washington and his cabinet debating how to pay for the War. I found images of a historical doll collection—including Gen. Knox! I printed them out and mounted them on craft sticks. I couldn't find one for Edmund Randolph so Schnickelfriz played that role (we only had four hands between us anyway).
Sing Some History CD
These are recordings of twenty songs mentioned in the book. Some will be very familiar like Yankee Doodle and Pop Goes the Weasel. Others we didn't know at all like Chester and Uncle Sam is Rich Enough to Give Us All a Farm (no longer true by the way). The audio quality varies here—some songs sound like they were recorded in a living room.
Listen to Some U.S. History MP3 CD
It can be hard to read The Declaration of Independence or The Constitution, why not listen to them (or at least a portion). Other clips include Lincoln's Gettysburg Address, Patrick Henry's Give Me Liberty or Give Me Death, and excerpts for Mary Chesnut's Diary from Dixie. Patrick Henry's speech was not just read, but acted out…it even sounded like he was speaking in a large, echoing chamber. Talk about history coming alive!
With our digital downloads, I put the textbooks and pertinent songs/recordings on my Kindle Fire. The text is a PDF file so we couldn't use the dictionary function of bookmark features of the Kindle. Ti was easiest to leave the Art Study files on our main computer so Fritz could view the images well. There were a few that seemed pixelated on our big 24" monitor, but most were clear and crisp.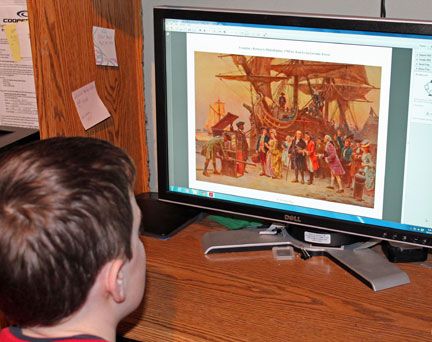 Because we were already studying American History this year we picked up where we were at the end of the American Revolution (latter portion of Part 1 eBook). Most lessons will have two reading options, a single page for 1st and 2nd graders and 3-4 pages for 3rd-6th graders. Occasionally though there would only be one selection for all grades. If you're reading aloud, the younger kids should be able to follow along just fine. These lessons are usually shorter and seem to be written in a story format (like the lesson about Nathan Hale: The Brave Spy).
After most lessons you'll find comprehension questions, dates & events to add to your timeline, you may find some additional reading suggestions, a recipe, sheet music for a song to listen to or sing along, etc. The may also be a hands-on activity—the Nathan Hale lesson had us make invisible ink with lemon juice. The first lesson of each week will include the Bible verse to copy and memorize.
On the whole my son enjoyed Heroes and Heroines of the Past – he didn't even mind the long reading assignments when they were done in story format (I think his favorite was about the Swamp Fox). He would have preferred the geography activities to be coloring in and drawing lines rather than just looking at maps and answering questions. It would have been neat to study this in a co-op setting where he'd have other kids to perform the skits with him.
I'm planning on us continuing to use this curriculum next year although we'll need to supplement it to get a whole year's worth out of the Part 2. The Digital Set sells for $98.99, for the same price you can get the set with 3 books and 3 CDs. There are some optional literature books for the older students to read (I was able to find some of them online for free).