Well, here we are on Memorial Day weekend—the kick off to all things summer and you'd like to do something outdoors. Why not take a hike with the family? Get a little fresh air and exercise, see the flora and the fauna. What about some giant red granite boulders that have eroded over the year and somewhat resemble giant pink elephants? That's how Elephant Rocks State Park earned it's name.
The granite in the area has been quarried since 1869. If you visit St. Louis you may see it in the city hall, or the piers of the Eads Bridge spanning the Mississippi River, or even under your feet as cobblestones on the wharf or Lacledes landing. The granite has been used in buildings from coast to coast and is also frequently used for cemetery headstones.
In 1967, the area became a state park. Two big positives----1) It's a state park so it's FREE (homeschoolers love that word). 2) The main 1-mile trail is handicap accessible—paved for wheelchairs and the signage includes braille. There are spurs off the trail that lead to the top of the mountain or overlooking one of the original quarries (now filled with water).
In a lot of state parks and nature sites you're warned to stay on the trail and don't touch the flowers and plants. Here the main attraction are granite rocks—you can't really hurt them. Climb over them – try to make them roll (nobody has succeeded so far).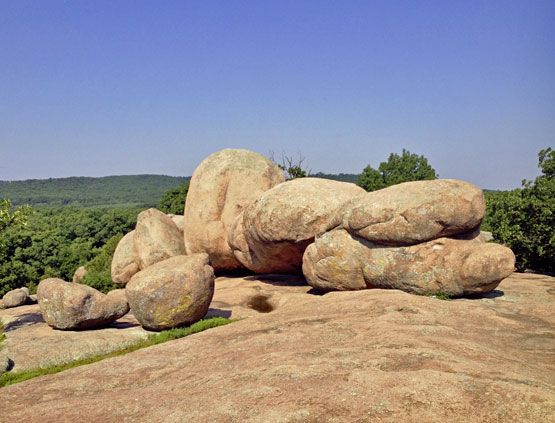 The only possible downsides to the park: 1) If you're a young Earth creationist you probably want to skip the signage and teacher's resources which is filled with "billions of years." Just enjoy the scenery as God created it. 2) It's in the middle of nowhere—about 90 minutes south of St. Louis, 50 miles being rural roads. If you're going to drive this far, make it your destination. You can't camp at Elephant Rocks, but just 15 minutes away is Johnson Shut Ins State Park with camping, lodges, and some of the best swimmin' holes in the state. I'm sharing that now since I have something else picked for my J post.
Think you might like to visit? Check out this video…
I'm linking up with …