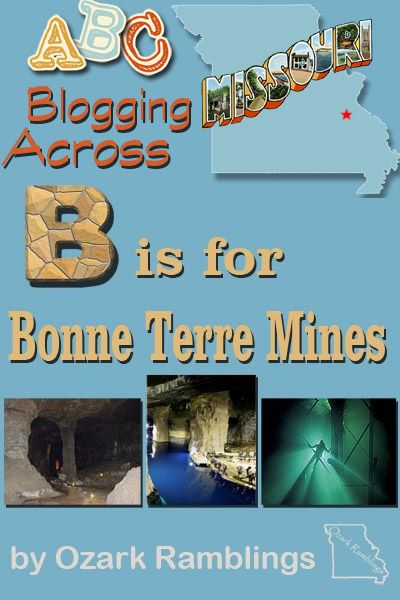 One of Missouri's nicknames is "The Cave State" for its more than 6000 cave, but spelunking isn't the underground adventure you can have. The state is also home to around 300 mines—in fact the mining of galena (lead) has been going on since French settlers first discovered the deposits in 1700. My Schnickelfritz learned this when we read Where Rivers Meet. Missouri is still the source of 90% of the lead taken out of the ground today.
One of these mine, Bonne Terre Mine operated from 1860 to 1962. The Confederate Army tried to take control of the mine (and secure a source for bullets) during the Civil War. The mine did serve as the source of ammunition in the Spanish American War and World Wars I and II. Five levels deep, it was the largest lead mine in the world and the world's largest man made cavern. It was almost like its own city – with buildings inside the caverns and even stables and barns for the mules.
Year's ago I toured an Antebellum home that was never completed because of the outbreak of the Civil War. Hammers and tools lay exactly where they had been left by men who were going to take up arms instead. Similarly, visitors to the mine today can find everything from hand tools to a locomotive left behind when the mine closed. The upper two levels are part of the walking tour offered (NOTE: this is not handicap accessible—there are 65 steps to enter and exit the mine.
Oh, did I forget to mention that when the mine closed they shut down the pumps that were keeping it safe and dry for the miners? When the pumps went off the water came back and flooded the lower three levels –A BILLION GALLONS OF WATER! It formed a 17 mile long underground lake. There is a boat tour if you're satisfied with the surface view of the lake (the water is so pristine you can see nearly 100 feet down). For the more adventuresome, you can scuba dive the 24 trails that have been developed. Don't know how? You can also take lessons and get certified there. The time of year and weather don't matter—the mines are a constant 65 degrees Fahrenheit and the water is 58. Check out this video….
Bonne Terre Mines was named one of America's Top 100 Adventures by National Geographic Magazine. In 1982 diver Jacques Cousteau planned to do one dive in the facility—he ended up staying 5 1/2 days.
Walking/Boat tours of Bonne Terre are $27 ($20 for kids). Scuba Dives are $70 (2 dive minimum). You probably want to check out their website for all the technicalities (certification, age requirements, etc.).
I'm linking up with …