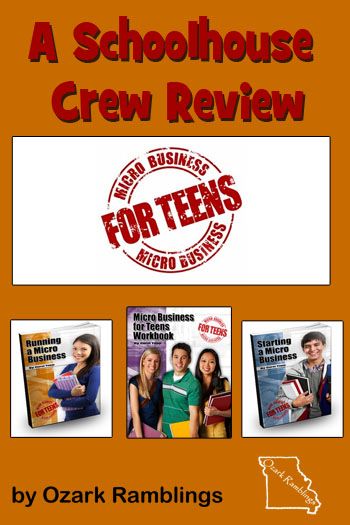 I think most parents would agree that education isn't just about how many facts and figures we can cram into those little heads. We teach our kids to give them tools and guidelines that will benefit them in their future endeavors – be it business, medicine, or running an organized home. That's why I jumped on the chance to review Micro Business for Teens. I'm sure my son's college admission or first job offer won't pend on whether or not he can list all the presidents in order, but for him to be able to state he started and managed his own business….well, that may open a few doors. If not, he has the tools to start another one.
We received three eBook PDF files:
I was familiar with the term "small business" as both my father and grandfather had their own companies, but not "micro business." In case you're in the same boat, let's go over some of the characteristics and why they work for teens.
Simple and fast to start up—Immediate gratification, not months and months of planning.
Usually only one worker—no complications of payroll tax, Social Security Administration or unemployment to worry about.
Sole proprietorship—no contracts, partnership negotiations, or lawyers to file incorporation documents. Also makes closing a business much simpler.
Little start up money needed—starting a microbusiness shouldn't mean taking on debt
Usually home-based—no need to rent space, easy to move (when the teen goes to college)
Low risk—you don't have to be the next Bill Gates or create something entirely new, it can be a time-proven option like mowing lawns or babysitting
Manageable—teens still need time for school and socializing. A micro business should be similar to working a part time job.
The worker can learn while earning—a teen can earn money and learn time-management, marketing, bookkeeping, customer service, etc..
Now about the specific books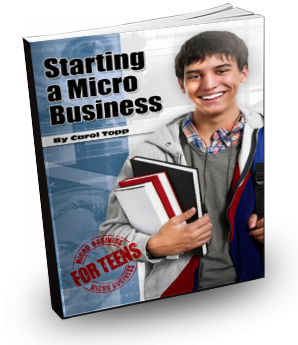 Starting a Micro Business ($4.95 eBook, $9.95 pbk)
Seven chapters in sixty pages. After learning what a micro business is (basically the points I made above), the teen will spend time getting ideas for a business, learning what possible problems might be encountered, writing a business plan, finding ways to finance the business, find links to research common businesses for teens, and finally be encouraged and motivated through the process.
Throughout the text, you'll find boxes with brief examples of teens who have started their own business to show it really is possible.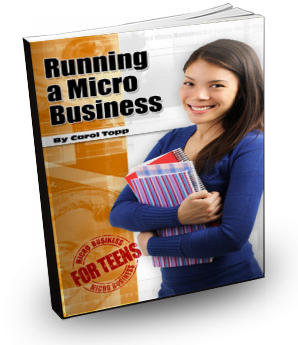 Running a Micro Business ($4.95 eBook, $9.95 pbk)
This slightly more complicated subject is covered in eighty pages, broken into nine chapters. This is the day-to-day stuff vital to any going concern: Sales, Marketing, Customer Service, Bookkeeping, Software, Legal Names, Insurance, and Time Management.
There are some great tools here to help define a target audience, how to record transactions, and how to reduce risk with insurance. These can be very complicated subjects and in some case the author suggests that you confer with a lawyer or accountant or read a third book (not part of this review) Money and Taxes in a Micro Business.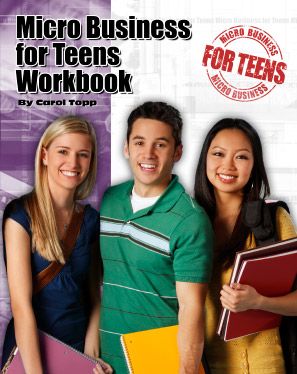 Micro Business for Teens Workbook
($9.95 eBook, $14.95 pbk)
This 102 page book has chapter that correspond to those in both the Starting and Running eBooks (the Legal Names & Numbers are Reducing Risk chapters from Running a Micro Business have been combined).
Most chapters begin with a fill-in-the-blank exercise to review the chapter. Then come blank forms to brainstorm business ideas, write a business plan, determine start up costs and the cost of your product or service, record helpful websites, books and mentors, create a sales presentation, To Do lists, hour by hour schedules, etc.
The series is designed for 10-18 year olds, so my Schnickelfritz is on the younger end of the spectrum. I chose to read it aloud to him so I could add more explanation (I was an accountant in my former life and took many business courses). We loaded the eBooks as documents on the Kindle Fire and printed out pages as we needed from the workbook. He stuck with me through the brainstorming and creative activities of coming up with a business, but lost enthusiasm when we started to learn how to run a micro business. As the saying goes, you can lead a horse to water, but you can't make him drink. I wouldn't call him lazy, but he's not driven to earn money right now. He's too young for a car. He's content with the games and books he has now– I can't even get him to name two or three things he'd like for his birthday or Christmas. I've thought of creating a need – like making him pay for his karate lessons, etc. For now, I'll just hold onto the books – everything I read was very sound advice, and see if a business drive develops with another year or two of maturity.
I hope you'll indulge me for just a moment while I pull out my soapbox. I've heard from more than one source that Common Core is designed to churn out compliant workers with no creativity, critical thinking, or entrepreneurial skills—and yet the unemployment rate for this year's college graduates may be as high as 16.8 percent. If they've been groomed for one thing and that thing isn't available, what are they to do? Thank goodness for home schooling and curriculum like Micro Business for Teens to help prepare our kids for productive and fulfilling futures.