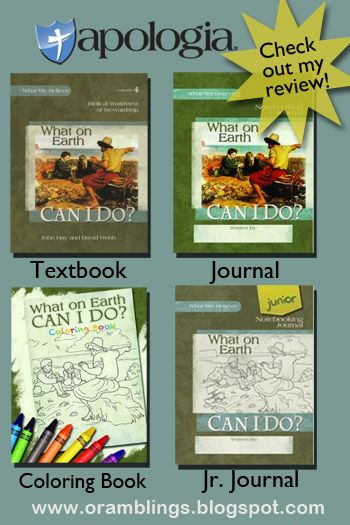 Do you ever get that odd feeling as your vacation draws to an end? Your still relaxed and enjoying your trip, but there's a little sadness because you know it's going to end soon. I'm feeling that way now, because we're coming to the end of our worldview studies with Apologia Educational Ministries. The fourth and final book in the What We Believe series is What on Earth Can I Do? ($39.00). We were introduced to the series when we reviewed book #2 Who Am I? I was so impressed with it that I purchased the first book so we could "catch up." And we reviewed book #3 Who is My Neighbor in 2012 (I'll link to my other reviews at the bottom). If you're new to the series, please check the other books and consider using them in order (the authors recommend this for the most effective teaching). In addition to the text book we received:
What On Earth Can I Do Notebooking Journal ($24.00)
What on Earth Can I Do? Junior Notebooking Journal ($24.00)
What on Earth Can I Do? Coloring Book ($8.00)
The hardback textbook contains eight lessons:
Your Story or God's Story

Who Put You in Charge

Will You be Found Faithful?

Where is Your Treasure

Where Does Your Time Go?

Whose Life is it Anyway?

Why Isn't it Easy Being Green"?

What Will Happen When the Master Returns
The overall theme of stewardship is taught with fictional stories, Bible excerpts, references to pop culture and historical figures, vocabulary and scripture to memorize. Chapters always begin with The Big Idea to introduce the topic. Three bullet points called What You Will Do summarize the remainder of the chapter. Next comes what my Schnickelfritz calls the "Not-so Short Story." The first 4 chapters tell the serialized story of two children stuck in London during The Blitz. The final 4 chapters focus on a family living on the Serengeti. There is an opportunity to discuss the story while answering the Think About It questions, then kids will prepare for the meat of the lesson by studying Words You Need to Know and memorizing the Hide It In Your Heart verses. The lessons end with a call to action called What Should I Do and a Prayer.
Then it's story time again. This book greatly fleshes out some of The Parables of Jesus: The Prodigal Son, The Talents, The Generous Vineyard Owner, The Rich Fool, The Great Banquet, The Wheat & the Tares, The Landlord's Son, and The Mustard Seed. What Jesus told in a few verses have been expanded to give historical facts and cultural backgrounds that the original audience would have known. The stories are 4-8 pages in length.
The curriculum can be used with kids in 1st-6th grades, obviously it may have to be read aloud to younger kids. To accommodate different levels of handwriting skills Apologia provides two different coil-bound workbooks: the Notebooking Journal for ages 10 and up and the Junior Notebooking Journal for ages 6-9. I love that both have a place for the student to write their names on the cover in the "Written By" box. That truly gives them ownership of a place to practice penmanship, take notes from the text, write out prayers and praises, and scrapbook service projects. You'll also find word searches, crossword puzzles, mini-books (think lap booking), and coloring pages (in the Junior edition). For the very young kids, you may prefer to just let them color in the coloring book while you're reading or working with older kids. The pictures relate back to the stories and parables.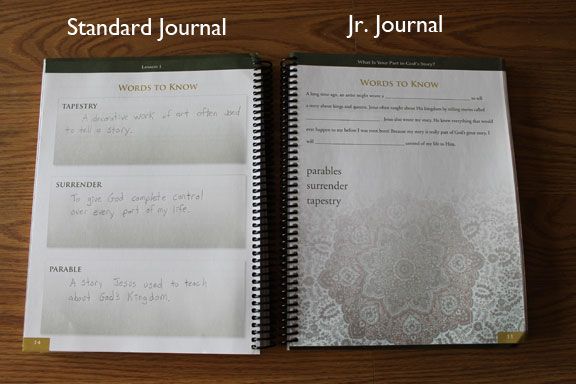 Jr. vocabulary is just fill in the blank
After the story, older students have comprehension questions while Jr. notebook-ers color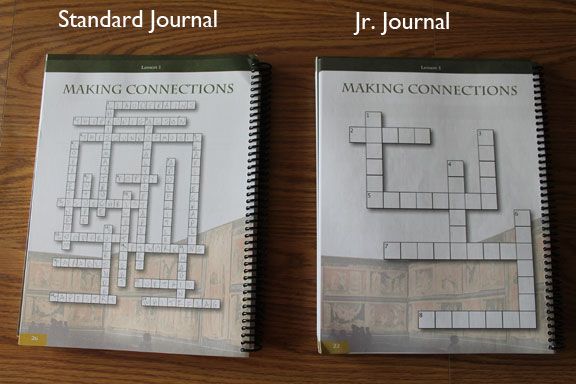 Jr. crossword puzzles have much fewer words and larger spaces to write
Both journals contain a suggestion syllabus working through each lesson in two weeks, with assignments 3 days per week. For the most part the reading will be the same for both older and younger students (I did notice a few days being off by a page or two) so you could just read it aloud to all your kids. With several years' experience under our belts, I've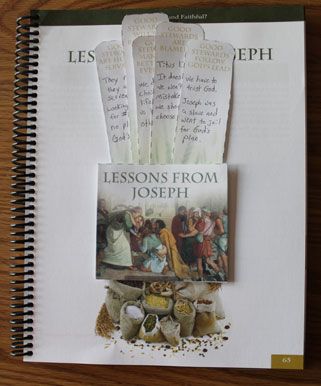 found this pace to be too fast to maintain. We prefer making worldview studies a daily activity and alternate between reading days and journaling days. Some days I even break the reading into smaller portions –the parables and short stories are long enough on their own so I don't require any other reading those days.
While he's old enough to do his own writing, I sometimes act as his scribe so he can concentrate on forming complete thoughts and working through complex ideas. This is usually on days we're analyzing the parables. On days when he's writing prayers and praises, etc. I allow him privacy to share thoughts and concerns with his Savior.
We'll be saving the rest of What on Earth Can I Do? for next year's schoolwork. Then I'll be storing the series away for any grandkids that may come along –that's how much a blessing these books have been to our family. Now, as I promised, here are links to my reviews of earlier books in the series.