This week's ABC Blogging Across Missouri destination may come as a surprise to most folks – Daniel Boone in Missouri? I thought that guy was from Kentucky. (If you said Tennessee, then your thinking of Davy Crockett. Your confusion is natural as Fess Parker portrayed both men while wearing a coon skin cap).
Well, Boone is famous for blazing the Wilderness Road through the Cumberland Gap and exploring and settling what is now Kentucky but he wasn't born there, he didn't die there, and at the time of exploration the territory was part of the Virginia colony.
In 1799, Daniel Boone and many of his adult children's families went west in search of some elbow room. He was 65 at the time and the Spanish government offered him the position of "syndic" (a judge or justice of the peace) in the Upper Louisiana Territory.
Does that come as another surprise –that I wrote Spanish and not French? Well, at the end of the Seven Years' War (the French and Indian War in North America), France secretly negotiated to give its land west of the Mississippi River to Spain before being force to cede it to England in defeat. The Spanish controlled the land from 1762 to 1802. Napoleon reacquired the territory in 1800 (although he continued to let Spain administer it) before finally selling it to the United States in 1803.
Boone was evidently kept busy with his syndic duties –he received a special dispensation from the Spanish Governor not to be held to the requirement of clearing and farming the land grant, he built only a small cabin for he and his wife and eventually moved into son Nathan's home. This is in fact the building referred to as the Daniel Boone Home today.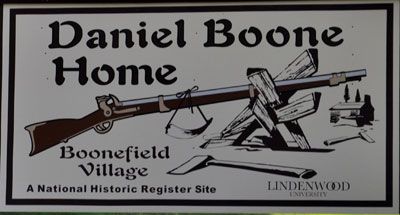 He held court under a tree very near the Missouri River in what's now St. Charles county. By all accounts he was wise and fair. In one case disputing the ownership of a cow, he had to side with the plaintiff which meant taking the animal away from an old widow. Boone did what the law required and then gave the widow a better, healthier cow from his own herd.
The stone structure you visit today as the Daniel Boone Home was built between 1803 and 1810.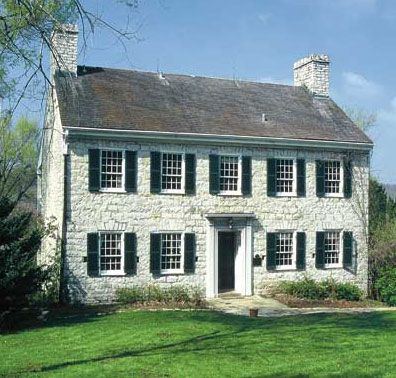 It's four stories tall if you include the attic (the lowest level holds the kitchen and could be considered one of the first walk-out basements).
According to the historical plaque the walls are 2 1/2 feet thick, made of blue limestone. Can you see the black spots on either side of the windows? Those are rifle holes in case of Indian attack. Daniel Boone carved the five fireplaces out of black walnut.
It was here that Daniel Boone died Sept. 26, 1820. He was surrounded by family and spoke kind words to everyone. He was buried next to his wife Rebecca a few miles away near Marthasville, MO.
The property is owned and operated by Lindenwood University. Since my visits as a schoolchild, they've added a historic village with a one room schoolhouse, mercantile, a chapel and gristmill. Every fall they host Pioneer Days with historical music and games and you can listen to a Daniel Boone re-enactor share his adventures. In the summer they hold a week-long day camp for 10-18 year olds to learn blacksmithing, Dutch oven cooking, tomahawk throwing, black powder rifle, and animal tracking.
The tour for the home and village is $12/adult, $10/senior, $6/ages 4-11.
If you're in the area and willing to take a little drive you can stop by the Judgment Tree memorial (a new tree has been planted) and the original gravesite. In 1845, a delegation from Kentucky excavated some of the larger remaining bone fragments to bury at a monument in that state. By today's standards, it's not a big controversy but they might not have taken the right remains. The graves weren't marked with headstones at the time of internment…someone else may have been buried next to Rebecca and Daniel had to be placed at her feet… the slave that pointed out the graves to the Kentuckians may have purposely misled them to one of a black man. At best, both state can claim to have a part of the man. A local historian may have put it best—Kentucky may have his bones, but his heart remains in Missouri.
I'm linking up with …